Last Updated on September 22, 2023 by Ketan
Surely, you indeed are so prepared for the most technical interview questions. 
But, 'How are you today?' is the question you're going to face first. 
You might feel no need to prepared for it. 
It's just a normal question. 
But your answer to it actually leaves a first impression of you on the interviewer. So it matters. 
Well, to avoid fumbling, you should know how to respond to normal greetings like this properly. 
So, in this article, we are sharing some of the best examples of the same. 
What To Answer To "How Are You Today?" At Interview?
Job interviewers aren't always about question-answers only. 
It's about your approach to regular greetings. 
The interviewer has an eye on everything, from how you enter the room to how you react to normal questions like 'how are you?' or 'how are you feeling today?'. 
If you want, you can say the same as most candidates such as 'I'm fine'.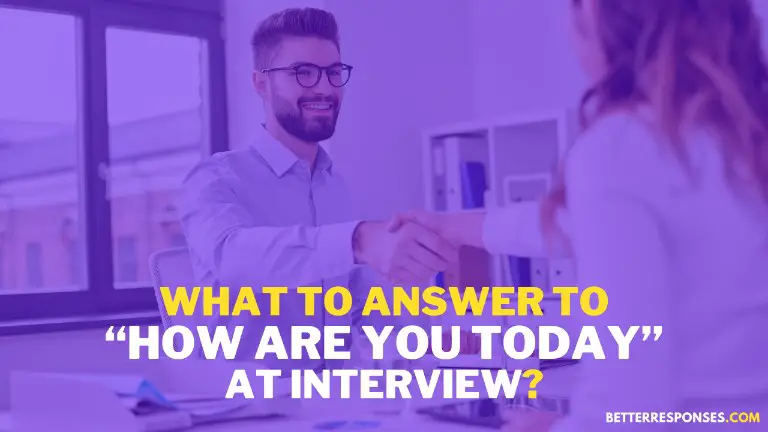 But the only problem there is, that you end up being the same as most candidates.
You should know that this is your chance to leave a 'unique' first impression at the interview. 
So, better say something different to stand apart from the rest. 
If you don't know how to do it right, here are the best answers to share when an interviewer asks 'How are you today?'.
1. "I'm feeling great today." 
While they expect that you're just saying 'Fine', this is a better response. 
It shows that you are feeling not just good or fine, but great. 
2. "Not just fine. But, I'm very excited about this interview."
This is a bit of a longer response, but it can express your positive nature. 
You express that you're looking for this interview. 
And, your excitement about this interview makes you feel good today. 
READ NEXT: How To Say 'Good Morning' At Work?
3. "I'm good, thanks for asking." 
If you feel that you should have to say anything different keep it normal. 
Try this response, which is good enough as well. 
4. "Today I'm feeling so confident." 
When the interviewer asks how are you feeling today, they want to check your confidence. 
And this is the best response to show that you're ready for this interview. 
Share it only when you genuinely feel confident.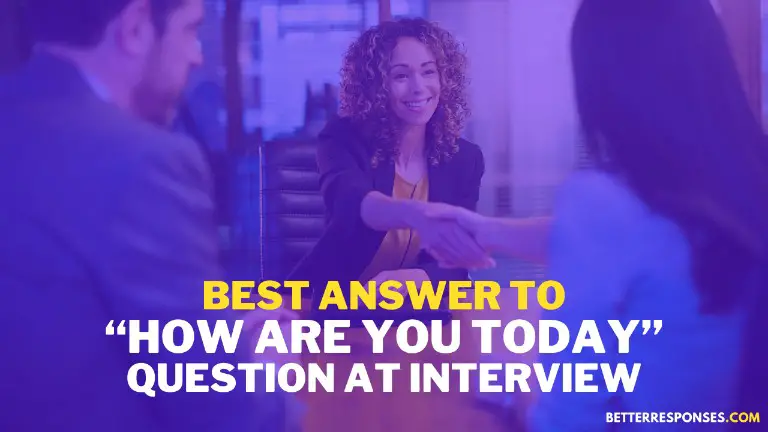 5. "I feel positive today. So, I hope this interview will go well." 
This response is something extra and sounds more than expected.
But when the interviewer or employer is your age, they show a polite gesture, this could be a good answer. 
Such positive energy works well to leave a positive impression. 
6. "I'm doing good today. How about you?"
This expresses that you're doing well at your work and quite happy. 
It's not always a good idea to ask the same question, especially when you're in the interviews.
But if it feels right, you can do it. 
7. "Feeling good. But if I get selected today, I might be feeling great." 
So, it all depends on your interview performance. 
According to that, your feelings might change. 
It's a light response, you can share to lower the pressure over your head. 
Better if you share your response by looking at the company environment or the interviewer's mood. 
8. "I could say 'fine'. But, let's see after this interview." 
So you have no idea how you're feeling today, that's what it means. 
Well, this is indeed a bit different response than you expected. 
But you can share it when you apply for a job that demands an exciting personality. 
Avoid sharing such responses at corporate or formal job interviews. 
If there's a friendly work culture, you can share this casual (and not formal) response. 
READ NEXT: Formal Responses To A Meeting Cancellation Mail
Why Does Interviewer Ask "How Are You Feeling Today"?
Well, at first there's no need to think much about it. 
It is just a normal greeting. Nothing more than that. 
But sometimes, interviewers, HR or employers use this greeting on purpose. 
This way, they either want to check if you feeling nervous or excited about this interview.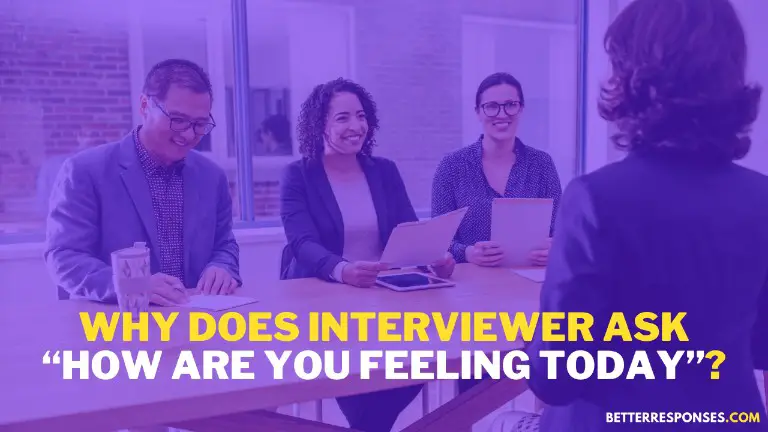 Certainly, they don't want to know what you did in the morning and how you got to the interview.
They just want to check how you react to this question. 
So take it as a normal question, and respond positively (also, uniquely). 
Well, to make your answer feel genuine and leave a unique impression, you can certainly try these shared best answers to "How are you feeling today?" at the interview. 
You better first check what your guts say about it, if you feel you should try this response, you can. 
Otherwise, it won't be any problem if you say just 'Feeling good. 
That works always.