Last Updated on September 29, 2023 by Ketan
You get freaky texts from a guy or girl, you have an intimate connection with. 
That's fine with you, no issue.
It could be playful teasing or a serious request from him or her. 
But as long as you're interested and trust them equally, you can be flirty back. 
Indeed, try to get the most out of your chatting experience. 
So, if you don't know how to flirt back with your partner, here are some better responses for you to get freaky over text. 
How To Respond To "Are You Freaky"?
While having an intense conversation with your partner, you want to share something flirty and freaky at an equal pace. 
You don't want to spoil their mood.
You want to participate in conversation equally. 
When a partner asks "How freaky are you?' they may not be familiar with your wild side. 
If it's just limited to texting, you're fine to exchange some spicy chat for a time. 
Especially, when your both's interests are to get into the action, such flirty responses to freaky messages are the way to go.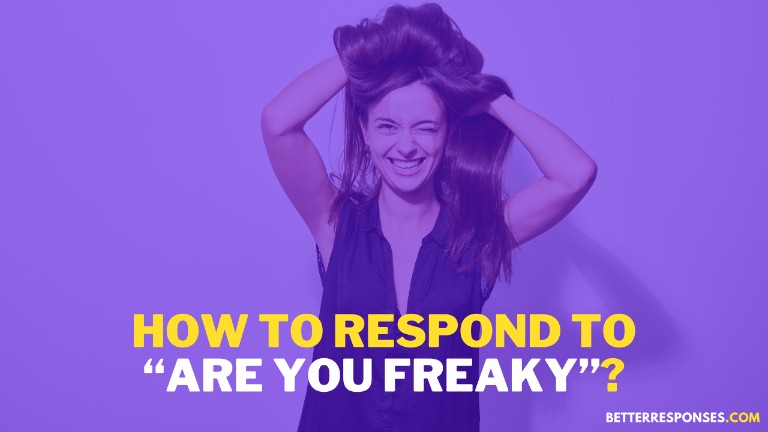 1. "No, but I think you're such a freak." 
You could say it in a flirty mood or a sarcastic tone. 
2. "Dear, FYI, let me tell you that, I'm a certified freak." 
You're full of trust in your freakiness. 
3. "I will keep it a secret and tell you when it's the time." 
So they better be patient about it. 
4. "Why don't you come here and find it yourself?"
If you're ready to freak together, you can tell them to come over.
5. "But I don't think you can handle my freaky side." 
This is enough hint to tell that you're freaky, but are they ready to handle you? 
6. "Everyone is freaky in one way or another."
It's all about waiting for the time and the right person. 
7. "I am, but why are you asking this?" 
You want them to make things clear, and not just hint. 
8. "What do you mean by freaky?" 
If you want to tease them, act innocent as if you don't have any idea. 
9. "With the right partner, I could be flirty to freaky."
So you better ask in return, are you a better partner? 
10. "For you, I can be anything." 
You tell them don't worry about it. 
Cause you're freaky, for sure.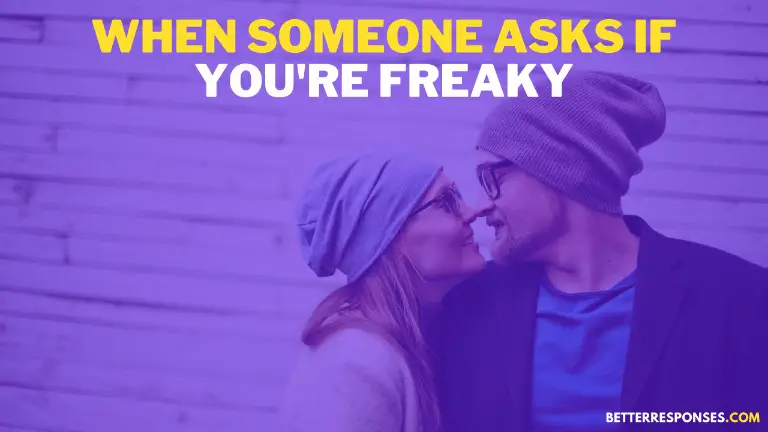 11. "It depends on my mood. I can't guarantee it." 
So, you're moody.  
They should know that. 
12. "So freaky that I want you so bad right now." 
You express that you want him or her to be on your side. 
Telling you want them so bad, express your desires. 
13. "I am. No, I'm not actually." 
Not sure, you have no answer to this. 
14. "Being with you, I also become freaky." 
It's their influence that makes you freak. 
15. "I easily get freaked out about anything and anyone." 
Last time you freaked out at who kept the fridge door open. 
16. "Only if I feel lucky to be with someone." 
And, you may have found that person already. 
READ NEXT: How To Answer To 'How Was Your Night'?
17. "I turned to freaky every night, you better know that." 
It's not a one-time thing, you come with the daily dose. 
18. "I don't want to scare you. because I'm freaky." 
That's enough to scare someone off.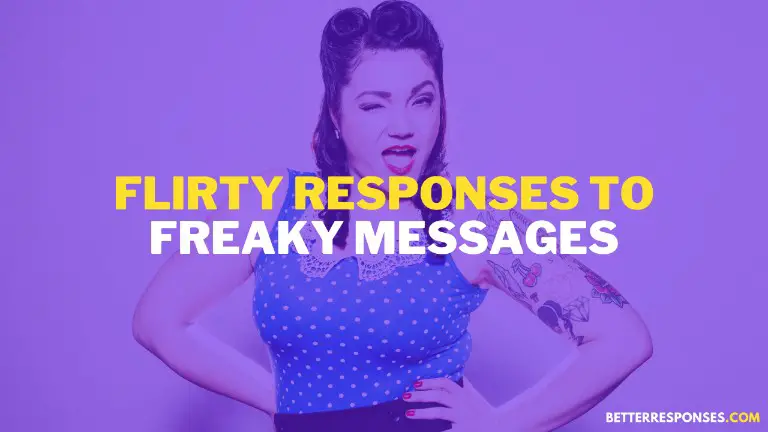 19. "Of course, I am. What do you think, I'm boring?"
It's just you didn't get a chance to perform. 
20. "When the time and mood is right only then." 
Then you're an unstoppable freaky. 
21. "Let me give you a chance to show it tonight." 
They ask if you're freaky and you want to give them the live demonstration. 
READ NEXT: How To Respond To A Cancelled Date?
22. "I love to get in the wild." 
You gave some hint of the wild side behind your cute face. 
23. "Whatever it is, that will surprise you for sure." 
This will leave them either surprised or in shock. 
24. "Why…? Do you want me to be freaky with you?"
The why question is a hint to slow them down. 
25. "Don't dare to challenge me on my freaky side." 
Tell them it's not a good idea to challenge you on something you're best at. 
26. "I just never run out of ideas, due to my freakiness." 
So you got a freaky mind. 
27. "I know how to make the best time for both of us."
And for that, it's fine you could be a freak. 
READ NEXT: What To Reply To 'You Don't Love Me Anymore'?
What Does It Mean To Be Freak Over Text? 
Being freaky over text is to have a spicy conversation and improve the level of flirtiness over time. 
Someone you meet on a dating site and share an intimate connection with, often asks you 'Are you freaky?' or 'Scale yourself on 1 to 10 regarding how freaky you're'. 
This isn't always about getting closure physically right away.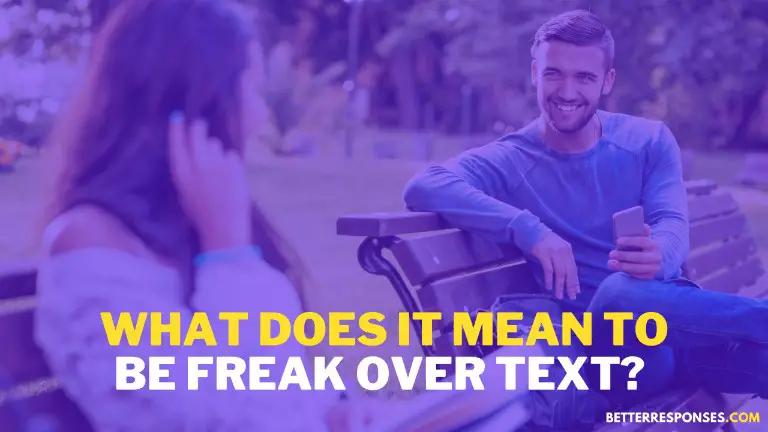 But to have some hot discussion going in that direction. 
With your answers, you can express the wild and crazy side of each other while texting. 
Show your partner that you're freaky, have some fantasies, and are also ready for some adventures. 
If you don't want to disappoint them and want to respond flirty, these flirty responses you can use during how freaky you are over text. 
Make the best use of it to get freaky with your partner online (for now)!