Last Updated on December 8, 2023 by Ketan
When you get 'How was your night?' question from your loved one, the romantic answer is the right choice. 
Indeed, no more small talk. 
They are curious to know if you get enough sleep or what you did last night. 
You take it as a conversation starter with someone you chat with every day. 
If you want to have fun or a romantic chat following that, we have prepared the best responses for you to share.
How To Answer To "How Was Your Night"?
Well, this question is nothing much but to discuss your last night's experience. 
Mainly, when you're talking with your friend, crush, or partner, you want to respond by being funny, and cute to flirty based on your connection and how the last night was. 
Well, it's just a regular question but your answer can lead it to a great chat. 
If you hope to have some interesting or romantic conversation, avoid regular replies.
Instead, you better try these funny to flirty answers to show 'How was your night?', in a chat with your special someone.
Here are the best examples you can use: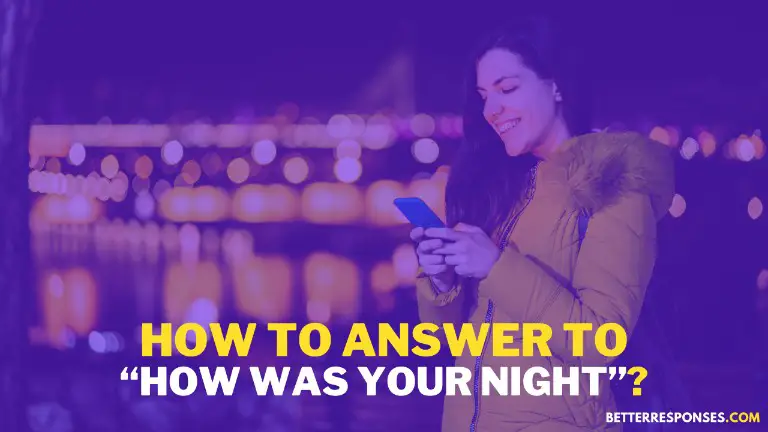 1. "The way it used be… sleepless, without you." 
Tell your long-distance partner that you miss them so much.
READ NEXT: How To Reply To 'Can I Have Your Number'?
2. "How it can't be great, I had your night greetings." 
You and your crush often message 'Good night' before ending the chat. 
So, this one is a nice reply to tell him that you value his greetings. 
3. "Mine was good, what about yours?" 
Don't just answer, also ask how was their night, back. 
A cute gesture to respond to a developing connection. 
4. "Good, but it could be better if you were with me."
When your crush or partner asks 'How was your night?', this is what you can say. 
A flirty response to let her know that you wish her to be with you. 
5. "What was special about that night? It was just regular like every night." 
You didn't feel and find anything special about last night. 
So, why they are asking it? 
6. "I have no idea when it came and when it went." 
Share this fun response to your friend asking 'How was your night?'. 
It was just another regular night.
7. "Not like yours." 
This is a clever response that works both ways. 
Either you're saying that you had a better night than them or a sleepy one. 
8. "Forget about that last night, I want you tonight with me." 
When your boyfriend texts 'How was your night?', this is a flirty response. 
Tell him that you want him so bad for this night.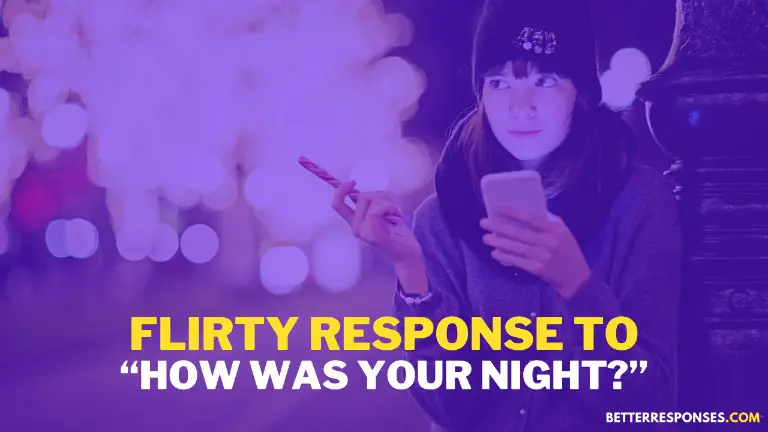 9. "The entire last night went in thinking about you." 
A special response to share with your partner to tell them that you think of them the whole night. 
READ NEXT: What To Reply When Someone Calls You 'Innocent'?
10. "It was just perfect. Because I was dreaming of you." 
This means this night was as expected. 
Make your crush feel special with an answer like this. 
11. "I have no idea, I was asleep last night, that's why." 
You were totally in sleep mode, so you can't say how was the last night. 
12. "What? Why do you want to know that, huh?"
Just tell me what would you do with that information.
13. "It was so relaxing, I got some good sleep."  
Just a regular response to tell them that you have a good night. 
14. "I was trying to forget about last night and you are asking about it." 
It must be so horrible, tiresome… whatever you just want to stop thinking about it.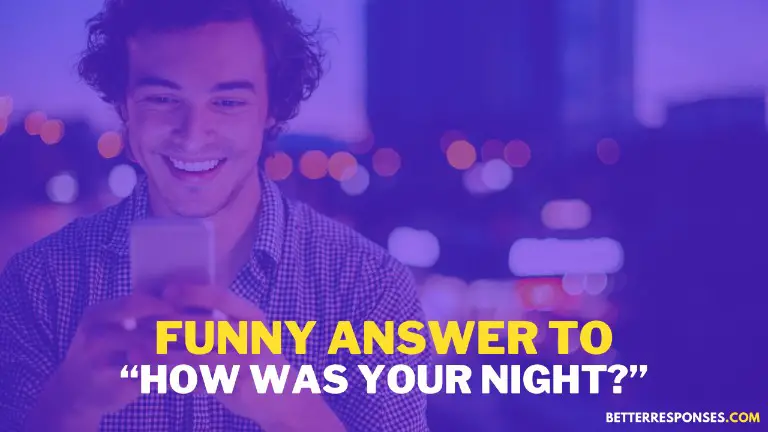 15. "Did you do something later that night?" 
Their curiosity to know about your night freaking you out. 
So you have to ask what did they last night.
16. "It could be romantic if you were here with me." 
Tell your crush or partner you really wish they were with you at this time. 
All you were hoping was to have a romantic night.
Well, maybe some other night. 
17. "What do you mean 'was', It's still night and I'm in bed." 
Maybe you two are the different time zone, and this is a sarcastic response to answer with. 
18. "I had the worst nightmare of my entire life." 
So, you don't want to talk about this.  
READ NEXT: How To Respond To 'I Want To Kiss You'?
What Does "How Was Your Night" Mean?
When someone asks 'How was your night?', they use it to have some conversation. 
Or, they want to know what happened yesterday night. 
This person your family member, friend, or partner asks this to figure out if you had enough sleep or did something interesting last night.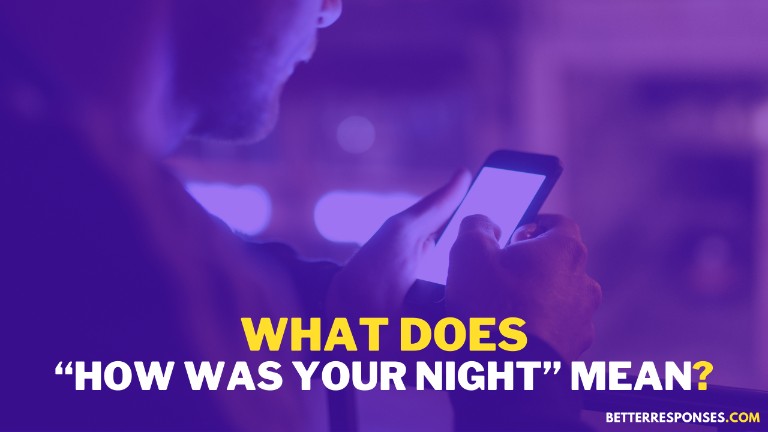 It's your choice that you can make it a short response like 'It was good night'. 
But to someone who cares for you and you want to have some engaging conversation with them, you want to answer interestingly. 
Like your friend or partner who asks 'How was your night?' and they mean it.
Next, you better share funny and flirty answers for the same. 
This allows you both to have the conversation going and that's what you both want. Right?