Last Updated on October 18, 2023 by Ketan
Well, getting a simple 'Okay' text from someone is good and bad at the same time. 
It's good, as you get their approval on something that you asked or requested.  
And, it's annoying because it's not clear but just a one word-response. 
However, depending on the situation, you can respond to the 'Okay' text, by being polite to sarcastic.  
In this post, we are discussing the different ways you can reply to it, based on the tone and context of the conversation. 
How To Respond To "Okay" Text?
Generally, the person who says 'Ok' in text, shows their approval and consent on something. 
So, there's further nothing more to discuss. 
If you wish you can respond with the 'smiley emoji' or 'thumb up' that you appreciate their agreement on something you said or told them to do. 
So, normally you don't need to think much about how to respond. 
While in some cases, where the person says 'Okay' in the middle of the text, there are some ways to keep the conversation going. 
Whether you're chatting with your friend, partner, or crush, here are the best replies to 'Okay' text, based on the conversation tone.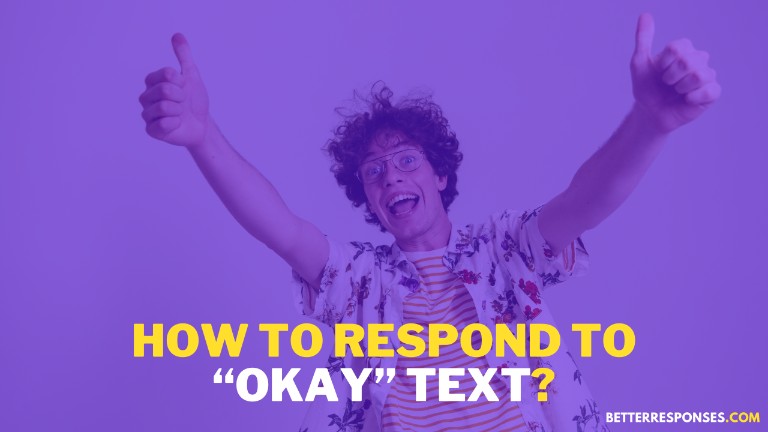 1. "That's great to hear."
Just a simple response to share mostly while interacting with your professional connection. 
2. "Thanks for saying that." 
When someone agrees to your plan or suggestion, they share an 'Ok' response.
To appreciate that, you can thank them back. 
READ NEXT: How To Reply To 'What's Shakin Bacon'?
3. "That's pretty cool, Right?"
A fun reply to share with your friend's agreement on something. 
By asking questions you also want to know what they think of such a plan. 
4. "So, nice of you. You never say no to anything." 
You asked for permission from your parents or partner to do something and they said 'Ok' means 'Yes' to you. 
This is a nice response that you can share to show how happy you are with them. 
5. "I love you, too! See you soon." 
While chatting with your partner, you asked them something and they said yes with an 'Okay' text.
They agree to it because they love you. 
So you share this witty and flirty response to your partner's cute message.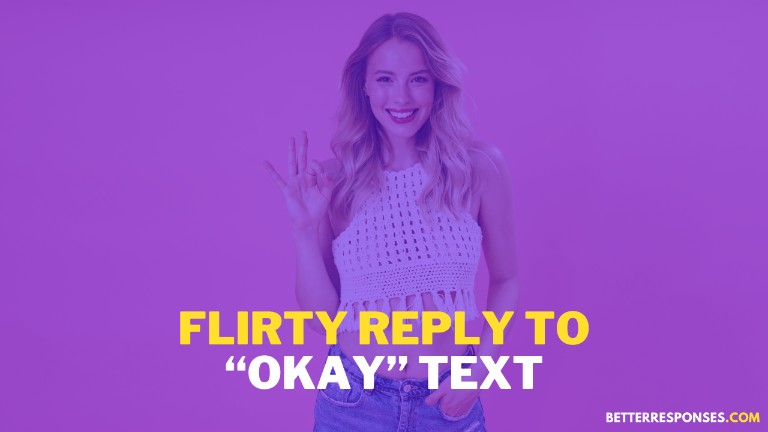 6. "I don't think you're totally into it." 
You have some doubt that this person isn't happy but say yes anyway. 
This one is a direct response to asking them for more clarification.   
7. "What do you mean by 'Okay'?"  
Certainly, you aren't going to accept their 'Ok' by any mean. 
You want to know if they are genuinely saying yes to it. 
READ NEXT: Flirty Answer To 'How Was Your Night?'
8. "Thanks… this is what I want to hear from you."
You get their genuine interest in doing something and you're excited about it.
9. "Just OK? Are you okay?"
Getting just a simple 'ok' confuses you, and you don't know what they think. 
So, better share this funny response to someone who texts you 'ok'. 
And, you want to check if they are okay with it or not.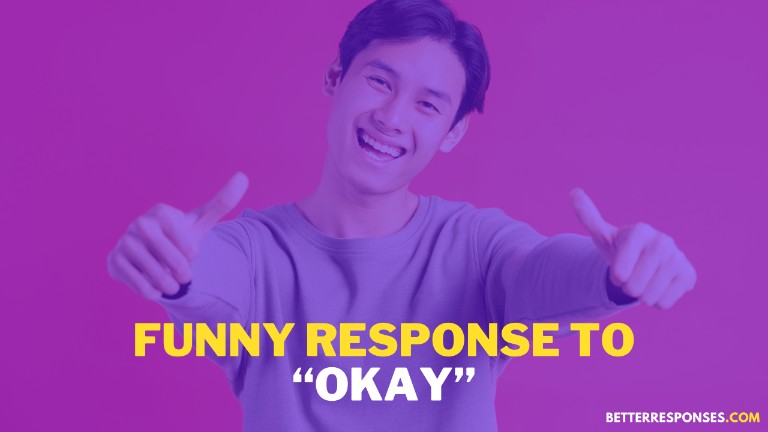 10. "What a surprise… You agreed to plan without any excuse?" 
Say this to a friend or someone who always complains about anything. 
But now, they say 'Okay' it surprises you at first. 
So, you share this sarcastic response to ask them what happened now.
11. "That's what a real man does." 
To make your friend feel confident, this one is a funny response to give on 'Okay' text. 
12. "You could have said something better." 
There is a lot to say other than just a dry response. 
You hope to see their excitement as well as something more than just 'Okay'. 
13. "I don't think so." 
During the argument, when someone says 'Okay' and you know they do it forcefully.
So, you better give this clever response to show you don't believe them. 
14. "Did you even read my previous text? What did it say?"
To someone who is habitual to say 'Okay' to everything, you just want to confirm it. 
A funny and sarcastic reply to 'Ok', to check if they know your message.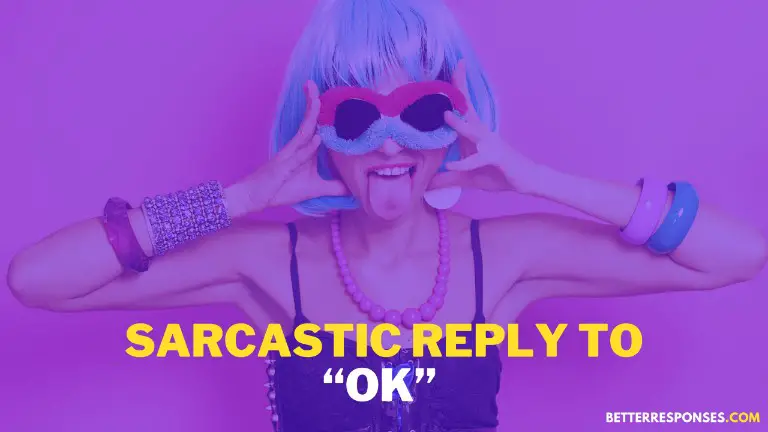 15. "Is there anything wrong?"
This isn't their best reaction, this person seems a bit off and you feel it. 
To your crush or partner who just texted you 'Ok', this is what you can ask back to check what's going on in their mind. 
You politely care to ask if they are alright with this. 
16. "But, I'm not okay with your 'okay'." 
You find something amiss in their reaction to it. 
So, you ask them straight to them what's their genuine interest. 
17. "You don't seem like you're okay with it." 
Somehow you feel that this person is lying to you and agree with you anyway. 
You don't want to force them on anything. 
So, you better discuss it clearly. 
READ NEXT: How To Answer To 'Who Is This' Over Text?
What Does It Mean When Someone Texts "OK"? 
We get 'Okay' texts all the time, for some good reasons and bad ones.  
But, the common purpose of using 'OK' in the chat is to show approval and agreement on something. 
In formal and informal connections, you might get 'Okay' as a positive reaction. 
This is a short enough reaction from someone when you ask for some favor or permission.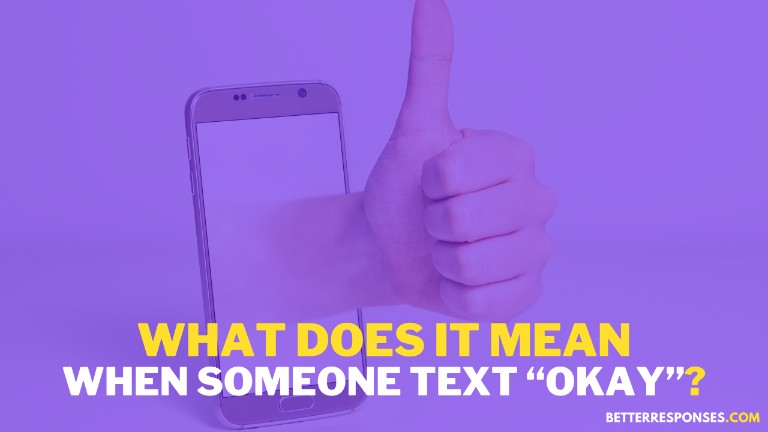 Well, 'Okay' is a positive reaction to something. 
But sometimes it feels so lame and forced. 
And, to respond correctly, you need to mind their tone like how they say it. 
Here we tried to cover the regular scenarios when you get 'Okay' text that you can respond to based on the context of the conversation. 
You can try sarcastic, flirty, and funny responses to 'Okay' based on who you're chatting with.
Yet, you need to be careful with that.
And, don't think too much about that.  
Because most of the time, after 'Ok' there's no need to keep the conversation going.