Last Updated on October 10, 2023 by Ketan
If you want to make your kids tough against any comments or criticism outside, you will find the best comebacks and roasts for kids here. 
At first, it's not to put pressure on your 9- or 11-year-old to be hard.
But this way you train them to be quicker, clever, and sarcastic. 
Because if they're not ready, this world isn't going to be easy on them.  
Eventually, this will help them to say something against any criticism or comments they might face outside the home and handle it on their own. 
Clever Comebacks For Your Kids
Well, you can't accept that your kids are slow and take whatever the world throws at them. 
You probably want them to be solid and smart just like you. 
If you want your kids to defend themselves against the world and anyone who insults them outside, having such witty comebacks makes your kids feel more confident.  
Not just to deal with the bullies, but to stand out as quick-witted, your kids need such comebacks.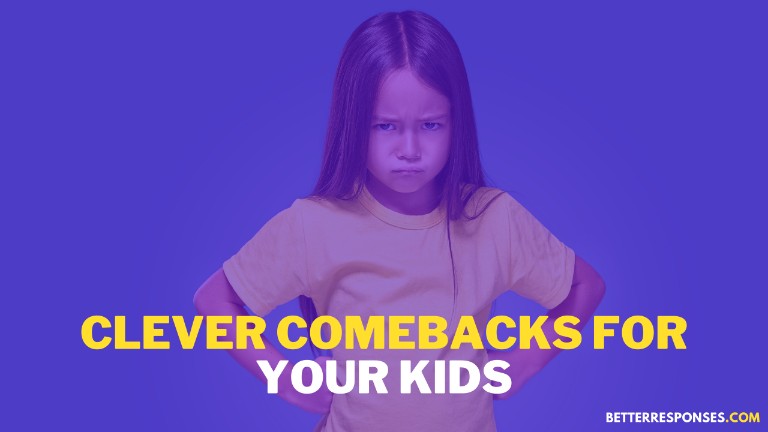 1. Call me a nerd right now, but in the future, you will work for me.
2. My parents said to take nothing from strangers. So I'm not taking your comments either.
3. If you think you can control me, you better control your emotions first. 
4. Your family, They are the nicest people. But why are you so different? 
5. I think your only problem is you expect too much, but do nothing.
6. So, you have been waiting all day and came up with this?
7. Are you done? Okay, then we will see you tomorrow. 
8. I met your parents yesterday and they told me 'I wish I had a son like you'. 
9. Thank you for your suggestion. But sorry I didn't hear you. 
10. You can certainly win a medal for this running mouth.
11. Even if I try to fix you, I can't do it. You're such a piece of work, unfixable. 
12. Because you're like this, nobody likes you. 
13. I'm feeling so sorry for you, that you have no friends but haters. 
14. I don't want to be hard on you, but you left me no choice.
15. Good try, you can try it another time. but I have no time for you. 
16. Do you think you're perfect? If yes then only advise others. 
17. This place is really quiet when you're not here. 
18. Well, you do exactly what I expected from you. 
19. I don't think i have anything for you. So, you better go away. 
Best Roasts For Your Kids
If you want to give your kids some roasts to have as a backup, here are the ones. 
You want your kids to have something when their friends or someone makes fun of them or teases them even as a joke. 
With such roasts on hand, your kids are more likely to come out as sarcastic and savage. 
This prevents them from being an easy target among their friends and bullies most importantly.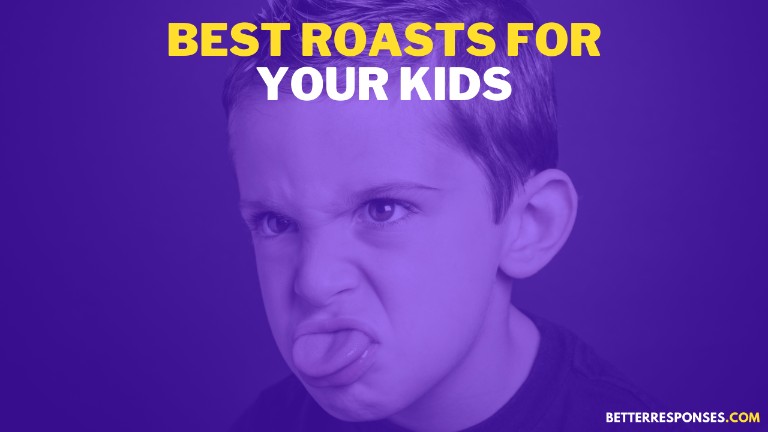 1. I know I'm the bad one, but you're the worst here. 
2. There's always a bigger fish, my friend. Don't forget that. 
3. Do you think you're perfect? You're, but in the wrong things only. 
4. My parents have raised me well, so I won't be bothered by your comments. 
5. Okay, so that's the best you can come with. 
6. Do you ever do something that your parents feel proud of? 
7. I can't imagine the life of an adopted child, I feel very sorry for you. 
8. If I waste my time on talking or correcting you, It would be my mistake. 
9. Fine, if you don't like me. It's only you. while everybody here likes me.  
10. What you think of me or what you say, It's none of my business. 
11. Do anything you can do, just don't show your face to me. 
12. Where did your dad go? I heard that he left your home because of you. 
13. Just because of you, I realize that not everyone is nice though. 
14. Why do you always have to be like it? You don't deserve hate. 
15. How do you know so many things about me? Are you, my fan? 
16. You're a mental case, I can't help. But a psychiatrist can.
17. Sorry, I can't give you any attention. You can beg it from someone else. 
18. I wish I could help you to become a better person that everybody loves.  
READ NEXT: How To Respond To 'You're Very Smart'?
Conclusion
Well, remember that these comebacks and roasts for kids are not to make fun of them for being average or weak. 
This is to make them ready to handle any comments. 
Which they might get from the outside world or even from their friends.
Because they're not going to be easy on your kids and they've to be ready for it. 
You won't always be with them, nor do you have to. 
So, when your kids have something to say while dealing with any comments outside, they can easily defend themselves with such timely clever comebacks. 
Here you train them to stand up and not take anything personally from anyone. 
With such comebacks and roasts for kids, they feel confident and tough to face anything.