Last Updated on November 27, 2023 by Ketan
Well, 'late birthday wishes' are too special. Here you can say something beyond 'thank you'!
When someone says a 'Belated happy birthday' that doesn't mean they don't like you or don't want to say it, they might have just forgotten this special day.
Indeed, there's no point in taking it personally.
But if your bestie forgets about it and wishes you late, you want to punish them ironically. 
You can't tolerate such loose treatment from someone you care about.
Funny Replies To 'Belated Happy Birthday Wishes'
Of course, you're not going to break a friendship just because of late birthday wishes. 
But, when your best friend misses this important day, you want the best responses that are both sarcastic and humorous for such late wishes on your birthday.
These witty responses are just to make your friend remember so they don't do it again next year.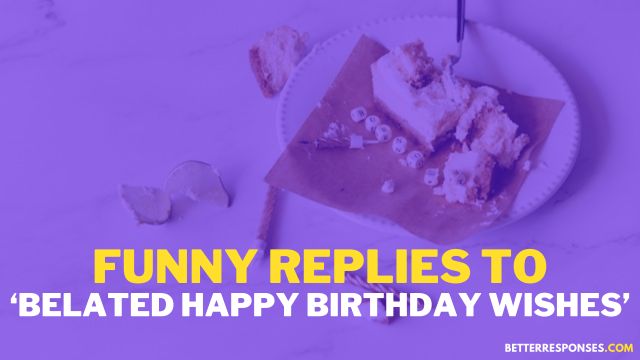 1. "Belated thank you so much, Friend."
They wish you this late. 
So, your response is also late, and this one works here perfectly.
2. "You're right, actually, today is my birthday."
While everyone in your life celebrates your birthday one day before, this is your one and only true friend who knows when your actual birthday is.
How awesome a friend he's, that you even shifted your birth date to the next day.
READ NEXT: Funny Ways To Say How Tall You Are
3. "Bro, you're actually a bit early for my next birthday."
Quite a sarcastic response to belated birthday wishes. 
It would make them realize how late they are… Nope, how early they are with the birthday wishes for you.
4. "We'll still remain friends even if you didn't wish me."
You just want to relax this friend who might be thinking that you will unfriend them on Facebook.
Because they didn't greet you on the right day.
5. "Glad you finally have time to share your wishes." 
Your friend is such a busy person and doesn't waste time on unimportant things.
Even late, as they greet you with Happy birthday, it means you're important to them.
6. "No problem, friend, I know where you are."
Definitely, this friend has time to check your status. 
They've been online and still don't get time to wish for you, so your response here is sarcastic but reasonable.
7. "Lol, even your birthday wishes come late. Thanks, Btw."
This is from a friend who is known for their late text replies habit. 
They are never on time, not even on a special day. 
8. "I thought you were ignoring me. Fine, now." 
And that's why you haven't invited this friend to your birthday. Right?
9. "Let me know when's your birthday?"
Why are you asking this?
Do you want to do the same to them?
READ NEXT: Comebacks When Someone Calls You Skinny
10. "Sorry, I almost forgot to invite you to the party." 
How arrogant are you, you forget your friend to invite a good friend. 
This friend is certainly late, but they even care to send you wishes. 
11. "Now I'm happy, as my best friends have wished me."
You show your excitement that now your bestie shares the belated happy birthday wishes, you feel like it's today.
12. "Thank you so much, I've been waiting for your message." 
This is from a special friend, who never forgets to wish you. 
Glad even late but they keep their record. 
13. "Bro, is there anything you can do on time?"
You're confused about what is preventing this person from doing the right things at the perfect time.
14. "Same as usual, thanks, buddy!"
You can't do anything about this person, they do the same to others and so to you!
Use it as a normal reply that says 'No worries, I'm fine, buddy. I know you well.'
15. "Finally you realized it's my birthday." 
If someone texts late birthday wishes, see it as this friend wants to make his wishes noticeable. 
And it's possible when no one is wishing you a birthday.
16. "Thank you, but we're not friends anymore." 
We hope you're not serious and get it personal. 
You're just messing with this friend who dares to forget the important day of your life.
READ NEXT: Hilarious Answers To "How Are You?"
17. "And, where's my birthday present?" 
They couldn't escape even with the belated birthday wishes. 
Ask for a present, as it's your best friend. 
On asking, you can tell them it's for a late fee. 
18. "Thanks just because of you, I'm celebrating my birthday this day, too." 
Thank them and you can give a party for this person to make another day a special day of the year.
19. "My birthday isn't today, Save it for next year." 
Try to act as if it makes you annoyed and not accept their belated birthday wishes. 
20. "What were you doing? Why weren't you here?" 
You're checking if this person is fine. 
Maybe they were lost on the way to your home or their phones were stolen.
Possibly that's why he never greeted you on time.
21. "It's not my birthday, it's her birthday now." 
When someone's birthday comes on the next day after yours, these responses suit there. 
Now, you're not accepting wishes, because it's someone else's now.
READ NEXT: Flirty Answers To 'Do I Know You?' On Facebook
22. "Be frank, who told you that yesterday was my birthday?" 
You are confirming with this person because you know someone has informed them about wishing you.
23. "You break my heart. I didn't expect this from you." 
Of course, you don't like it. 
To make them wish you on time, and mark this day for the next year, such witty responses to late birthday wishes are enough.
24. "I will do the same, then you will realize how it feels." 
Let them know why you are feeling so hurt. 
They won't understand it unless it happens to them.
25. "Those who wish late are the ones who are honest."
You're being frank while accepting the late happy birthday wishes. 
Just a fun response to give your bestie for the belated wishes.
26. "Are you kidding me? You're not only late but also wishing the wrong person."
Well, you have someone else's late wishes as your birthday isn't around… So why take it. 
Inform this person to pass it on to the right person.
27. "Thank you for reminding me that yesterday was my birthday. I also forgot it."
Your friend has wished you late, and you don't mind it. Or you do.
And, this one is an interesting response that you can share just for fun.
Or as a taunt.
READ NEXT: Good Replies To "Why Are You So Underrated?"
How Do You Respond To A Belated Birthday Wish?
You always have that one friend whose messages and wishes are late. 
Not just a regular text, but this friend is also late to wish someone a special day. 
In response to most birthday wishes, you may copy and paste 'Thank you' messages to everyone.
But late birthday wishes are something that you want to handle differently.
Here you can simply say thank you, but if it's from your best friend or someone you care about the most, you give them sarcastic or funny replies like the one shared above.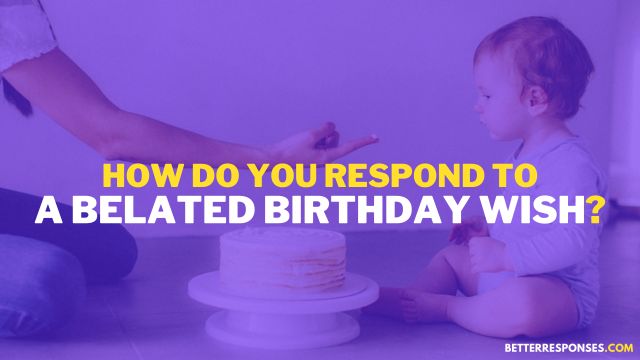 While some won't stop there but ask your age.
For them, we just prepared these clever and savage answers to how old are you, you better not miss them, as well.
You can tease them or express how being not with you on a special day hurts you and all.
With funny responses to belated happy birthday wishes, you try to show that you're fine and not taking things personally. 
Late or early, they wish you that's you care most.