Last Updated on September 12, 2023 by Ketan
You caught your sibling doing something, you told you that you'll tell your parents about it. 
But, while telling the parents, he says "I've no idea what you're talking about".
Clearly, they're trying to escape from punishments for breaking the 'house rules'. 
But, you're smart that you already got your replies to admit it, without wasting much time and spoiling your 'good' impression on parents. 
When Sibling Says "I've No Idea What You're Talking About?"
Your siblings or someone who says they've no idea, (but knows what they did), think that you will leave them easily when they act so unaware. 
Well, you can get them back with smart comebacks like these. 
Maybe you have valid proof of not, but when you witness that someone did wrong, this is what you can say to admit their mistakes.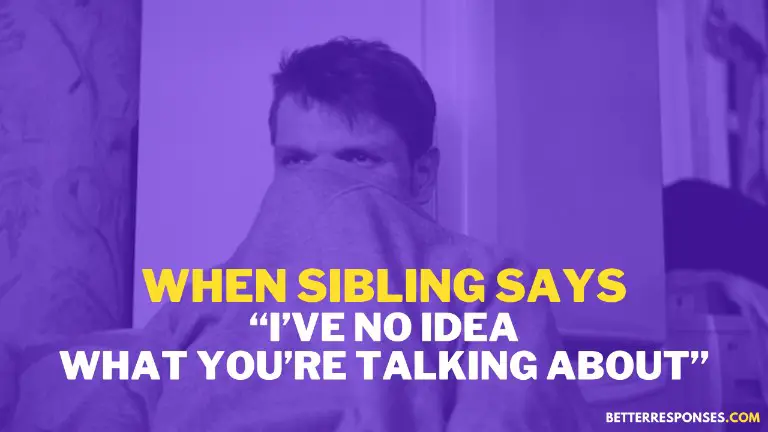 1. "Is it? Oh really? I've recorded your whole action."
Tell them that you have proof to support your statement. 
You will see them uncomfortable, sweating that they got busted. Or there's a surprise that saying, 'But how?'
2. "Stop lying, even our dog knows it's only you who can."
Tell your overmark sibling that even if you don't even need proof to prove anything. 
Because your parents are even smarter than they know whose hand is behind it.
Sometimes, sibling annoys you by acting like they don't know what you say or try to prove.
3. "Well, this means you know exactly what I'm talking about."
You haven't completed your entire statement, but they say they did nothing wrong. 
This is enough to know that some way or another, they're involved. 
4. "I don't think so."
Just say this and say nothing to your sibling who keeps saying they don't have any idea.
A death stare will make them say something or just admit it. 
5. "Someone else also caught you doing that."
If they did something wrong, they would ask 'who'.
And if they did nothing, they will say 'I don't care' which means it's clear that they did nothing wrong. 
6. "Fine, let me show you some proof?"
Whether you've got proof or not, when you say it, the expression on your sibling's face will reveal something they did.
What Do They Mean With It?
Possibly when someone says, 'I've no idea what you're talking about' they have no idea at all.
Or, they have no idea how to explain it. 
Whereas, in most cases, they already know what they did and they try to get away from it.
But, you know that they're lying and this will hurt your credibility as a witness.
When you ask your sibling 'Where did you go?' or catch them doing something wrong, you know they try to hide something.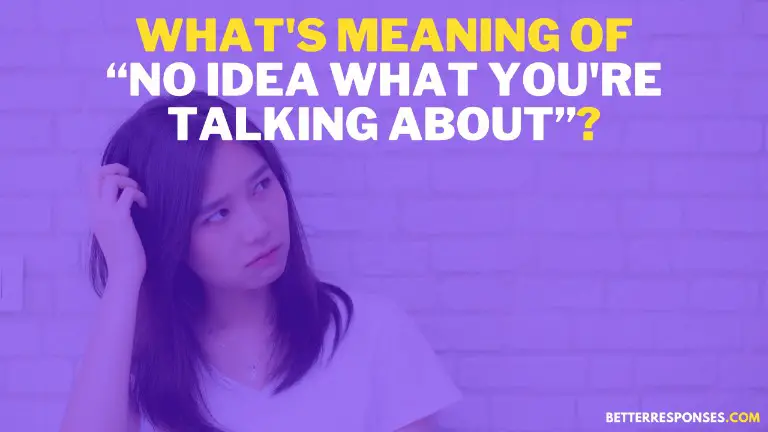 In that case, the shared replies will help you to get them to admit their mistakes.
Even better if you make it clear to your siblings before telling your parents.
And if they still aren't convinced, say that you're leaving them to god.
Or let the karma take care of them. 
Eventually, you're still giving them time and reason to admit it.