Last Updated on October 26, 2023 by Ketan
Does this phrase "Pleasure is all mine" often leave you unsure over how to respond to it? 
Certainly, that person is more than happy to help you. 
And, for such a kind gesture from someone, you also want to keep your response as positive and polite as possible. 
If you need the right thing to say after 'the pleasure is all mine', this article will help you with the best example replies.
How To Reply To "The Pleasure is All Mine"?
Well, normally you get this phrase in the formal setting. 
You can expect this phrase after thanking someone for how they helped you with something or what they have done for you. 
Also, this is a kind response to formal greetings like 'nice to meet with you'.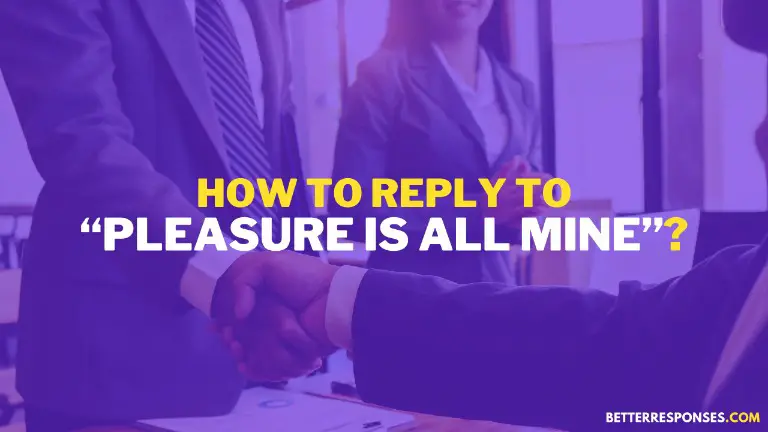 Depending on the situation and who is saying so, you better know how to respond to "the pleasure is all mine" appropriately. 
Normally, you have nothing much to reply to (a smile is enough). 
But to express your genuine thankfulness for their big help, you can try these possible replies. 
1. "I can already see you're quite passionate about your job."
When the employee is ready to go extra mile to help you out, they deserve the appreciation.
You can share this response as a manager or client to an employee. 
Because they remain both patient and passionate to provide a solution. 
2. "I'm so sure that without you I couldn't do it."
Well, their help really means a lot to you. 
Earlier, you were feeling so stuck at something and this person helped you at the right moment. 
So you can't stop thanking them enough. 
This response shows you appreciate their support in such a situation. 
3. "No seriously, that was such a big help."
You want to show that a simple thanks wasn't enough. 
Actually, you're so thankful for what they do for you. 
Maybe it's related to some technical stuff or gratitude towards their contribution to your success, but this one is a good response to share.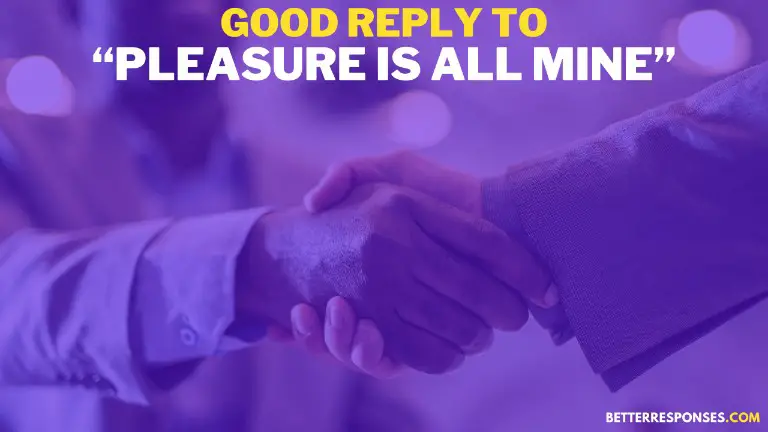 4. "What can I do for you, just tell me?"
You can use this phrase in a formal or casual setting. 
Because you're so impressed with that person's help, you also want to do something for them in return. 
Next, you offer help like the way they provided.  
READ NEXT: How To Reply To "I'll Try To Make It'?
5. "Feel free to let me know if you need my help with anything."
If you're happy with someone's help at work, you can share this formal response. 
This way you can reply to your teammate or coworker who says 'The pleasure is all mine' after you thank them. 
It expresses you are available and so ready to support them the same way. 
6. "I'm so glad that I got your help at the right time."
This was a crucial project and you were looking for some help. 
When you need the most, you get assistance from someone. 
So you didn't stop at thanking only, but appreciate how helpful they are. 
7. "I truly appreciate your helpful nature."
When someone is always ready to help others, they deserve genuine appreciation. 
You have that coworker in your team.
With this reply, you express that you really value their kind nature towards others.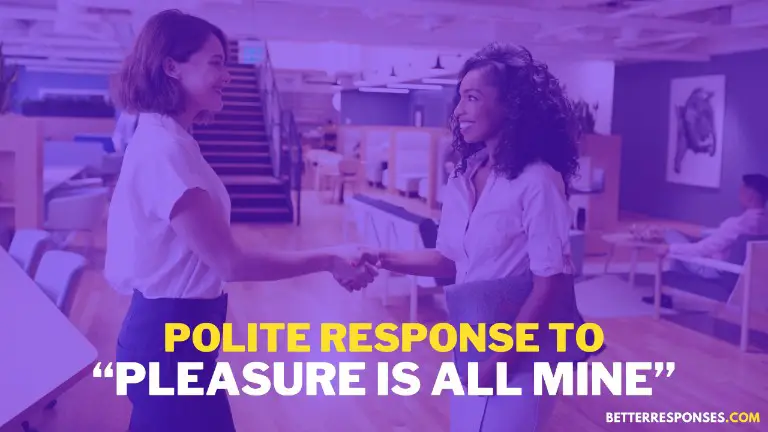 8. "Really, working with you was so much fun."
It might be a one-time project, but you are having fun working together. 
This response you can share this with your coworker or client with whom you worked on the temporary project. 
It expresses you had a joyful learning experience.  
9. "Good to hear that. Thanks again."
You have nothing much to say after 'pleasure is mine'. 
It happens most of the time. 
But to avoid silence, you can add this response as a filler. 
This makes your reaction sound genuine and not awkward.
READ NEXT: What To Answer To 'How Soon Can You Start Working'?
What Does "Pleasure Is All Mine" Mean?
When someone says "The pleasure is all mine" it means that person is more than happy to help you out with something. 
You get this phrase in response to thanking someone. 
This person wants you to take it easy as they have no any problem with doing something for you. 
Because this phrase is more suitable for the formal setting, make sure that you use (or reply to) it in the same manner. 
You can use it for formal connection, such as while contacting your coworkers, boss, or client to show that you don't mind helping them any way.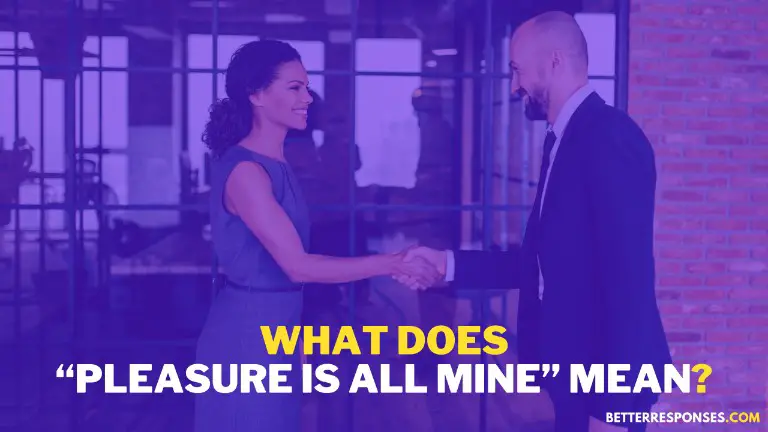 When it comes to replying to "The pleasure is all mine", there's no perfect response to the same. 
Generally, the conversation ends after thanking someone for their help. 
So there's no need to stretch the conversation further. 
But if you wish to express your deep respect and genuine support towards their kind gesture, you can choose the suggested polite response above. 
Otherwise, you can lead a conversation to a new topic or just end it there.