Last Updated on September 24, 2023 by Ketan
Well, some relatives or family friends can't bear your singlehood. 
Even if you're 'Happily single' or in a relationship, they never even think before asking this, 'So, when are you getting married?' or 'When do you both plan to get married, Huh?'.
You certainly want to reply harshly… But, that might offend them. 
Instead, you can try some solid responses, when you don't know how to respond to questions about your marriage. 
Also, we'll share the witty comebacks to give as a couple when this question bothers you both.
Funny Replies For "When Are You Getting Married?"
This might be a serious question, but you can respond lightly. 
When your friends or relatives ask you when you'll get married, such funny responses show that you don't take them and their questions seriously.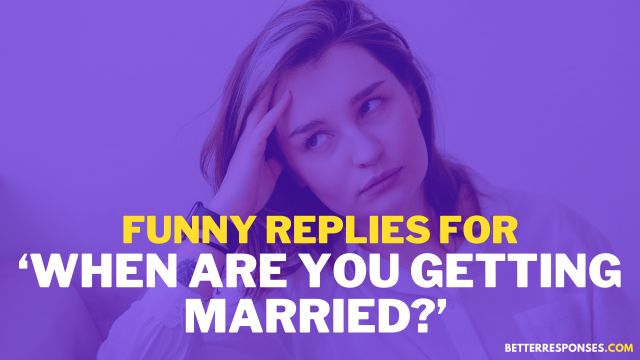 1. I'll marry… when your son finally clears the college." 
Occasionally, some relatives or uncle-aunties don't just ask how are you doing, only ask about your marriage and so on. 
It will be enough to give such a relative idea of how it feels. 
2. "The day when you finally get my money back."
It's for your friend who borrows money and never pays it back. 
Show that you already have a marriage plan. 
But because you lend money to friends like them, you are short on cash. 
3. "I don't think God has created someone for me."
Maybe it's your grief that you've not met someone -the one for you. 
It will be a fun response when your friends know just how many times you almost got married. 
4. "It's next month. But only a few respectful people are invited." 
You could be right, your marriage is around the corner.
So, congrats in advance. 
But, as you respond to your relatives who are overly excited about your marriage, this will undoubtedly cool them down. 
Because you don't consider them in the list.
READ NEXT: Savage Answers To "Are You Seeing Someone Right Now?".
5. "I'm looking for a girl who calls me more than just cute."
So, you've been cute for most girls you meet so far.
Being overly nice, you make girls friendzone you. 
Here your friends might laugh at it, but there is no denying it. 
6. "I'm ready, just waiting for him to come back from his bachelor's party."
 This relative has asked the question at a time when you're near your marriage. 
Or, you just wait for your crush to stop hanging out with his friends and fall for you.  
7. "Late, because I have to arrange everything by myself (unlike you)." 
It's irritating when someone asks 'when are you getting married?', especially if he has no job but is still married because of his wealthy family. 
And, you can give such a fun reply like it.
8. "I can't afford to have an extra person in my house." 
No one is going to deny this. 
While inflation is a thing, accepting that you can't afford something is a smart move. 
9. "When I finally move out from my parent's house and have mine." 
You might be taunting this person, whose life has never been tough. 
Also, marriage is not a priority for you, but you also make yourself ready before you take any extra responsibility. 
10. "The idea of getting married scares me and I don't want it to happen to you, as well." 
You certainly come across many examples of failing relationships that cause you a trust issue. 
But as your friends who are also unmarried laugh and agree with you. 
11. "When your daughter finally accepts my proposal."
Be careful with that, this acquaintance or neighbor might get mad when you answer this way. 
But anyway as they dare ask you when you'll marry, you can give answers to shut them down. 
12. "Probably never."
Here you're not being hopeless.
But it's your plan that you will remain single forever. 
Savage Answers To "When Are You Getting Married?"
You may be going through a tough relationship phase or have just become single again.
In times when someone asks when you'll marry, it's easy to get upset.
You've no idea what to say, but these savage replies will prevent them from asking it again.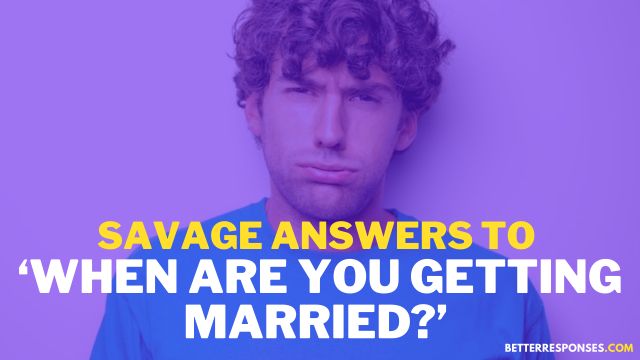 1. "You tell me when should I marry?"
This reply is for the relatives who are known for their unwanted advice or opinions about someone's personal life and all. 
Here, you're the first one to ask it.
2. "As soon he'll come out from the Bermuda triangle, we'll marry."
Your fiance is quite busy with work, or you're here refereeing that you two are not in a state to get married. 
In the same phase, when someone asks when you both will marry, respond in such a way.
3. "Why are you being jealous of my freedom?" 
For those friends who are already fixed on the one for life, this is the perfect answer to give. 
Following that you can list down all the benefits of being single and why to get married late.
4. "He went to space and we got married when he came back."
You're waiting for your s.o. to return to earth, perhaps he went to bring you the moon. 
But now you're desperately waiting for him and you can ask relatives to help you to find one for you.
5. "I don't think I'm ready for it. Do you think?"
For relatives and friends, who see marriage as a goal, this is a great comeback to 'when are you two getting married?'
6. "When will you start working?"
You're destroying this person with such a response. 
After all, how dare they ask about your life plan when they don't know that they're doing nothing?
READ NEXT: Strong Comebacks For Siblings Who Annoys You.
7. "I don't want to marry someone, but I love to have babies."
You're being bold here and expressing what your thoughts are about marriage. 
8. "I just enjoy dating new guys, then being set with just one."  
Even to tease your relatives and family members, you can use this answer to such stupid questions. 
Here you show that you're ready for meeting new guys. 
But the idea of getting married to one, and you're not ready for that yet.
9. "I love myself enough, I don't think someone even loves me this much."
Of course, no one will love and care for you the way you do.
You're saying facts here. 
But, this reply also says that you're a girl with high standards and you haven't met a guy compatible enough. 
Answer this when some guy asks you online or in person.
10. "I'll marry someone when you stop asking such nonsense questions and mind your business."  
This person will be the same forever, but that doesn't mean you won't marry. 
But, this comeback is to make them look at themselves, first.
11. "Only you're the one who takes care of me, but not my family."  
You're being sarcastic here. 
This person is always asking you about your marriage and relationship. 
Hope they will get what you mean!
12. "The same day when my parents accept my girlfriend." 
You can also ask this relative to convince your parents and family to accept your relationship. 
After all, this relative seems to be worried about you.
READ NEXT: Best Answers To "Do You Have A Boyfriend?"
Witty Answers To "When are you planning to get married?" (For Couples) 
Possible that your girlfriend is upset or your boyfriend is too busy to discuss your marriage.
While this someone asks about when your wedding is. 
Also, you and your partner already have some special plans for your marriage. 
If you've no idea how to respond, you give these clever answers to someone.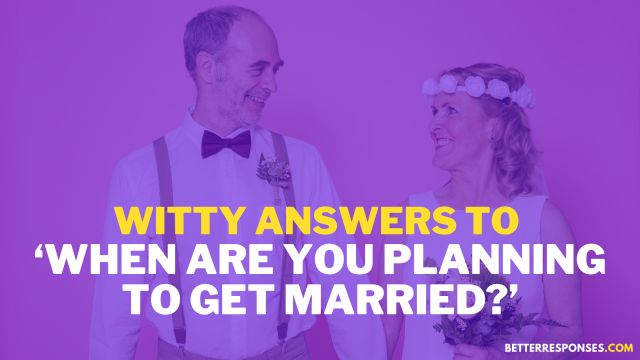 1. "We're already married. Just, we didn't tell you."
This answer is for those nosy neighbors or relatives.
You don't want them to sneak peek into your life or home. 
So better to let them know your husband-wife already.
2. "31 February 2024, please come. You're the first one we invited."
Give them a final date, and tell them to show up on time. 
Let this person take this response their way, at least you give them an answer they deserve.
3. "We'll marry, after our first baby calls us, 'mom and dad'." 
You want your kid to attend your marriage, right?
This will shock your relatives and family and friends, but that's the point of this answer.
4. "It's when someone like you takes our responsibility."
You and your girlfriend are already looking for someone as a witness for your contract marriage.
And now you have one who cares for your life more than your parents.
READ NEXT: Good Comebacks To Say To Your Parents.
5. "Oh I almost forgot about that. (Turn to your girlfriend and ask) Do you want to marry me now?"
You're just ready and waiting for the perfect time. 
And when some friends ask you when you two are getting married, your answer says 'Right now'. 
6. "It's a surprise, but not too early, not too late." 
You're giving them a confusing answer on asking you about your marriage plan. 
When you don't know how to respond to it, this one is the best to give.
7. "Don't wait till our marriage, you can give us wedding presents already." 
Indeed, as this someone frequently asks you, maybe they brought gifts for you- the bride and groom.
This reply tells them not to wait until your marriage reception.
8. "But, we won't invite you. Sorry!"
No need to explain why. 
Also, you're not being disrespectful here, you're being direct.
READ NEXT: Better Ways To Tell Parents 'I have A Girlfriend.'
How To Answer "When Are You Getting Married"?
Whenever your friends ask about your marriage plan, maybe they're just asking randomly. 
So, you don't want your responses to scare them every time. 
In such a case you can give some funny answers to 'when are you getting married', it will make the humorous conversation possible.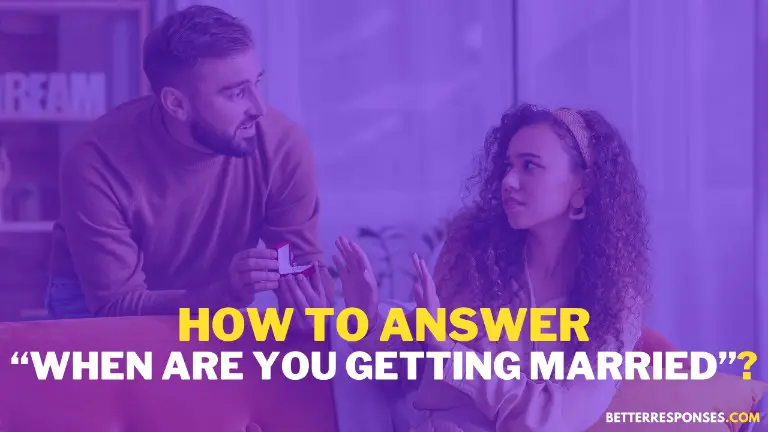 On the other hand, some sneaky relatives, neighbors, and even friends might pressure you as if advising you to get married soon. 
In such a case you better give them the savage and witty answers that we've provided. 
No matter who asks this, make sure you know what they mean. 
Likewise, you are supposed to look relaxed and confident with the idea of getting married, if you're single or not.