Last Updated on September 12, 2023 by Ketan
'Thanks, it's nice meeting you, too'- this response is okay for informal meetups, but formal.
Especially when it's an online meeting with your client or you get a 'Nice to e-meet you' email from your new contact, you need proper replies to start this formal connection.
These days, while most work-related connections happen online or through virtual meetings, it's important not to miss your chance to make the first interaction genuine. 
It's fine sometimes to say 'It's nice to meet with you, as well' or just 'Same here'. 
But when you want to respond engagingly, you can try saying something unique and meaningful. 
How To Reply To Nice To E-Meet Your Email?
As we're in the e-work environment, how we interact and greet has changed a bit.
When you join a new company, in 'Welcome messages' from a new team, an invitation to an online business group, or during a virtual meeting with a new client, a 'nice to meet you' greeting is common. 
Indeed, there's no handshake or direct interaction possible. 
So in that case you need some better replies that acknowledge this greeting well. 
If you want to make your responses meaningful, here are some ways to respond over mail.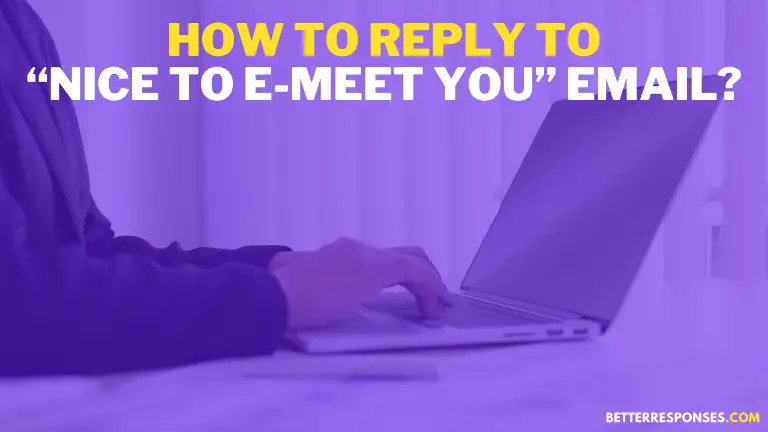 1. "It's a pleasure meeting with you. How are you today, sir?"
When you meet someone for the first time online through email, they express they're excited and feeling good about meeting you. 
 In return, show that you're also interested in this new connection. 
You can ask general questions like how are you to make it a relaxed response.
2. "I'm glad that we finally got a chance to e-meet. Thanks for your time, I appreciate that." 
This response you can give to your new client, you meet after a long wait. 
Your meeting has been delayed for a long time.
But, now as you both are finally having a conversation over email. 
While replying to the 'Nice meeting you' greeting, it's a good idea to express your appreciation for keeping you posted and the time they provided you.
3. "I was looking forward to working with you. Finally, we're here."
You've been waiting a long time to connect with them. And work on something together.
It could be your prospective client or your coworkers who mail 'nice to e-meet with you', you're showing your excitement. 
You're excited about the connection and the work. 
4. "It's great to connect with you. Hope this is the right time to talk about business." 
Tell them that you're glad to meet with them over email. 
Fine if you have no direct connection right now, but you aim to give this formal connection a good start.
And keep it that way.
So, before you call them, better ask if Is it a good time to talk to check their availability.
5. "Thanks for inviting me for this interview. I'm feeling so excited about the discussion."
You're invited to an e-meeting to talk about your subject matter.
You receive the 'Nice to e-meet you' greeting from the host.
So, you can thank them for the invitation as well as show how excited you are about this interview discussion. 
6. "Same here. I hope all is going well for you."
Saying, 'nice to meet you' works for both formal and information connection.
When your new client says so in their first mail, share the same expression back.
To make it even more effective, you can add 'Hope you are doing well' to the same mail.
It sounds more personal when you're interacting with your client after some time.
7. "I heard a lot about your experiences and skills. It's my pleasure to work with you."  
You might have heard about them, but it's the first time you interact with them. 
So, you can appreciate them for their professional skills or experiences that impressed you.
This is a better way to start a formal connection. 
READ NEXT: How To Answer To 'Where Do You Work?'
Conclusion
While meeting with your client online or with your new colleagues, you may get a 'nice to e-meet you' email. 
And being a professional, you want to reply to it formally. 
Of course, there's no perfect response to that. 
You should decide your replies based on the connection you've and the type of communication you're going to have. 
Sometimes regular replies like 'Same here' works fine, in some cases. 
But if you are genuinely excited to meet with them and want this professional relationship to be meaningful, say something unique while responding. 
Just a small change in the way you reply to 'nice to e-meet with you' over email, can give a proper start to this developing connection. 
Because you're going to meet each other more frequently after that.