Last Updated on October 18, 2023 by Ketan
During a formal or informal conversation for the first time, "Where do you work?" is a question to be ready for. 
This is to discuss your career side and to know what you do or what you're good at. 
That someone who asks so might have no specific reason, but it's something that most people talk about while making a connection.
If you are meeting new people or looking for a new job, you better know how to handle this question in person or at a job interview. 
Because this question will come to you anyway. 
How To Answer To "Where Do You Work"?
Well, like this question is simple, your answer to it is also supposed to be straightforward. 
This person is just asking about your work, career, or profession. 
And there's no creative or perfect way to say it. 
Share what is true like where you're working currently, that's it.
Considering who is asking this whether it's your formal or information connection, you can choose to reply to it politely and professionally. 
To make it clear, here are the best ways to answer 'Where are you working currently?'.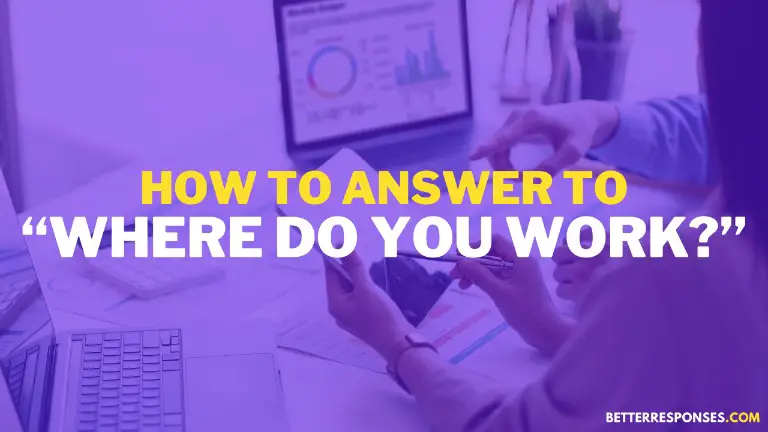 1. "Currently, I'm working at…."
If you want the most common way to share where you work, this is the one. 
Here you can add the type of work you do or the sector such as 'banking' or 'supply chain'. 
READ NEXT: How To Say 'Noted' Professionally Over Mail?
2. "I'm not working full time but doing internships."
You're a fresher in the industry and already working to gain some working knowledge. 
When you're in your hunt for the first job, at an interview the question 'Where do you work?' might make you feel uncomfortable. 
You should not feel that way if you've nothing to share. 
Instead, talk confidently that you're preparing yourself for a particular work. 
3. "I've just completed my education and am looking for my first job."
During the job interview, an interviewer may ask about your work status.
Based on what it is, tell them if you're currently employed or not. 
You've just graduated and are ready for work experience. Just, you're seeking the right opportunities. 
Fine, everyone has to start from somewhere and you're ready to make a move. 
4. "I have been working at X company, at a Y position from the last three years."
You're at the job interview and asking about your current work or job, this is how you respond. 
Make it a clear and concise response that you enjoy working there. 
Being an experienced person, you're looking for a job to explore more in the industry. 
READ NEXT: Professional Ways To Say 'Good Evening' In Email
5. "My office is at X building. You can join my team if you want to."
Your old friend and you meet randomly down the street. 
It seems your friend needs some help and is looking for some work. 
With this answer, you not just tell them where you work, but also offer them some help.
6. "I'm working in the marketing department now, sales don't suit me." 
That's fine if one kind of work doesn't suit you and you've to find another. 
Accept that you've found the type of work you're interested in. 
And, now you're busy with something that you actually love. 
7. "After doing multiple jobs, I've joined my family business."
Or you've started your own business from scratch, it doesn't matter. 
You did your part right to find the career available option. 
But, your luck and hard work supported you so well that now you've found your way in the end. 
8. "I work for the government. I'm in the medical department."
Saying you're working for whom is also a way to answer where you work. 
Here in this case, the government is the employer, and adding the department you work in makes a good response. 
9. "After I left that company, I started my own business."
You get to meet your ex-teammate or manager at some formal event. 
On talking about 'where do you currently work', this answer reflects you're doing good in your career, actually. 
READ NEXT: How To Reply When Colleague Says 'Thank You'?
Conclusion
When someone asks "Where do you work?" or "What are you doing currently?", depending on your career situation you might feel confident or uncomfortable.
Obviously, when you have no job or looking for your first job, it makes you feel insecure to answer it. 
That's fine, as far as you're being honest and not hiding anything. 
To answer 'Where do you work?', in most cases, you can talk about the industry or field you're in. 
If you're working for a well-known company, saying the name of the brand makes perfect sense. 
Even sometimes, while interacting with your fellow employees in the same building, you can share the department you're working in to get to know each other well. 
No matter what are your current situation and the context of why someone asking 'Where do you work?, your answer to that needs to be genuine and concise. 
Don't make it sound like you're unhappy with your work or are ashamed to talk about what you do at work.