Last Updated on November 8, 2023 by Ketan
In professional correspondence, 'Noted' works the same as 'Double tick' in chats. 
When your boss sends you project guidelines to work on ASAP or clients share screenshots explaining their current issue, they need to know that you've received their mail.
And, the most common way to do it is to say 'Noted' in professional mail.
You can say that. This works well, too.
But, if you are curious to know other ways to say 'Noted', we have some suggestions for you. 
How To Say "Noted" Professionally In Email?
Whether your goal is to inform the sender that you have their 'mail' or to assure that you understand the 'message' within, saying just 'noted' is the simplest way to say it. 
But, it's not always about acknowledgment, you want something more to say. 
This way you can comfort the sender that you not only got their message but also the meaning of it.
This assures them.
So, they no longer follow you for any updates. 
For internal correspondence or external, there are more ways to say "Noted" in the mail to your boss, client, or someone else.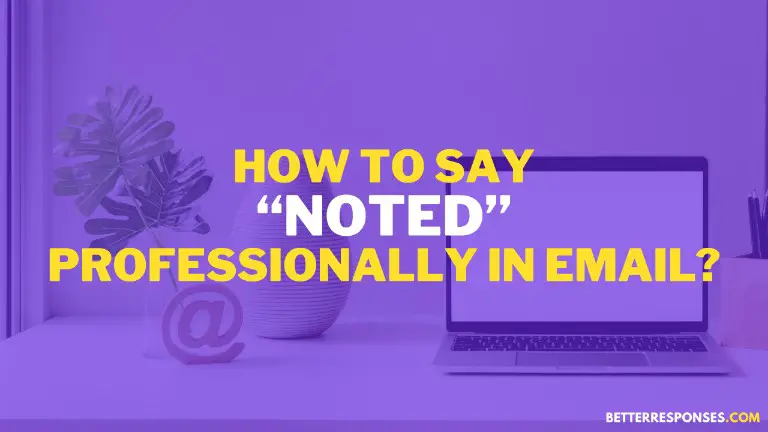 1. "I've kept this on the priority of the day. Don't worry."
Your boss shared some urgent work to accomplish before the end of the day. 
And with this response, you're ensuring that you're working on it. 
2. "I truly appreciate you for the support." 
It does not feel right to say 'Noted', when your coworkers helped you in some way. 
You can thank them, and also show appreciation over mail for their helpful guidance.
3. "Fine, I've received your message." 
Yes, this is just as simple as that. 
They send you something important and you have their message.
It is a timely response to update them about the message they are trying to send you. 
4. "Thanks for your time and the update."  
When your client shares their decision on your offer or has finally shared the confirmation, in return you should acknowledge their mail.
5. "I've just gone through your mail."
Your boss is waiting for your confirmation of the previous mail or the client is there to check whether their services have started or not. 
If you're a bit late to reply email, let them know you have it just now. 
6. "Your suggestions are well-spot on." 
Here your coworker gives you some tips to do something, or seniors expect some changes in your presentations. 
In response to their mail, you just say 'noted' but in a better way. 
7. "I'll take this into consideration." 
Well, not every time you want to show that you got their message or mail. 
Sometimes, you also want to tell them that you agree with what they proposed or want you to do. 
There you need to say something more than just 'noted' professionally. 
READ NEXT: Good Answers To 'How Was Your Weekend?'
8. "I'm already on it, soon I'll fix it for you." 
Your boss is facing some issues with her system and is unable to work properly. 
This is indeed a frustrating situation.
So instead of saying 'noted' to your boss, you want to make your boss feel relaxed.
Because saying 'noted' could make them angry.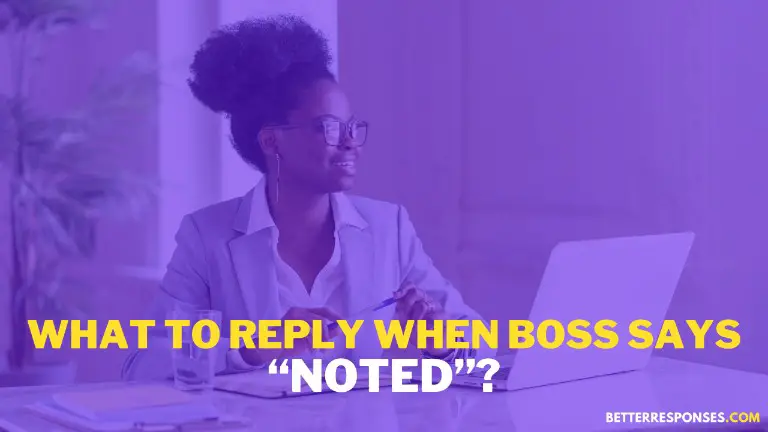 9. "Sure, I'll keep that in mind."
To make it more meaningful you can sometimes say 'well-' or 'kindly noted' over mail. 
But they're not much different. 
On some suggestions and recommendations from your boss or manager, tell them you acknowledge what they are trying to explain. 
10. Okay, I'll update you on that. 
When your service provider sends you some proposal that you need to answer after discussing it with your department, this is how you say 'Noted' to their mail. 
11. "Thanks for letting me know." 
Well, you've been following up with your client on a proposal. 
Finally, they inform you via mail that 'I'm not interested right now' or they've no time to check the offer, maybe they will revert you soon. 
In that case, this is an appropriate response to show that you got the message.
12. "Totally understand that. Don't worry."
Your boss is in a hurry or your client has an urgent request that needs to be addressed as soon as possible. 
You can't just reply 'Okay, noted' to such an important message.
But, this is also more relaxing and the right thing to say instead. 
13. "I'll handle it from now on." 
You are not just letting them know that you've received their mail.
But you also want to confirm that you're doing something that they requested you in the mail. 
14. "Got your message at the right time." 
Make your 'Noted, thanks' reply even more engaging and personal.
Tell your client that you've their message on the time when you're working on what they asked for.
By saying this, you make them feel more important and privileged.
15. "Received as you send it."
Your colleague has been facing an issue with sending mail to anyone.
After some fixing, they tell you to check your mail if you received a test mail. 
Maybe their problem is fixed now, so you tell them perfectly. 
READ NEXT: Good Answers To "How Did Your Interview Go?"
What Is The Meaning Of 'Noted' In Professional Mail?
In a professional mail, you say 'Noted' as the confirmation of the mail from someone.
And this could mean anything more than just the 'receipt of the mail'.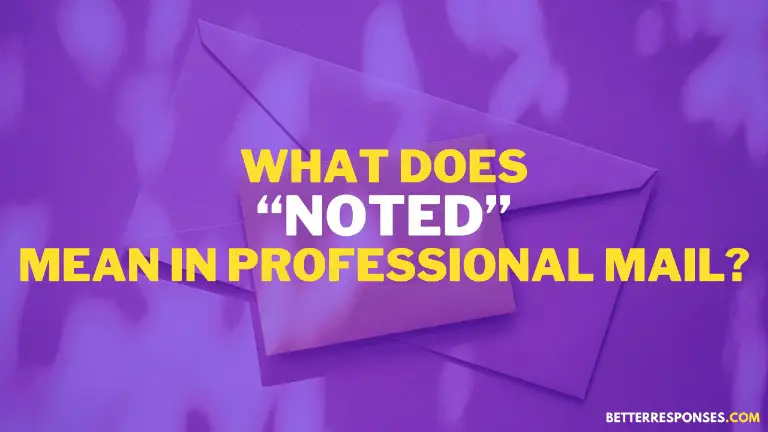 In most cases, this is to inform them that you got their message.
So they won't worry much.
Even more, when your boss shares with you some important points to consider the manager advises you on a few changes or the client addresses their issue, you can say 'Noted', in a different way, like we just discussed. 
Here, you want to tell them you not only have their mail but also their instructions. 
If you're not habitual to saying it, a simple 'Noted' in professional mail can make the sender feel more comfortable than on.