Last Updated on September 28, 2023 by Ketan
Instead of just 'Bye', saying 'I'll talk to you tomorrow' is a better way to end a conversation.
While talking to your friend or texting with your crush, when they say 'Talk to you tomorrow', this means they find the conversation enjoyable and excited for the next one. 
For some reason, they can't talk to you right now, but tomorrow they will
As the person shows clear interest, your response to 'TTYT' should also be engaging, showing you also look forward to talking to them.
How To Respond To "Talk To You Tomorrow"?
If you just want to respond, 'Ok, bye' is a sufficient response to '(I will) Talk to you tomorrow' text.
When you just started a conversation and hope to make it a great connection, here are some unique responses to give.
Sometimes, you could just say nothing, that's fine, too.
But if saying something like this makes your connection more exciting, respond that way.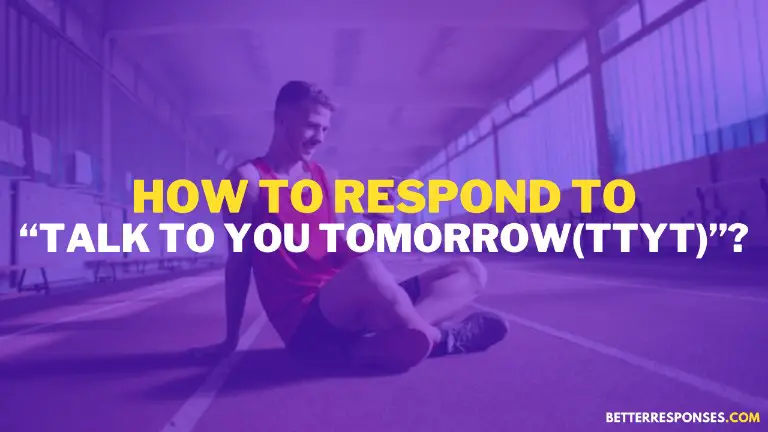 1. "Fine. But, please don't make me wait for too long."
You know that this friend or your crush is habitual to replying late to your text. 
And, like most people, you also don't want to wait, right? 
2. "Why? Is today not a good day?"
This person tells you to continue your conversation to the next day. 
But you've no patience to wait till tomorrow. 
Maybe this one is a bit of a hasty reply, but to share when it is urgent. 
3. "Of course, it's already late. Have a good night!" 
This is for a late-night chat with your crush or match from a dating site. 
You want her beauty to sleep and this one is a sweeter response. 
READ NEXT: Best Replies For 'Good Night' Text
4. "Sure, it was nice talking with you, Bye." 
This is your first conversation with someone online and you're ready to continue chatting from now on. 
Like them, you are also eager to continue the conversation. 
5. "Done, tomorrow will be a great day." 
You're asking for 'Any update?' from your perspective and they respond 'I'll talk to you tomorrow'. 
At least they tell you the day to talk about your offer, and this is a nice reply. 
6. "Why not? But, let's fix our time to chat from now on." 
After getting the 'TTYT' text, you're sure they're interested in having a chat tomorrow but at what time. 
You do not want to disturb them, at any time. 
So, it's fine to mutually set the time to call or text tomorrow. 
7. "Why not? Tomorrow will be much better. TTYT, then."
Maybe your partner is having a bad day at work and doesn't want to talk now.
You're not forcing them to talk right now, but can relate to the situation. 
Sometimes, sharing encouraging messages on a rough day can make them feel better there. 
8. "No, you can talk to me on a Monday. I am on break for two days."  
Try this clear response with your friend or colleague who says 'Talk to you tomorrow'. 
Maybe you're on an actual break or not, but this way you inform them that you won't be available for the next two days. 
9. "Okay, I'm looking forward to talking to you." 
When someone says 'I'll talk to you tomorrow', show that you'll be waiting for the discussion. 
Such is an engaging reply you can give to your client (or sometimes, even with your crush just for fun) to express your excitement.
READ NEXT: Flirty Responses To 'Shut Up'
What's The Meaning Of "I'll Talk To You Tomorrow"?
When someone says 'I'll talk to you tomorrow' on call or text you 'TTYT', this simply means that your conversation ends here. 
But, they want to continue it tomorrow, just not today. 
If this message is from someone you talk to regularly, it means either you've had enough chat for the day or this isn't the right time.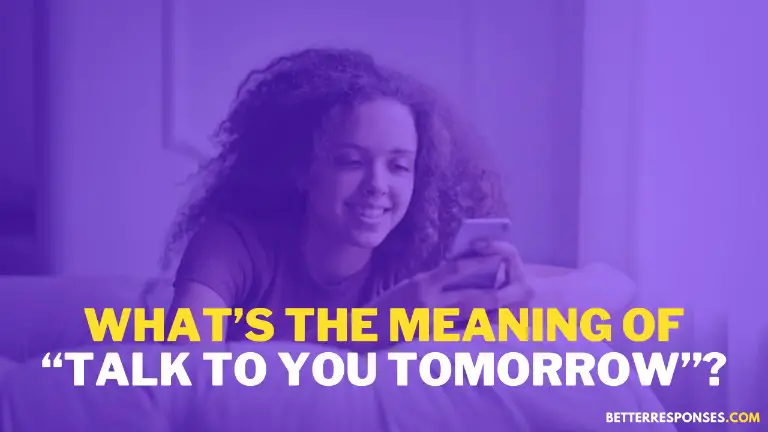 In formal communication, when your client says 'I will talk to you tomorrow' this means they're either busy at the moment or tomorrow they're available to talk. 
Either in a friendly or formal communication, saying 'I'll talk to you tomorrow' is a better way to end the conversation. 
Indeed, which is sound better than just saying 'Ok, Bye'. 
And, these better responses are at your help to make your connection even more meaningful.
Because you're also waiting to talk to them tomorrow.