Last Updated on August 19, 2023 by Ketan
Seeing your weird behavior, your friend or someone close who knows you well, might ask 'What's happening with you?' or 'What happened?'.
This isn't a question, actually. 
But, either their concern or taunt based on who's asking.
Some will realize that something isn't going 'all well' with you and ask about it. 
Because they want to make you feel better as something isn't right.
While in some cases, they already know what's bothering you and ask this to make fun of your situation.
How To Answer To "What's Happening With You?"
If you want to talk about what's happening or not, there are some possible answers to share. 
With the right person, you're free to talk about what's the matter with you. 
But some who ask this for nothing other than just for gossip, share these sarcastic to savage replies for being curious. 
And, here are all the best answers you can share based on if you really want to share or now.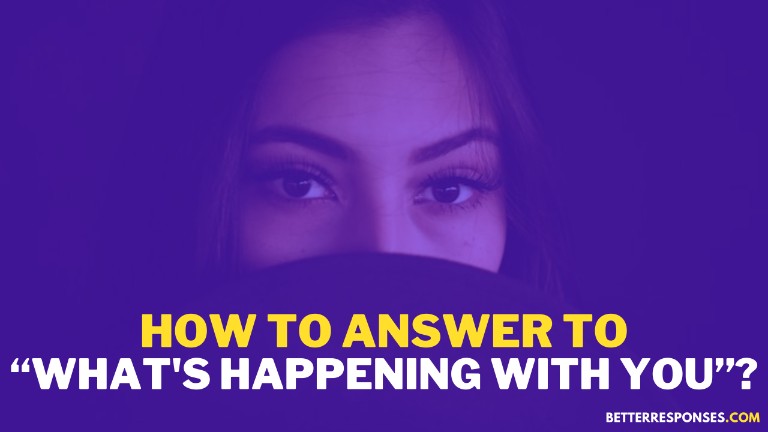 1. "With friends like you in life, nothing wrong ever happened." 
This way you are actually thanking this friend to be with you. 
You're comfortable with them and glad to call them a best friend. 
2. "Don't act like you know nothing."
This friend is the culprit behind all your life problems. 
Right now, they're acting strange, like you've no idea about what they did. 
But this sarcastic response is enough to show you got them already.  
3. "Like always, you shouldn't worry about that."
When someone asks 'What happened?' and they're not reliable to talk about anything with, try this response. 
You don't want to get any advice or suggestions. 
Because only that, they've to offer in any situation.  
4. "Don't worry, I'm all good."
Telling your friend that 'I'm fine, Thanks' is enough. 
But, it is not, always. 
If that friend is your true friend, he will know nothing is fine as you say.
5. "Do you really ever care?"
Your friend who cares about no one but himself, deserves this response. 
Indeed, you don't want to be savage, but at least you're being honest.  
6. "Something that makes you really happy?"
If the question 'What's happening with you?' comes from a jealous person, this is your answer. 
Maybe a friend or coworker has been envying you and all they want is to see you in trouble. 
7. "Well, it's just nothing."
You don't want to talk about anything, but something is going on in your life. 
With this response, you at least answer without having to ignore them completely. 
8. "It's just the same regular stuff, nothing new."
You're tired of complaining and discussing things over and over again. 
So, there's nothing too new to talk about over what happened. 
Instead, you can ask them 'What's new with you?', as you don't have anything to talk about.
Maybe they have new topics to discuss.
9. "I'm not sure what you are talking about?"
Like this person acts like they know nothing, you're doing the same.
Maybe there are already a lot of things happening to you.
And, you're not sure about which they are asking about.
10. "All good things are happening right now in life."
While most moan about life issues and how miserable their job is and all, you're saying something hopeful. 
This could be your positive approach to tell that you find good in what happened recently. 
11. "I don't know, I think I'm in love." 
Lately, you seem like you are not in control of yourself. 
For a friend you're secretly crushing on, this flirty response will make them ask 'Who is your crush?'. 
12. "Whatever is happening is just not in my control."
Not everything has to be in your control, you can just manage yourself likewise. 
With this clever answer to 'What happened?' you are showing that you're relaxed with whatever life offers.
13. "Many special things as you're with me."
While talking with a crush, when they ask 'What is happening with you lately?' You can say this. 
A flirty reply like this is enough to give them hints that you're enjoying their company.  
14. "What will you do when you know it?"
It's a good idea to know why they're curious to know about what's happening with you.
It might seem like a savage response, but fine for those who just want to know. 
READ NEXT: How To Respond To 'How Have You Been?'
What Does 'What's Happening' Mean?
When someone asks 'What's happening with you' or 'What happened?' That means they just want to know if everything is alright or not. 
Importantly, this question comes from those you know very well.
Sometimes, they ask to confirm that you're doing well.
Often friends ask 'What's happened?' just to tease you for fun.
Because they're aware of your challenging situation.
When it comes to its answers, decide what to reply knowing the tone they're asking in.