Last Updated on October 6, 2023 by Ketan
No matter how big the problem or the bully is, having a friend who says "I got your back" is all you need. 
This phrase is enough to make you feel relaxed and positive. 
To a friend who never lets you fight alone, and always supports your back, know how to show your appreciation. 
Simple thanks could work, but here we are discussing the better responses. 
What To Say When Someone Says "I Got Your Back"?
When your friend or someone says they are your back, they show they are ready to help whenever you need it. 
Normally, you can respond to it with "Thanks, buddy". 
But depending on the situation, there are cool and funny ways to respond.
If you need some unique responses for "I got your back", here are the possible options.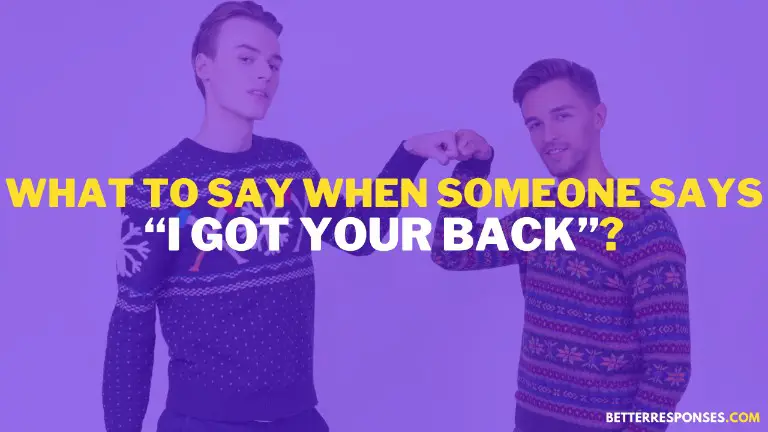 1. "I know my friend."
It's no surprise because they have been your back for a long. 
So this is a good response to replace with thank you.  
2. "And, I get yours." 
They tell you that they have your back. 
And in response, you show that you're ready to provide the same support. 
READ NEXT: How To Respond To 'You Know The Drill'?
3. "Sure, so you can scratch my back and I will scratch yours." 
That's what a best friend does. 
They have each other's back and help the most when needed. 
4. "And that's why I have back pain." 
This is a serious situation where you don't see any solution. 
While your friend who has no clue still says 'Don't worry I got your back'.
So you share this funny response in a tense situation.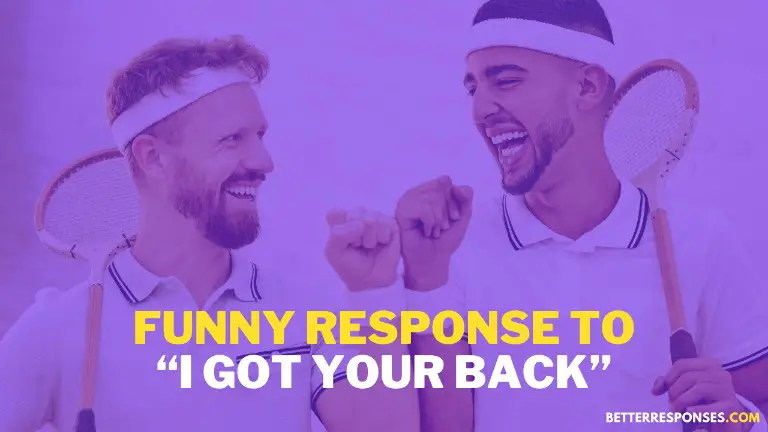 5. "I'm so happy that I have a friend like you." 
Make your friends feel respected for everything they do for you. 
Having their presence in life does make you feel there's someone at your back. 
6. "No, I got my back and you got yours. That would be better." 
This is a bit of a different response to share with someone who always asks for a favor. 
Because you know that whenever they ask, they ask more than they did. 
So you can share it as a sarcastic response. 
7. "Are you sure about that?" 
You just have to see if that friend wants to have your back. 
Because you don't want them to take any pressure because of you. 
8. "No need to tell."
Because you and most people know who's got your back. 
READ NEXT: Comebacks To 'Age Is Just A Number'
9. "That would be a great idea." 
You were confused to take the first move towards something. 
But your friend steps in and tells you 'I got you'. 
This response shows you trust this friend more than yourself. 
10. "I can't thank you enough for being with me." 
That friend releases you from the tension that you had for a long time. 
Because they got you back you feel guided and supported.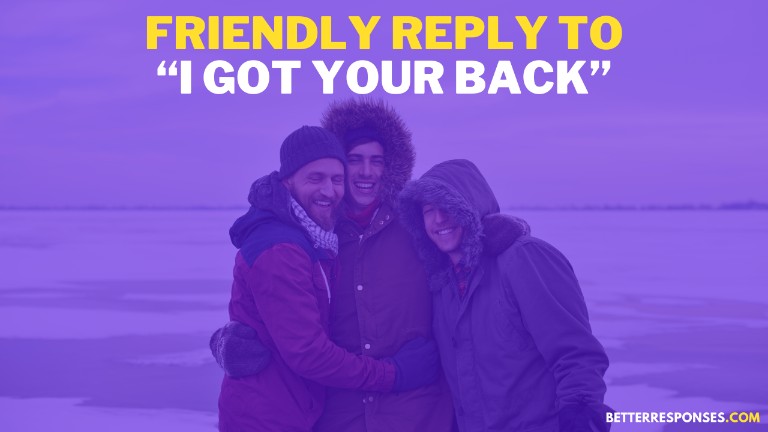 11. "Sorry, but I don't want to give you back."
This is a funny response to tell your friend that you don't expect much. 
You think it would be a good idea for you to do something on your own. 
Else, you are just trying to joke about this phrase. 
12. "Okay. All I can hope is that you don't turn into a backstabber." 
Well, there's a chance that this could happen, too. 
Maybe you experienced that before. 
So you just want to be sure about it, this time. 
READ NEXT: What To Reply When Someone Calls You 'Dawg'?
What Does "I Got Your Back" Mean?
When someone says "I got your back" it means this person assures you that they won't let you face anything alone. 
If you're facing they show that they are to support and help you out anyway. 
It also means that if any problem comes to you either as a challenge or as a bully, this person is willing to step in and fix it for you. 
Well, 'I got your back' is a friendly phrase and you get it mostly from your friend.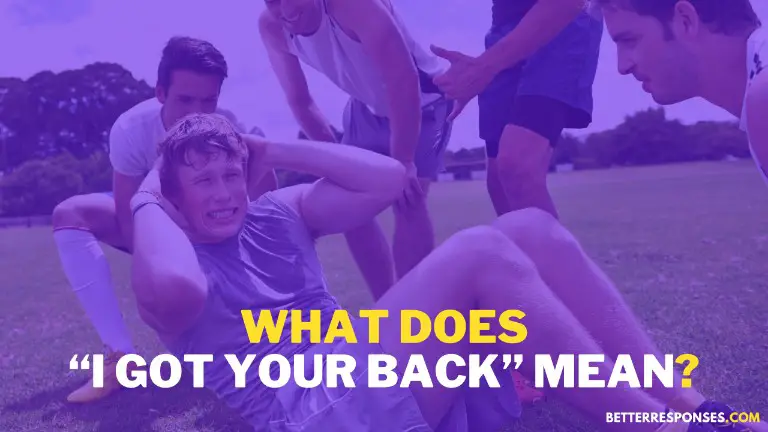 By saying this, they want you to worry about nothing. 
And leave it to them. 
It's an encouragement, you get from them that you're not alone. 
So, if you get such confidence from your friends, it's fine to thank them. 
Whereas, the above-shared responses will make the situation more fun and relaxing.