Last Updated on November 1, 2023 by Ketan
Well, receiving work appreciation improves your confidence.
This certainly encourages you to work harder. 
But, just 'Thank you' doesn't make it an effective response.
When your client or boss appreciates the work you delivered, look for better ways to reply. 
Show how their words make you feel valued and respected at work.
Because they've taken their time to appreciate your efforts.
In this article, we will discuss examples of how to respond to work appreciation mail and thank them sincerely.
Best Responses To Appreciation Email From Boss
Your boss has written a personal appreciation mail acknowledging your valuable contribution. 
In return, you want to respond in the most genuine way possible. 
To avoid any boring or awkward response, you must refer to some response examples, and here are the ones that you can choose from.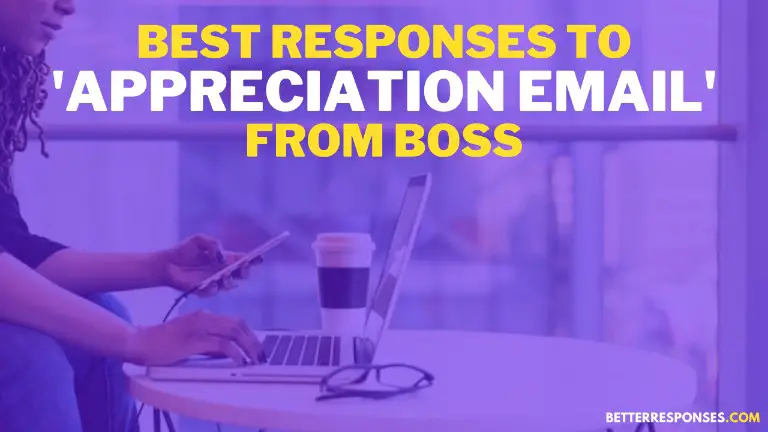 1. "Thanks, boss, for your appreciation. But, without your help, I don't think I could get it done so effectively."
2. "I want to thank you for trusting me and giving me a chance to work on this project. At first, this was quite difficult, but I'm glad that I got it done right."
3. "Well, I can't thank you enough for giving me such a challenging task. This gives me a chance to do something new and to make the best use of my abilities." 
4. "I sincerely like to thank you for welcoming to the team. All because of your encouragement, I easily adjust to the work and environment." 
5. "I'm glad that you noticed my contribution. Your supportive nature, help me to work my best and get the project done effectively." 
6. "Thank you for your work appreciation, I feel more confident in my ability than before." 
7. "All this happened because of your constant support and mainly your trust that I can do it. I'm so grateful for your support." 
8. "Thank you for your mail and especially for appreciating my work. So happy that I achieved the set level of work quality." 
9. "I also like to thank you for being such a great leader and guiding me throughout."
10. "Dear sir, I'm so thankful for acknowledging my hard work. Working with you on this first project was such a learning experience for me, and I also enjoyed every minute of it. Thanks again." 
11. "Sir, thanks for choosing me for this project and working alongside me. I will continue to do my best for the company's growth and success." 
12. "I'm feeling so honored as you noticed my best efforts. Also, I would like to give credit to the supportive colleagues who helped me to handle the tasks perfectly."
13. "Thank you so much for your appreciation. Also, it makes me feel guided to accomplish the work on time."
14. "This was such a great learning experience for me. Thank you for the opportunity." 
15. "Thank you for taking the time and share this appreciation email. This helps me to believe in myself. Being new to the team, I was nervous, but now I feel more relaxed about myself."
16. "It is my pleasure to work with you on such a challenging assignment. Your timely support helped me to deliver the best I can. You, too have a nice weekend. See you next week with another great project."
17. "I heartily like to say thank you for such recognition. I like to give you credit for what I'm able to achieve here. I learn many things from you everyday, So thank you for your support and contribution for this."
Good Replies To Appreciation Email From Clients
Sometimes, clients are so happy with the project quality, that they can't help but send you a personalized work appreciation email. 
Well, this is your chance to strengthen your professional connection.
Also, respond that keeps their trust in your services or skills. 
Make your responses even more engaging when your client appreciates your work.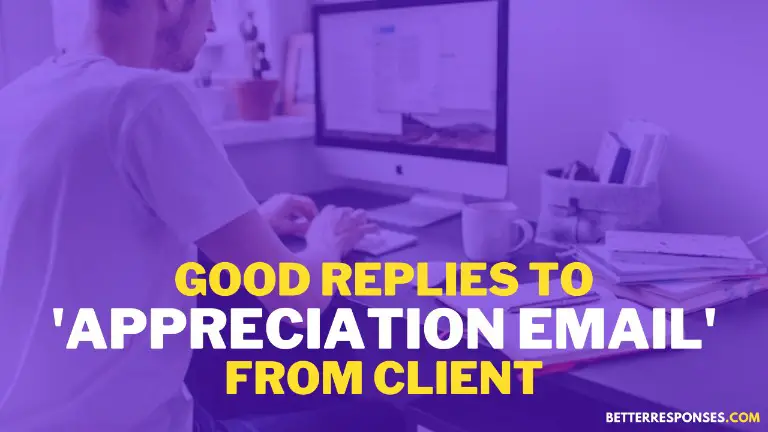 1. "Thank you for taking the time and writing this mail of appreciation. Glad that we can complete the project on time. So excited to take on the next projects soon."
2. "Glad to know that you are satisfied with our services. We're looking forward to working with you, too. Thanks for your feedback." 
3. "Thank you, sir. Your kind words inspire us to keep doing our job perfectly. Let us know if you need any more support from us."
4. "Truly appreciate your feedback. Thanks, we're always here to serve you the best we can. Feel free to get back to me, if you need any extra support."
5. "So happy that you're fully satisfied with our services. After all, we make sure that our work meets the client's expectations perfectly."
6. "We're so grateful to serve clients like you. Thanks for your feedback, this inspires us to go the extra mile to serve you the best." 
7. "We are so delighted to get your positive response on our services. We assure to provide you with the best services that we can."  
8. "Thank you for your nice words. Happy that you enjoyed our services. This would be also helpful if you can leave your review on our company profile page. Let me know once it's posted. Thank you again." 
9. "We can't thank you enough for your words of appreciation. It's part of our job and we make sure that we deliver the best job like this always." 
10. "I'm so happy to hear that our services meet your expectations. You can count on us anytime."
11. "So happy that we meet your satisfaction level. Feel free to reach out to us, if you need any further support."
12. "It is my pleasure to support your business with my skills and knowledge. Your appreciation inspires me to continue delivering the best work. Thank you so much." 
READ NEXT: How To Reply To 'Not Interested' Response?
How To Respond To Work Appreciation Email?
No matter if this is from your team manager, boss, or client, you should respond to appreciation email that sounds professional and feels genuine.
While in person, you can limit it to 'thanks' but when a client or boss takes time to write a personal email just to appreciate your work, take your time to reply effectively.   
You want these connections to last long and such small gestures are vital.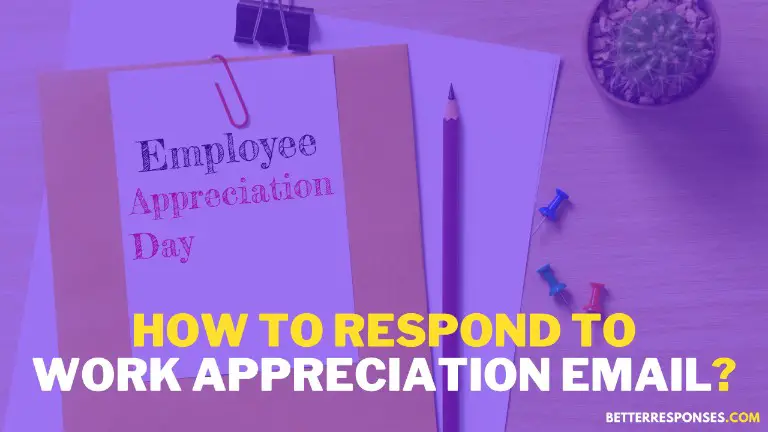 The boss who appreciates you for the work you did, might be surprised by your excellent work quality. And appreciate your personal skill, too.
In response, tell your boss that you also appreciate them showing confidence in your abilities. 
Same, when a client sends you appreciation emails for your timely project delivery, it's their positive feedback that proves your work meets their satisfaction. 
In any case, reply to appreciation email that eventually says more than 'thanks' and invests in your professional connection better.