Last Updated on September 23, 2023 by Ketan
When you do something that is 'Too bold' or 'Out of the limit', (which might be a joke but,) it offends someone.
Further, they might say (not ask), "How dare you do this to me!" with rage.
Sometimes, you have to be 'honest' with someone, no matter how hard it feels. 
Because that is the right thing to do.
As a genuine friend or being the right person, someone must do or say this. 
But, eventually, this way you humiliate them even more. (Because no one ever dared to do what you just did.) 
Well, if you have some good reason, your quick answer to this question immediately makes them realize you got some point there. 
What To Respond To "How Dare You"?
This is when you feel comfortable with them or it seems like the perfect time to say or do something.
They take it personally, and respond with 'How you dare to'… 'Do this' or 'Say something like that to me'.
Like most, you also have no idea how to answer that. 
To help in this situation, we've prepared these direct answers based on whether they are really angry or faking it. 
Funny Answers To "How Dare You?"
You know well that a friend is just joking with you and not really offended as he tries to look. 
You could even make them laugh with these timely funny replies.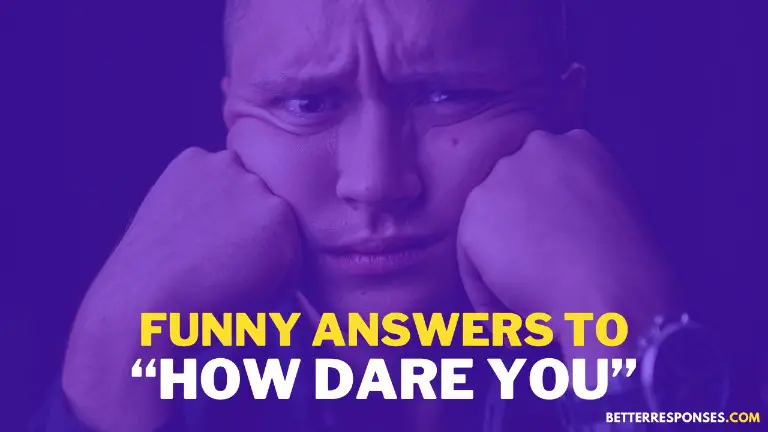 1. "Oh, you like it, let me do this again."
2. "I'm the daredevil, this thing comes normal to us. "
3. "I will keep daring it if you don't understand my point."
4. "Do you want to dare like me, I suggest don't you dare."
5. "This is normal to me. But very risky for you." 
6. "That is what I am famous for. "
7. "Thanks, I'm forever want to this daring person." 
8. "Bro, the way I know you, I don't think you know me."
9. "Well, I dare to say the truth the face. You must accept that." 
Clever Responses To "How Dare You?"
Some people can't handle the truth. When someone says it for the first time, it offends them. 
You don't want to argue with them, but if you're right, you need to be smart, too.
So, here are the witty answers to share in the hope they will understand you someday. 
1. "You call it 'dare', I rather call it 'truth', Bro!"
2. "Only those who really care will dare, better know that." 
3. "Last month, I took a course called 'How to be daring'. I just applied some tips on you." 
4. "I'm happy that at least I've got the guts to do this to you."
5. "Shut up, go home and you will realize why I did this."
6. "How I…look again, like this. Still, I want it one more time."
7. "I thought you'd love it, so I did it already."
8. "I'm playing truth and dare and this is a 'dare' challenge." 
9. "And, this is what makes me who I am."
READ NEXT: Best Comebacks For Rude Relatives
Sarcastic Comebacks To "How Dare You"
It might take them some time to understand.
Here, whatever you do, but it's actually good for them. 
Instead of thanking you for being the right person for them, they feel offended. 
Don't take it too personally, though.
But share these sarcastic ways to respond anyway.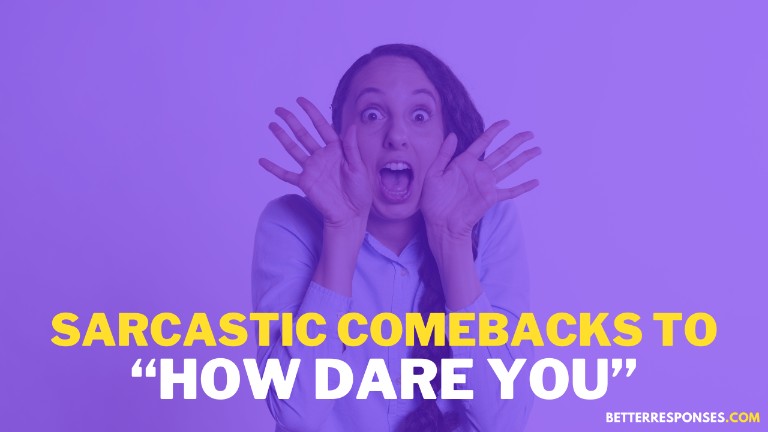 1. "Because that is what man should do." 
2. "This isn't the first time I did this to you."
3. "Whatever it is, I think that your dad should do it way before." 
4. "Well, I can try to explain, but you won't understand still." 
5. "Tell me you seriously want to know why I did this." 
6. "I'm sure your parents will love it that someone did their job."
What Does It Mean?
When someone asks, (not really they ask but just says) 'How dare you?' are actually upset with your behavior. 
You might think that it's the right thing to do or the time is perfect. 
But someone is offended. 
And the way they say it they aren't asking, but are angry as it's from someone they least expected.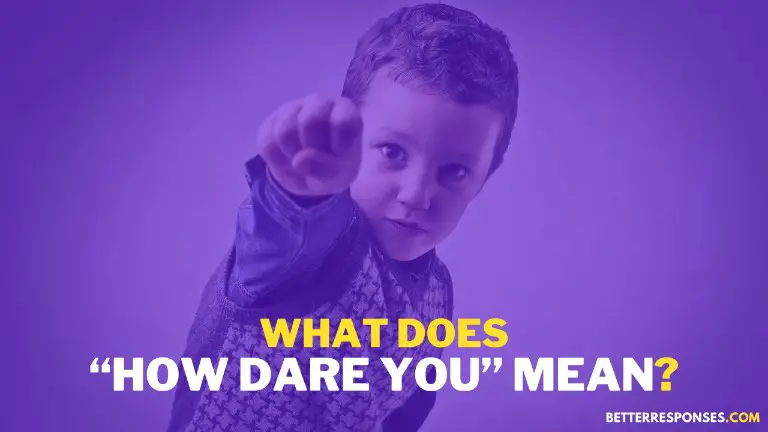 Well, if you have crossed your limits and this thing does seriously hurt them, better if you apologize over text or in person.
Whatever just say sorry, immediately. 
In other cases, when a person is upset for another reason but acts as if it's because of you, you now have all the wittiest replies to 'How dare you' to give your friend or someone. 
Because you're confident that you did the right thing to them. But, they act crazy.