Last Updated on September 11, 2023 by Ketan
You completely follow your parent's advice to 'respect the elders'.
No doubt in that. 
But, what about those rude relatives who never respect your life choices and priorities? 
No matter how often you meet them, their comments always make you feel bad about yourself.
If you've to deal with those rude relatives who disregard your privacy, insults your family, or bring you down, have some comebacks ready for the next time. 
Yeah, somehow you should tell them whatever they're doing to you is unacceptable. And, they must stop it. 
Smart Comebacks For Rude Relatives' Remarks
This relative has no idea what they talk about. 
Also, they might not realize that you're already mature and not seeking their unsolicited advice on anything. 
Instead of directly talking back, you can say clever comebacks when relatives or family members say something mean to you.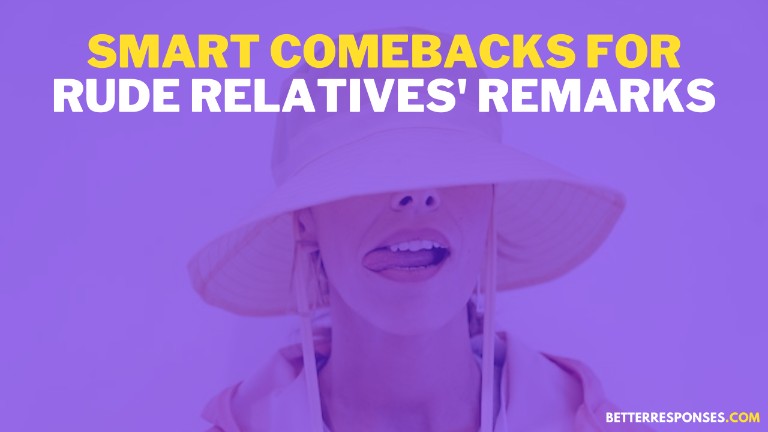 1. "Well, I think your son or daughter needs this advice more than me."
2. "Relax, no one is taking you seriously." 
3. "Well, what you don't understand is I'm trying to ignore you right now."
4. "From the invitation, I was so excited about the party. And, then I saw you."
5. "You know, just because of you I don't want to come here."
6. "Sit down and just enjoy the food and say nothing."
7. "Next time, I'll confirm if you're part of the function before I attend it." 
8. "Did I really ask you for any advice? I don't remember that."
9. "As you worry about when are we getting married, I think you won't mind paying our bills, right?"
10. "Okay, fine. But who did invite you, I strictly tell parents that I don't want you here."
11. "I want you ready in ten minutes. The garbage collector is about to come."
Sarcastic Comebacks To Rude Relatives
There are always some self-centered relatives who think of themselves above all. 
For them, others' opinions and achievements mean nothing to them. They often make fun of others, and they just keep talking.
Anytime when they think of you as a soft target, be sarcastic towards their rude comments.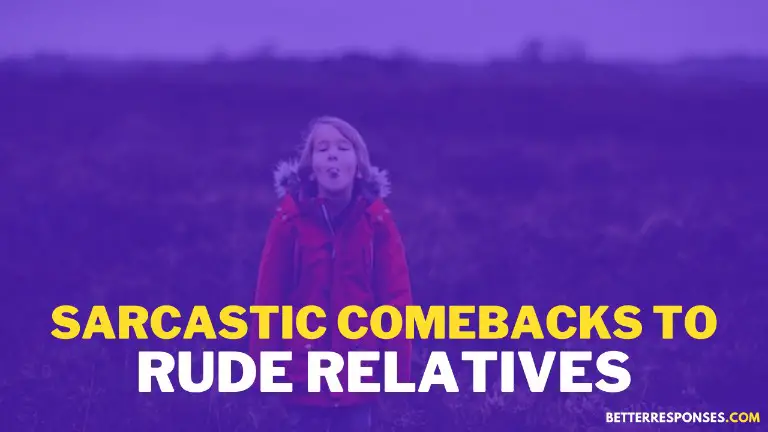 1. "You're not going to understand this, because you must be grown up for that." 
2. "Oh, you look so changed. I mean really, you look weirder and stupider than ever." 
3. "This is common sense, but I can understand that's not your subject." 
4. "So happy that I don't have to deal with you every day."
5. "I wish we can just throw you out of the family, but we're the only ones you've."
6. "Just realized why your relationship never lasts. I can tell what, but you're not ready to accept that." 
7. "I agree with you and you're right sometimes. But this is not the right time to talk about it."
8. "I wish I could say you to mind your own business, but you have nothing to do."
9. "Whenever I have kids, I wish I won't have to introduce you to them." 
10. "Do you like this gift? Not really? It's your gift that you gave me on my birthday."
Savage Comebacks When Relatives Comments On Your Family
When relatives talk about you, this doesn't bother you much. Because you don't care much about them.
But if they say any insulting things about your family, give them an immediate and solid response that makes them embarrassed for themselves.  
Here are the savage comebacks to shut that relative up for crossing their limits.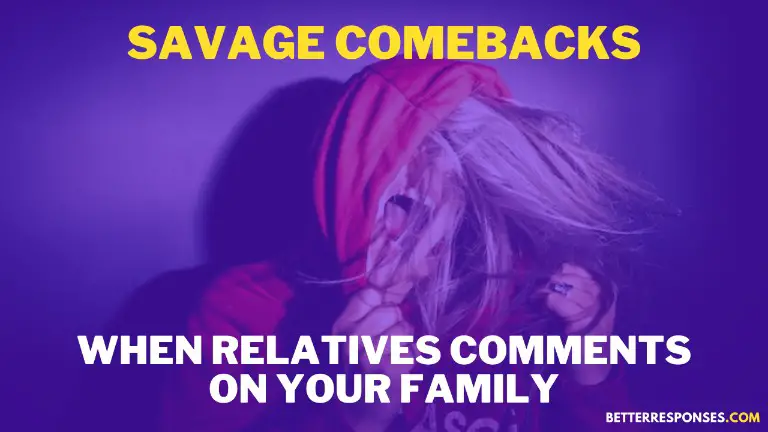 1. "Are you talking about me, but that's more related to your life than me."
2. "The same as I can't do anything about my family, you can't about your immaturity. But, I'm still happy."
3. "I know this isn't your problem, this is a problem from your family." 
4. "You shouldn't be worried about them, they're actually more mature than you're."
5. "We are a family and we love each other. keep your opinion with you."
6. "My entire family is proud of me. So sad, you will never understand how it feels." 
7. "I wish we could tell you how ignorant you are, but your parents can say it better."  
8. "Sorry I didn't hear you. No, no, please I don't want to listen to your rubbish again." 
9. "Thank you so much for taking care of my life so much more than even yours."
10. "Oh, you're here again. I thought you somehow found that no one wants to meet you."
11. "Well, you're not going to change, are you? Don't worry we all hate you equally."
Conclusion
Your relatives are parts of your family, but not your life. 
Whether they always tell you to grow up or make jokes about your family, they will never stop it until you don't silence them with the ultimate responses they deserve. 
Your rude relatives need tighter comebacks to remind them who they're dealing with. 
So far, you've been tolerating their behavior, because they're elder and you respect that. 
But they seem to cross their limits and say anything about you or your family lately.
You can't tolerate that, so you must give strong comebacks to make relatives change their rude behavior around you.