Last Updated on August 22, 2023 by Ketan
When someone says 'Bummer', it shows they are disappointed about what they faced or heard.
It could be bad luck or failure.  
If your plan has failed or something bad happened recently, by using this word, they show they feel the same. 
And, they're quite sad about this experience, too. 
It is a casual expression of disappointment from your informal connection. 
So, to someone who can relate to your feelings or experience, here's how you can respond to 'Bummer' in chat or person. 
How To Reply To "That's A Bummer"?
What just happened is frustrating and unexpected.  
So, when someone first gets to know this, they express they are not happy as well, when they say 'What a bummer!'. 
While chatting with someone when someone uses 'bummer' – a slang phrase for 'sadness' or 'disappointment', this is what you can say back.
Normally, if you don't respond to anything, that's fine, too. 
But if you want to say something, here are the possible ways to respond to 'Bummer'.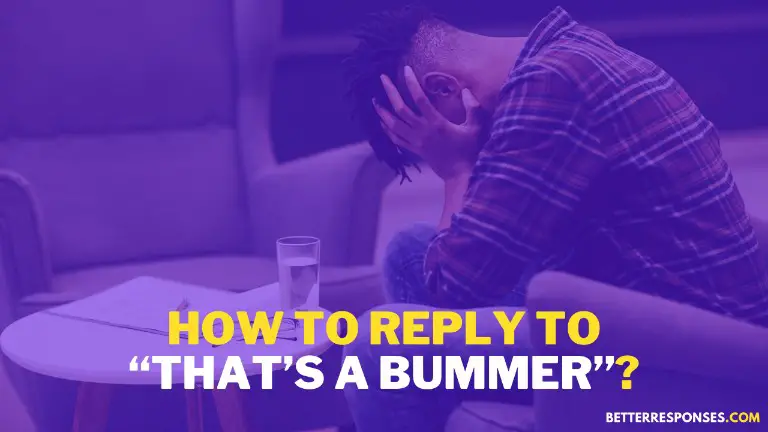 1. "Of course, It is a bit of a bummer." 
You agree with them. 
What just happened is such bad or unfortunate, this wasn't meant to happen. 
2. "I know that you don't have to say it."
You're so frustrated with the situation, and unsure what to do.
That you can't see any way to fix something. 
While you get the 'bummer' from most people, you feel even more annoyed. 
3. "Yeah, that's so unexpected." 
You didn't have any clue that this could happen. 
What just happened is totally unexpected, and leaves you in shock.
You're still surprised at it.
And, that's what this reply shows. 
4. "True that, I was so excited about it." 
If some event or plan didn't go as you wish, that's a bummer. 
You were so ready for something, but it isn't going to happen now. 
Express how unpleasant this experience is for you.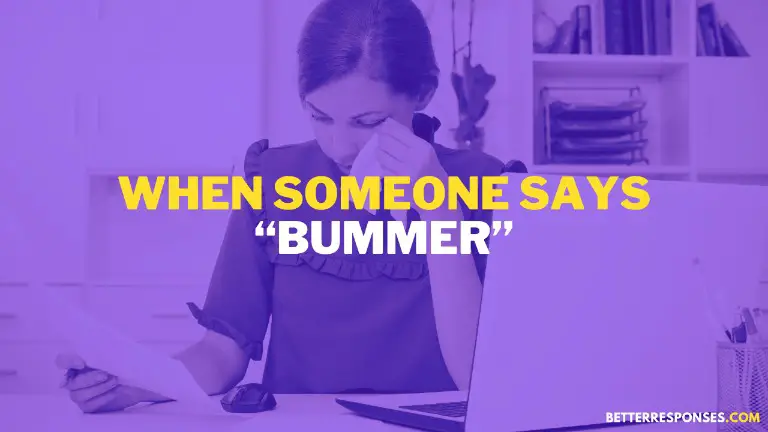 5. "Alright. Do you have any suggestions here?" 
You have no idea what to do and how to fix something. 
But instead of wasting time talking about how bad it is, you look for a solution. 
Your plan failed, so you ask for suggestions from someone who says 'Bummer'. 
6. "No it's not. I knew it already."  
Maybe you were ready for such a thing to happen and have plan B already. 
When your friend expresses a 'bummer' expression for something that isn't going to happen, you're so cool about it. 
Because you have managed the way out and there's something more exciting. 
So it's no bummer actually. 
7. "Thanks for letting me know, I didn't know that."
You should thank them to let you know that you got a problem here.
Of course, you know it well, but you're just saying this in a sarcastic tone.
You can say 'I know, right (IKR)' but this works well in some cases.
8. "Whatever, let's go. There's nothing more we can do." 
It truly is a 'bummer' situation for you, but you prefer not to react much. 
Because something is not in your control. 
And, you have no chance to fix that. 
So there's no point being there and keep expressing your frustration. 
You think it's better to move on and have some other things to do.  
READ NEXT: How To Answer To 'Why You're Not On Social Media'?
What Does "What A Bummer" Mean In Chat?
You and your friend are about to go to an event and it's canceled.
Such a bummer. 
You were waiting for your date, but she stood you up. 
What a bummer! 
You were about to win the lottery but missed the prize by one point. 
Well, that's a bummer. 
This phrase 'Bummer' is being used to express disappointment in everyday bad situations. 
But it doesn't go well with something very serious. 
Because it's a casual phrase that someone in an informal connection uses it. 
What affects you, the same might affect them or not, but by saying 'that's a bummer' this person shows that they understand your situation.  
Not just a situation, but a person could be a bummer, too. 
Suppose when you want to do something and someone says anything negative or doesn't support you equally, they ruin your mood. 
Here you can say that this person is a bummer for you. 
If you get this reaction over chat or in person from someone, we have shared the possible ways to respond to 'That's a bummer' to use in different cases.