Last Updated on December 7, 2023 by Ketan
If you don't know the 'IKR' in chat, this simply means, "I Know, Right?".
And, if you know that already, you might need to look at the best ways to respond when someone texts you 'IKR' in the conversation. 
Normally, there's no need to reply to this.
As someone already agrees with you on something. 
But if they say it in a sarcastic tone, you need to respond in the exact tone. 
So, in this post, we are sharing some funny to savage responses, you can give to someone's 'I know Right' or just 'IKR' as their blunt reaction. 
How To Reply To "I Know Right (IKR)" In Text?
In-person or in text, 'I know right' works both in positive and negative ways. 
It's positive because what you're trying to explain to them, they admit it. 
They express their agreement on it, by informing that they know it already. 
So you can trust them and don't worry about anything. 
Here you can respond with just 'That's great' or 'That's good for you'. 
Because they have saved you time.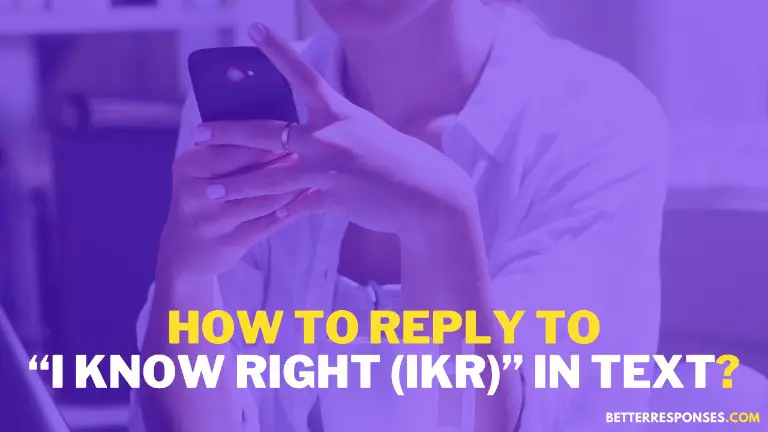 But, in the other case, when someone says 'I know right' they say it while you are sharing something important and they interrupt you.
In case, when someone uses 'IKR' to shut you down or in the middle of the chat, it's rude. 
This person has no care for what you say and they just ignore it. 
Based on the importance of the topic and their tone, know how to respond to 'I know right' either savagely or hilariously. 
Here are the options for you. 
1. "No, absolutely not." 
Apparently, they have no idea what you're talking about. 
They just interrupt you because they think they know everything. 
Tell them that things aren't the same as they presume. 
2. "YKNR (You Know Nothing Right)." 
It's good if they are more engaging and pay attention. 
You didn't find 'IKR' the one-liner text sufficient for such a serious chat.
So, you give this clever response in chat on 'IKR', in the same manner.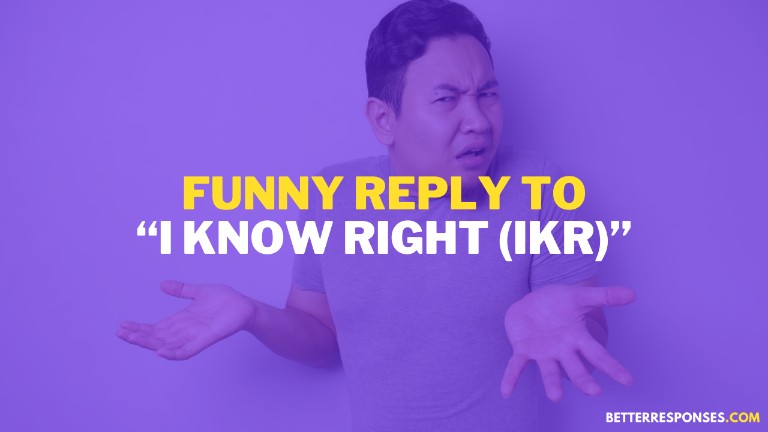 3. "You better know it." 
They admit that they know it, so you don't have much to say. 
You leave it to them. 
And, maybe end the conversation because they know it right. 
4. "How can I know, If you know it or not?" 
When someone says 'I know, Right?' And you tell them you have no idea if they have any knowledge of it or not. 
This is a funny response to say as if you're answering their question.
5. "Wow you know everything. I'm so impressed." 
Anytime you try to tell someone, they just respond with 'Lmao, IKR'. 
They are some annoying people with whom you don't want to share anything. 
So, you use this savage response like you are really impressed with their knowledge of everything.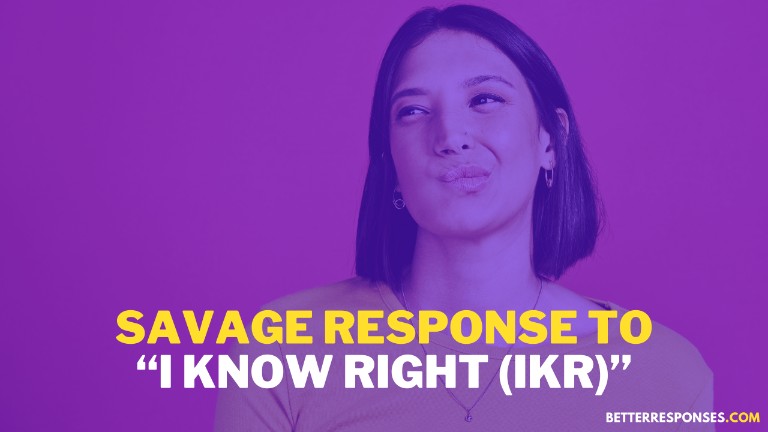 6. "How do you know about this?" 
You sense that this person just wants you to stop explaining. 
They are bored or uninterested in this discussion. 
But this is something very important and you want to be sure that they know it right. 
7. "I'm very sure that you know nothing right about it."
You're discussing about some topic or matter.
And as usual, someone says they know it, which annoys you.
You know that they have no idea what this is about, so you can give this response.
8. "Nothing can hide from your sharp eye, Right?"
Here you are so shocked how this person has info on everything. 
They know everything and you're just surprised by it.
It might be a taunt or you just share this fun response to a friend saying, 'I know, Right?'.  
READ NEXT: What To Say When Someone Says 'Bummer'?
What Does (I Know, Right?) IKR Mean in Text?
In chat terms, 'IKR' in text is an abbreviation of the statement 'I know, right?'. 
When discussing something or advising someone, you might hear 'I know right?' or in chat just 'IKR', this means a person agrees with what you just told them. 
They follow your suggestion and assure you that they would be fine with it. 
Because they know about it in the right manner. 
While talking to someone online, you may get 'IKR' in the chat or comment section, it shows someone's agreement or support on some topic. 
But it does not always mean the same.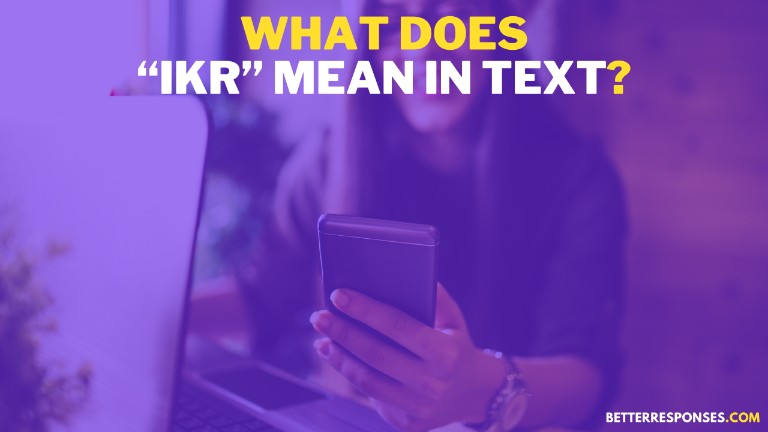 It could be rude when someone says 'I know right' in the mid-conversation. 
They say it because they want to shut you up, and they don't want to hear more from you. 
Or what you are trying to tell them, they admit it just to stop saying anything. 
Yes, some people use 'I know right' casually like they're saying 'You don't have to tell me everything, I know it already'. 
If this is something they should know, but act careless, you can give them savage or funny responses to 'I know, Right?' to show that you don't believe them. 
And, what they know could be wrong.