Last Updated on December 5, 2023 by Ketan
Do you always find it hard to respond to a 'Cool' text from someone? 
Or, do you feel annoyed with your friend's habit of saying 'Okay, cool' all the time? 
Well, the word 'cool' itself means to 'calm down' or be 'okay' with everything, no matter what this is about. 
But it's also not cool to overuse it.
Because now it starts to feel irritating. 
Also, a meaningful response sounds more engaging than this. 
Sometimes it feels confusing. 
Because saying just 'cool' can't be the best response for every conversation. 
How To Reply When Someone Says "Cool"?
When you share something with your friend or ask them questions, and they just say 'cool' this simply means they don't mind. 
But this one-word response also expresses disinterest.  
Like they don't care about the conversation. 
Well, you're not forcing them to talk with you or listen.
So far, you've been tolerating their dull response in the conversation. 
But next time when they say 'Cool' you can respond to them honestly. 
No matter if it sounds sarcastic or savage, you're going to make it clear to them.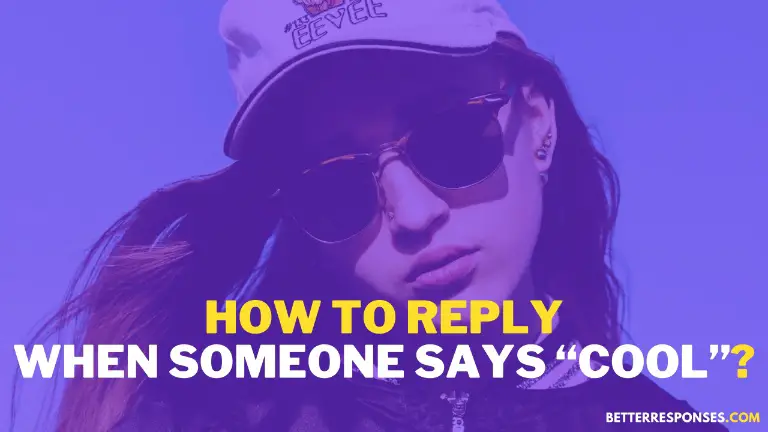 1. "Do you find it cool? It's hot out there, man." 
How can anyone be so cool? 
It's a hot summer already.
But, this person has to act like everything is just okay(cool) around.
You just don't use 'cool' in any conversation except when you talk about the weather. 
So this one is a witty reply. 
2. "No it's not. And you're definitely not cool at all." 
This so-called 'coolest' dude can't stop trying to look cool. 
You just lost your temper because now they're irritating you. 
3. "Just saying 'cool' all the time, does not make you sound one." 
Someone has to make it clear to them. 
When someone tries to look cool, they can do something nice or great.
But they just have to say it every five minutes. 
And, you have heard enough.
4. "What's Cool in that?"
Your conversation is about something, you or no one asked for their opinion either. 
And when they say 'It's cool' ask them if they even know what you're talking about. 
Or they just have to say anything. 
5. "Fine, talk to you later. Now, go away." 
When you share something important with a friend or want to chat about it, they just react 'cool' in a text. 
You don't like it at all. 
So instead of losing your cool, you end the conversation here. 
6. "I'm cool and you're a fool." 
If you want to sound cool, then this is a funny reply to share. 
Your bestie's habit of saying 'cool' drives you crazy sometimes.
So, make it clear who is the coolest one. 
7. "Yea, I also don't know what to say." 
When someone has no idea what to say or how to react, 'cool' is the backup response. 
If you don't feel engaged in the conversation, tell them you don't even know how to respond, either. 
But you didn't say 'cool' even once. 
8. "Perfect. I have expected the same from you."
A friend responds with 'OK, cool' to the plan you shared in the text.
In response to it, you express that you feel happy about it.
You tell them that you understand them well enough.
READ NEXT: Funny Replies To 'Good Morning' Messages
What Does "Cool" Mean?
When someone says 'Cool' it means they agree and are 'okay' with what you just said to them.
If you ask them about their suggestion for their plan, 'It's cool' means, they've no problem with it.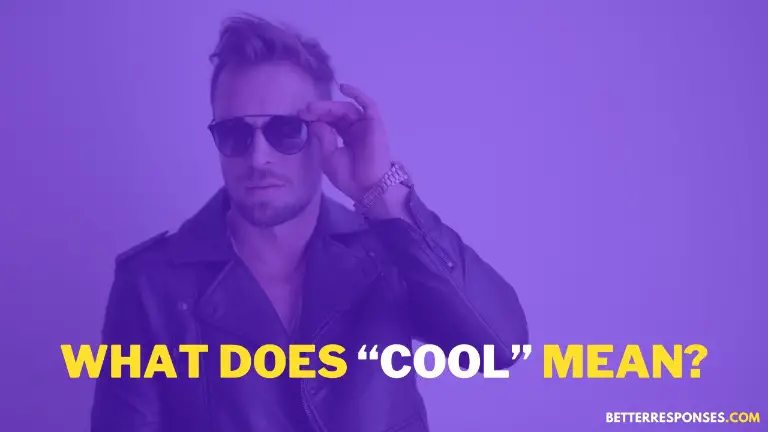 But, there are also times, when anything you ask a friend, they have only this response. 
Which you don't find cool at all. 
You want their proper engagement. 
You hope they say something meaningful in the discussion.
But they offer nothing good. And, that's a bummer.
You were excited about something, but not anymore.
But, fine, they may have their own reason.
Well, you can change the topic or take it at the end of the conversation when someone says 'Cool'. 
Because they might be bored or not interested in the chat.