Last Updated on September 27, 2023 by Ketan
You should stop boring your partner or crush with the same regular talk. 
Even if 'How was your day?' is just a normal question, your flirty responses can lead to a spicy and special conversation.
Just forget about this day if it's a rough or miserable one. 
With your partner, talk about something that brings you two even closer.  
And if you get this text from your crush, use this chance to send some hints along.   
Well, the purpose of responding witty and flirty is to engage them in a romantic conversation, over a regular one.
Flirty Responses To "How Was Your Day?" From Your Partner
Your boyfriend or girlfriend often texts you, 'How was your day?' and it's their concern about what you experienced or what happened today.
They want to know if you've had a good day or not.
But you're not in a mood to talk about that.
You want to discuss something spicy. 
So, here are some flirty answers to show you might not have a good day, but as they ask you, it makes it great eventually.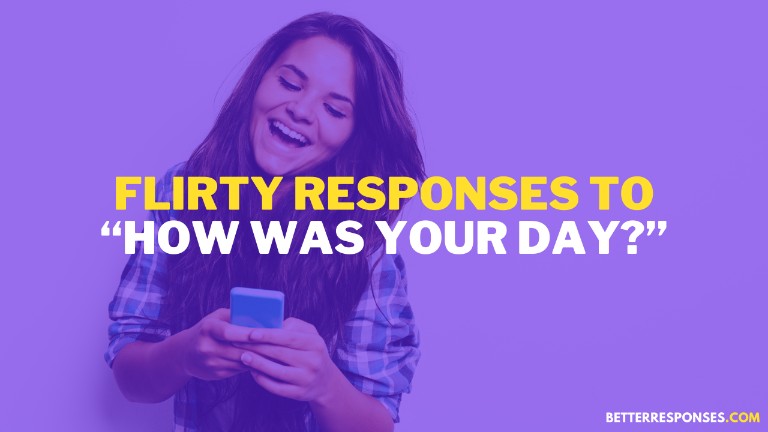 1. You're talking about the day, my whole life is awesome as you're here with me.
2. How this can't be a great day, I have your good morning message.
3. Nothing special happened today. Because you haven't been there even for a minute. 
4. It was a great day. If you were with me it would be even perfect. 
5. Such a rough day it is. Can I get a hug from you? 
6. The day might be bad, but our night can't be. As you're with me. 
7. I was thinking only about you and also cried a bit. 
8. Forget about the day, I'm thinking about the night. 
9. It's all good, there's no change in our plan. I can promise you that. 
10. Honesty, it was not my day, but your thoughts fix everything later. 
11. Today was just amazing. And, I thought about you all day long.
12. Let's meet up and I will talk about my day in person. 
13. Such an awesome day it was. I wish you were really there with me. 
14. Don't worry honey, it was a good day. I'm feeling better as you're with me. 
15. As you ask about my day, I feel more positive now. 
16. The day was not fine at all. But you're just fine for me. 
17. It was going to be a rough day, but your afternoon wishes saved me. 
18. I don't want to talk about the first half of the day, I'm all for the night. 
19. It's such a tiring and boring day that I just want to sleep in your arms. 
20. What day?? I still haven't gotten over the kiss you gave me. 
21. However my day went, I love you more, that's clear. 
22. I believe that you thought well about me, I had a great day. 
23. This could be a memorable day, but only with you. 
24. Feeling so tired of this busy day at work. But don't think I'm tired for you. 
Witty Replies To "How Was Your Day?" From Your Crush
You often get a message from a guy or girl asking about how today went for you. 
It seems that they are also interested in you, the same as you. 
Possibly, you want to give them hints about your feelings.
Or, you just want to inform them that by asking you about your day, they make it a good day in the end.
So, in this case, you can respond in a witty manner to 'How was your day?' question.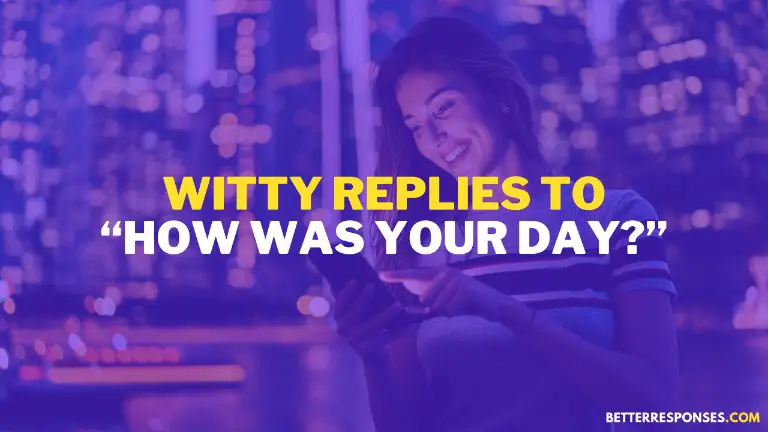 1. You just shut up, you have no idea how much I missed you, How can you do this? 
2. Oh, I can't wait to share everything about today. But in person not over call. 
3. So much to talk about this day. We need to meet in person to discuss it all. 
4. No idea why, but today everything reminds me of you, can we meet? 
5. I missed you so much the whole day, did you miss me?
6. I'm mad at you for not texting a good morning today. It was a horrible day.
7. It was really hard to focus on my work, you were on my mind all day. 
8. Can we spend the night together? I think that would be the perfect day end. 
9. Why don't you come over and see it yourself?
10. My day wasn't any good, but a date from you can fix that. 
11. This time I really wish that you were here with me. 
12. Now I'm feeling better as I'm chatting with you, otherwise, it was just boring.
13. I don't care about this day anymore. Because you're with me, that's all I need. 
14. It was better than I thought, but you're still perfect though. 
15. My day has been always getting better, from the day you're with me. 
16.  Are you available? Then let's hang out, have dinner and talk about our day. 
17. This was the best day ever, as I started this day seeing your face. 
18. Just another boring day, as we don't get a chance to be together. 
19. There can't be a perfect day without you. I missed you so much. 
20. Do you want to end this day by doing something special? I'm ready for it. 
21. I can see that, you've been trying to be nice to me. Do you flirt with me? 
22. It always feels special when you ask me about my day. You care for me. 
23. No matter how my day went. Talking to you fixes everything.
Conclusion
You might have a rough day today, but as this special person asks 'How was your day?' is makes everything feel better.  
Sometimes, you even forget what happened on that day.
But if that doesn't happen, never mention your worries and challenges while chatting with your partner (or crush). 
Say something personal and special that they like to hear. 
Indeed, you better tell something that eventually improves your connections. 
When your partner or crush asks 'How was your day?', with flirty responses you make the conversation playful.  
You can appreciate them for genuinely caring about how your day went. 
And in some cases, give them hints about your plan to end this day in a special manner.