Last Updated on November 1, 2023 by Ketan
In the meantime, your coworker or your manager casually asks "How is work going?" while walking past your desk. 
It's just a simple question.
So, there's no perfect answer to give. So, don't think much.
Your work could be 'good' or 'bad' at the time. 
And, that you know exactly what to say and when. 
But if you want to make your answers more genuine (or mostly positive), here are some better ways to reply to the question about your work. 
How Do You Answer To "How Is Work Going?"
When someone at work, like your teammate, or co-worker asks about your work, you want your response to be upfront, based on the connection you've. 
Particularly, your boss or manager wants to see your enthusiasm at work. 
Like, your work is going really well. 
Some just ask so for no reason, or to make you at ease at work. 
Also, some ask as they inform you that if you need any help, you can ask.
While responding to 'How is work going', you need to be mindful of your professional setting. 
And, you can give positive or polite answers like these.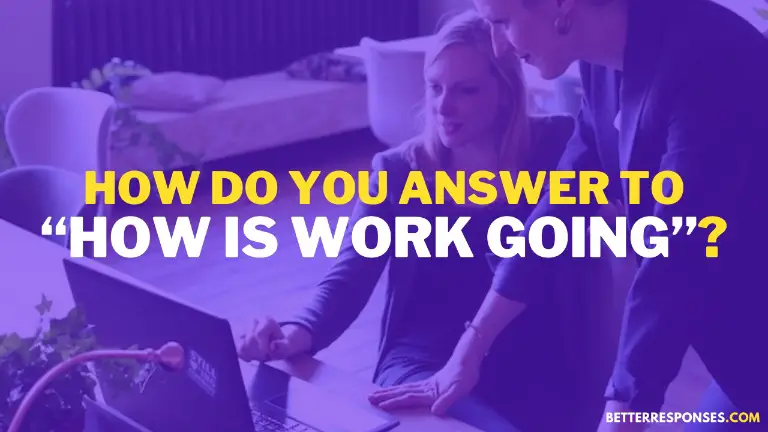 1. "It's good. Thanks for asking, I'm so excited to work here."
It's your first day at work, and it takes time to adjust to new work. 
Mostly, your boss or manager asks 'How is work going?', just to make you feel comfortable.
Your polite response shows your adjustable nature as well as your enthusiasm to be there. 
2. "Everything is all good like it should be. What about you?" 
On your side, in your work department, the work is going pretty well. 
You've nothing more to share with this coworker who asks 'How's your work going?'. 
So you can tell that there's no issue and everything is under control.
But, the way they ask you, they must have some issue and they want to share it with someone. 
3. "With your proper guidance, It is going really well. Thanks again."
As an update regarding a new project, your team leader or manager asks how this new work is going. 
Because you got help from the manager or coworkers, you can tell them that their support really helped you to get things done. 
So, eventually, this is just another way to say 'No worries', it's all good. 
4. "Nothing new, just a new day comes and goes." 
This could be either positive or negative based on the situation at work. 
While talking with your colleagues, they already know how the work situation is there.
And they also might have the same experience with it. 
When you say 'nothing new', it shows no change in what you've discussed earlier, it's still the same bad or good. 
5. "Oh, the work?… is all going as planned."
This one is a positive answer you can share with your teammates or coworkers. 
During the lunch break, while discussing something, they may ask about what's happening with your work. 
You don't have anything to complain about, but just good things to share. 
That shows you're happy at work.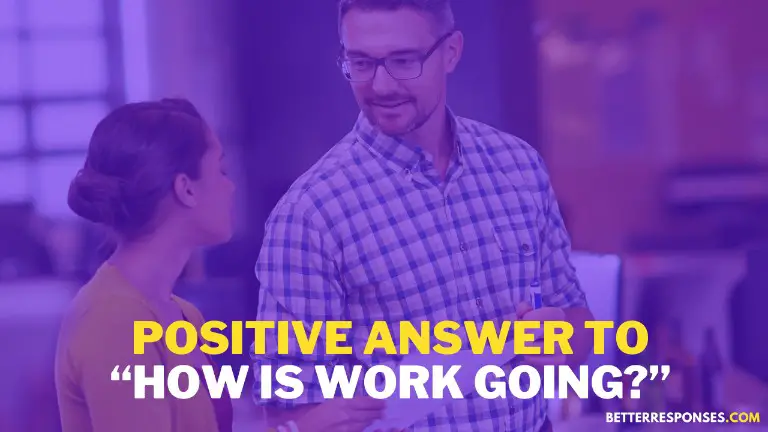 6. "Well, these days work is much more streamlined than ever."
After a bad day at work, you finally have a relaxing time.
This one is a good answer that shows that you're not a complainer. 
But you take things as it is. 
Maybe you've adjusted yourself or the situation got fixed eventually. 
But if you respond this way, it shows you're flexible with your approach to how things go at work. 
7. "Work is good, but I can't wait for the weekend." 
Share this response with someone who relates to it, more like your coworker. 
You both agree it's been a hectic work week. 
So much going on at work, and you don't even get time to breathe these last few days. 
So, your all hope is to have a happy weekend, where you can finally take a rest. 
8. "What work, I left that job five months ago."
And maybe currently you're working somewhere or taking a break from work. 
When someone asks 'How's your work going?' they talk about your old job. 
This could be a funny answer when a friend knows your last job almost makes your life miserable. 
But, you've moved on in life and it's going better. 
9. "I'm actually happy that at least I have a job."
Earlier, you've been complaining about how awful your job is. 
But not anymore. 
After checking different scenarios and witnessing more examples, you consider yourself lucky that at least you've some work to do. 
This could be a positive gesture. 
But if you share it with someone with no job, this makes a sarcastic reply. 
10. "My work? It's going as it used to."
When someone accidentally asks you about your work, you're surprised.
Not sure what made them ask you so.
In that case, you can share this response with the positive energy.
11. "Work is life. Without it, there's no life, Right?"
Well, your work might be going well or not, but this response has deep meaning.
It shows that you have no choice but to work.
Also, you prefer not to complain about it, but do what you have to do.
READ NEXT: Professional Ways To Say 'I Didn't Get You'
What's The Meaning Of "How's Work Going?"
When someone asks you 'How's work going?, they are asking about your work life, your Job, or what's going on in your career. 
And the context of the question differs based on who is asking this question. 
When your coworkers or manager asks, they really want to know things about work, specifically the new work or project assigned to you.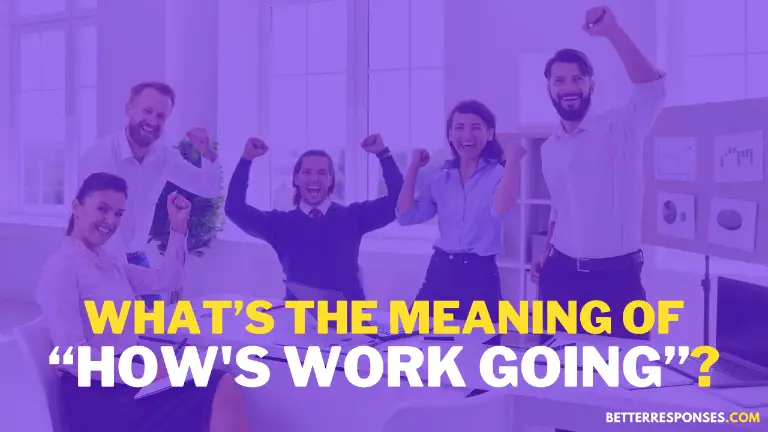 If your friend or relatives ask the same question, they just ask so casually.
To answer it right, you can talk about your professional life.
Some ask 'How's work going?' actually to know about it, if it's good or if you need their help or something. 
While some just use it as an ice-breaker, like an old friend you haven't met in a long time.
And your answers to it, make some conversation start. 
Maybe they, too have something to share about how their work life going.