Last Updated on November 10, 2023 by Ketan
You might have a habit to say 'No worries', just to anything. 
But in formal correspondence, you want to sound more professional and much clear.
Well, of course, there is no issue if you use the same. 
But, like the context of the message change, better if you have some formal alternatives. 
Because this phrase isn't perfect for every situation. 
If you are curious to know if there are effective alternatives for the same, here you'll find them.
How To Say "No Worries" Professionally In Email?
Considering your purpose of mail changes, the way you say 'no worries' also changes. 
While replying to thanking messages from colleagues regarding your assistance, you want to sound helpful and supportive.
If this is to say to your boss, you want to make it more confident and professional.
Whereas while saying 'no worries 'to clients, you want to sound relaxing and comforting to clients.
This is to show them that you're happy to help them. If it's any issue or something, they shouldn't be worried about it at all.
For your help, here are the best ways you can say 'no worries' professionally in email.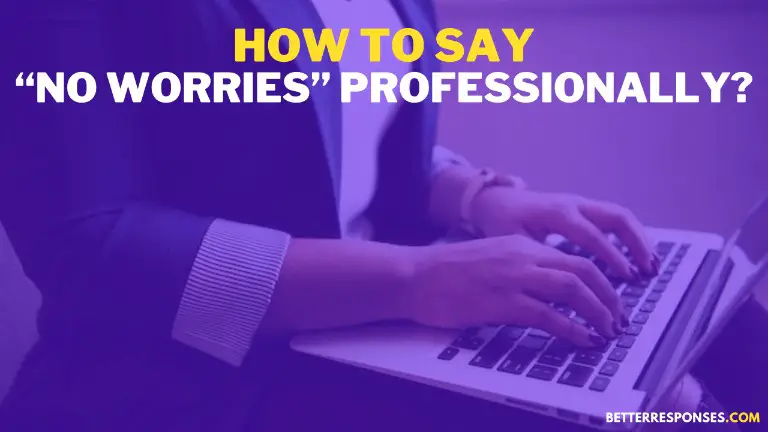 1. "Don't hesitate to reach out to me again." 
This response is for a client who is saying 'great job' for what you did for them. 
You just want to clarify that you're there to help them out. 
And they can contact you anytime without any problem. 
2. "Not an issue." 
This one is a simple and short way to say 'no worries' while interacting with your colleagues or teammates.
If you've to respond to something, you can say it.  
3. "That's okay, I'm here to guide you."
You helped your coworkers to understand something at work and they said thank you. 
Because they are new to the team, you want to feel relaxed and guided. 
So they can ask for help without much thinking. 
4. "It's my pleasure that I'm able to meet your requirements." 
After having some product of their choice when customers express their satisfied experience. 
When they send you to thank you for the message that you did a great job, this response tells you're happy to serve them well. 
5. "That is a part of my job. So, no need to worry about it."
You are doing your job and this is not bothering you in any way. 
This alternative to 'no worry' sounds responsible while handling a client's request. 
6. "You should not be worried about anything." 
Whether it's internal or external email, saying this way makes it clear that someone has nothing to worry about at all anymore. 
Because experts are there to handle it well. 
7. "That is not a big deal, you can relax."
Over mail, the client seems quite worried about some issues they're facing. 
For you, it's nothing, that's what you do every day. 
The way you say it informs that you know how to fix it. 
READ NEXT: How To Respond To Work Anniversary Congratulation Wishes?
8. "I'm so glad that it helps you well." 
You're happy to help them with some solutions or assistance. 
When your coworker doesn't stop thanking you, you just want them to tell you that you're more than happy to help. 
9. "You don't have to do this, I'm fine with it." 
As coworkers already know you're occupied with something, they hesitate to ask for your help. 
But if you reply like this, it will relax them that you've no problem helping them out.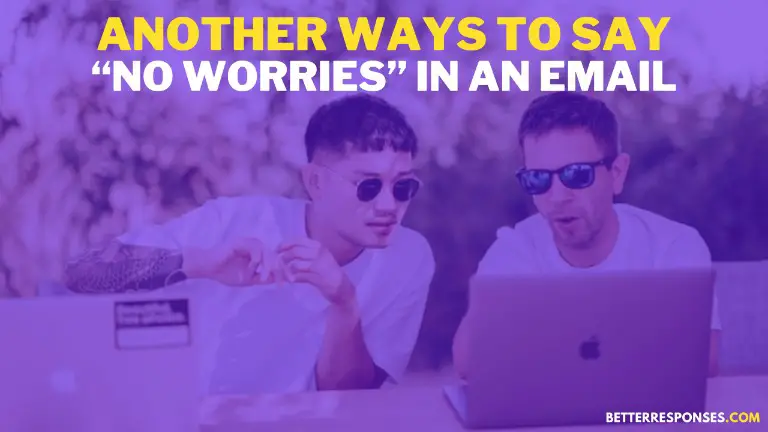 10. "Don't worry, I'm all here to help you."  
Working in the service department, you might need more ways to say 'no worries' over mail or in messages. 
And, this is the better way to say it. 
11. "Now there is nothing to worry about." 
It was a big problem and it took a significant amount of your time to solve it. 
But in the end, you're happy that you have the solutions. 
It's like you're updating them that there is no issue anymore. 
12. "Relax, it is not that challenging for me." 
What you did just comes under part of your job role and responsibility. 
You want to make them not think about anything, as it's your daily routine. 
13. "You could relax. I will update you as soon as it's done." 
A customer emails you regarding their urgent need and you need to comfort them.  
Inform them that you're there to handle the situation from then on.
14. "I have fixed that for you. You can continue without any problem." 
When you finally solve the tech issue faced by a client for a long time, share this reply. 
This is like a confirmation that you've successfully resolved the issue and there's nothing to worry about. 
READ NEXT: How To Respond To 'That's Not My Job'?
Conclusion
Some people use 'No worries' instead of saying 'welcome' in response to a 'Thank you'. 
While 'welcome' sounds too regular, 'no worries' feels more relaxing. 
It's like telling them that they don't have to bother to ask for your help.
Or, not to feel hesitation about anything. 
Because you're ready to help them out anytime.  
In a professional setting, co-workers or clients have some urgent request, and they feel to disturb you as they carefully ask if Is it a good time to talk.
In this case, when you say,  'No worries, please go ahead', feels more relaxing.  
The above alternatives to 'No worries' that we shared here, you can say it over mail or message considering the situation and the recipient.  
When you say it, make sure you sound confident so they can relax now. 
Because that's the point of saying 'No worries' to someone.