Last Updated on September 14, 2023 by Ketan
As a customer, client, or even coworker you might have to face the 'That's not my job' attitude. 
That puts you in a confused situation over how to react.  
You're just asking for some assistance and they respond rudely to you. (It could be an excuse, though). 
Agreed, it might not be their job, but they could at least say it politely. 
But nope, they choose to treat you unprofessionally. 
Whether you want to inform them about their job responsibility or correct their behavior, you should reply effectively. 
How To Respond To "That's Not My Job"?
Do you have co-workers or employees who often excuse that it's not their job? 
Or a customer service executive who doesn't help, but shows they're not responsible?
You don't want to argue with them, we know that well. 
But, when they do so often and act unprofessionally, your prompt response makes them change their behavior. 
If you don't know what to say, here are the ways to respond when someone says 'It's not my job'.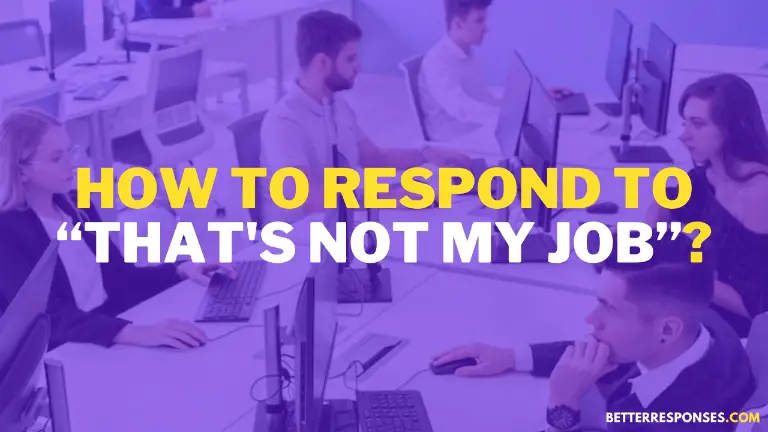 1. "For your information, it's not my job either." 
But, you're still doing it. 
As a team player, everyone needs to help each other when in time.
But instead of contributing to the team, a coworker tells you this. 
So, update them on this urgent matter, that they should work on the same. 
2. "Okay so, tell me who is responsible for this?"
You're looking for a solution to some service-related issue. 
Rather than taking care of your issue, and providing a solution, the staff informs them it's not their job.
So, you can politely ask them whose job this is, meaning who can properly answer it. 
3. "Also, you're not the boss, either." 
The way this coworker tells you, they act like your boss. 
So, with your response like this, you inform them that they're also employees and not the boss there. 
Because it's a boss who wants everyone on the team to work on it. 
4. "I know that. But, this order is from our boss, not me."
Let them know that they've no option, but to work on it.
As your boss has advised you to work on some priority, you pass on the same message. 
It's a clever response to make them work on it ASAP even though it's not their job. 
5. "I'm surprised, what's your job then?"
Some teammates are not actually team players. 
Everything you ask them; you get no response from them. It's frustrating. 
So being sarcastic, you ask them what they do at work. 
Seriously, you want to know what they're actually doing.
6. "Oh, it isn't? So, consider this as your job from now on." 
Because you're their boss and use that status to get work done. 
Because your client is asking for the update and this employee has an excuse ready like always.
You've to be like this in some cases. 
READ NEXT: Best Replies For 'It Was A Pleasure Working With You'
How To Deal With "That's Not My Job" Attitude?
When you're approaching a service center or department to get help or a solution, getting an 'It's not my job' attitude obviously upsets you. 
You might feel it rude as that employee or coworker says that to you. 
But, in some cases, every employee or coworker needs to work beyond their job description.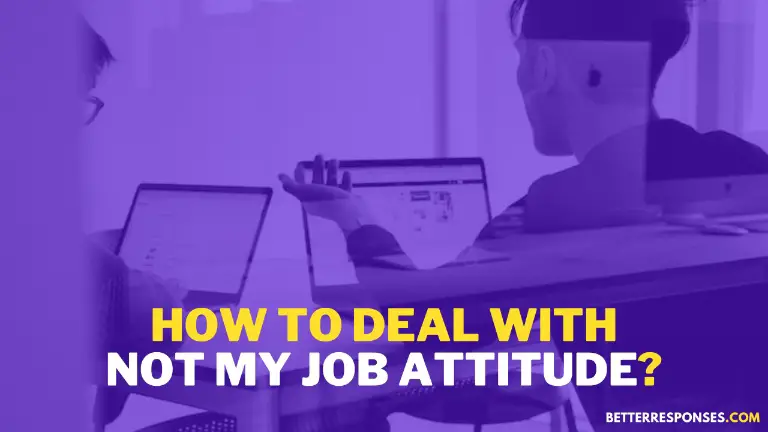 If that's still not part of their job, they can contribute with proper guidance or refer you to the right person to contact, if it's not their responsibility. 
But when someone keeps saying 'That's not my job', which is completely unprofessional behavior, you need to deal with it correctly. 
As a manager, boss, or fellow teammates, use these possible responses to handle the 'That's not my job' excuse from coworkers or employees.
Remind them that it might not be their job, but it's their responsibility to behave supportive.