Last Updated on October 18, 2023 by Ketan
You feel like you should say 'Good evening' in an email to your formal contacts.  
But, you can't decide if it's right or not. 
You want to sound formal as well as genuine while greeting it. 
Whether your email is for your fellow colleagues, teammates, employees, or clients, in this post, we're suggesting the best and formal ways to say 'good evening' greetings in email. 
It's a good idea to have more ideas to say 'nice evening' than sharing the same always. 
Based on the situation and your connection with them, you can try alternatives. 
How To Say "Good Evening" In Email?
It's fine to say 'Good evening' greeting to your formal connection while corresponding. 
This might sound normal or not so important at first. 
But, such routine wishes establish a connection with the recipient.  
While contacting via email, you can add this greeting before the start of the mail or at the end, when it sounds right.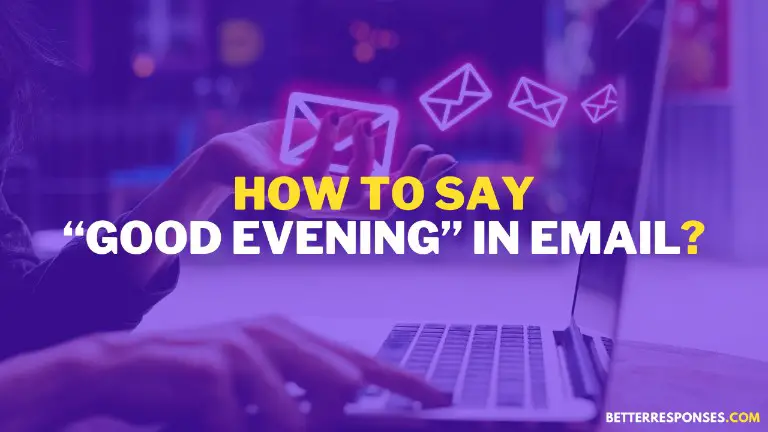 The point is your 'evening' greeting in email needs to be timely and appropriate. 
Indeed, based on who you're saying this to and at when, you better change the way you greet 'good evening' formally, to make it effective.  
Well, if you want to say something nice and meaningful, here are formal ways to say 'good evening' in an email to sound sincere and not like a formality. 
1. "May you have a nice evening." 
You share this evening greeting to sound a bit personal with your client. 
It's important sometimes to leave a positive impression behind. 
Such a genuine greeting supports your professional connection over time. 
2 ."Have a great evening, Team." 
This is an exciting way you say 'Good evening', while addressing your team. 
Sharing greetings with your employees and team players is a good move to create a supportive team environment. 
You can share this to group mail or while inviting them for a virtual meeting. 
READ NEXT: Best Answers To "What Makes You Happy?" At Interview
3. "It was a great meeting with you. Have a nice evening!"
You could say 'good' evening here. 
But if you send some updates after a meeting with them, you better add some appropriate adjectives like 'Wonderful' or 'Great' here.  
Make sure that you share this with a client you have a good connection with. 
4. "I hope you have a wonderful evening."
The superior or coworker you're very well connected to, you can say this.
Same if you're working directly with a client and you developed a personal connection within, you could use it if you feel it is right. 
4. "You seem very excited. Well, good luck with your evening plan."
You can use this way to wish 'good evening' to your fellow coworker. 
It might not exactly say so. But that's what you mean by it. 
You could ask them 'What's the plan after work?' based on the connection you've with them. 
Else this way also shows you're happy with whatever they planned for the evening. 
6. "I hope this evening is going well for you."
Especially if you're in the hospitality business, this works quite well with your customers. 
It shows your confidence in your services. 
While updating them about something, when you share an 'evening' greeting via email, this is a polite and professional way.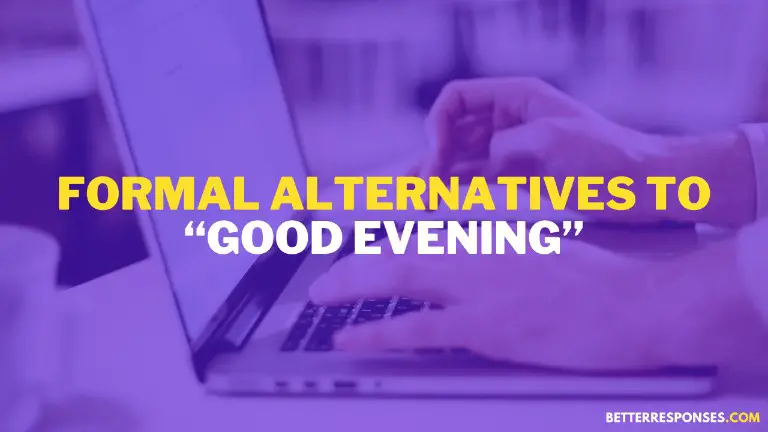 7. "Evening! See you tomorrow." 
You can share an evening greeting with your coworker while working remotely. 
Even if you do not get to see each other at the office, sharing this greeting via email is a proper way to say goodbye. 
But it's even better while you're leaving the office together.
8. "It's good to see you again. Have a nice evening!"
It's an evening conversation with a coworker or teammate on something important.
And, this is how to say 'Good evening' in email. 
You can say such 'evening' greetings to coworkers you work with on that day. 
It shows you're developing a formal connection and want to sound more approachable.  
READ NEXT: How To Say 'I Will Do' Professionally At Work?
9. "Have an awesome evening to you, too." 
This is a reply to the 'good evening' greeting you get from a formal connection. 
While ending the conversation of the day, as a final message before EOD, you can respond this way. 
You don't want to repeat the same greeting, so this works as a better alternative. 
10. "Hope you're having a relaxing evening!"
After a long working day, you're ending your discussion with a colleague here. 
You together get done what you planned. 
Now all you need is a relaxing time in the day. 
So this way you tell them to enjoy the evening and relax!
11. "Evening, Enjoy the rest of your day!"
This is the final mail of the day with your employees. 
As an employer or boss, when you share 'enjoy the rest of your day' with your employees, it shows you value their time and priority outside work. 
Saying this also develops a personal connection with your employees. 
READ NEXT: What To Answer To 'How Do You Feel Working Here'?
When To Say "Good Evening" In Formal Email?
Some people prefer not to add any daytime greetings, including 'Good evening'. 
This is acceptable, in a case when you're interacting with a contraction from the other timezone. 
Also, you have no idea at which time they open the mail.
Maybe at night or mostly the next day. 
So, it's logical that you don't add such a greeting in your mail.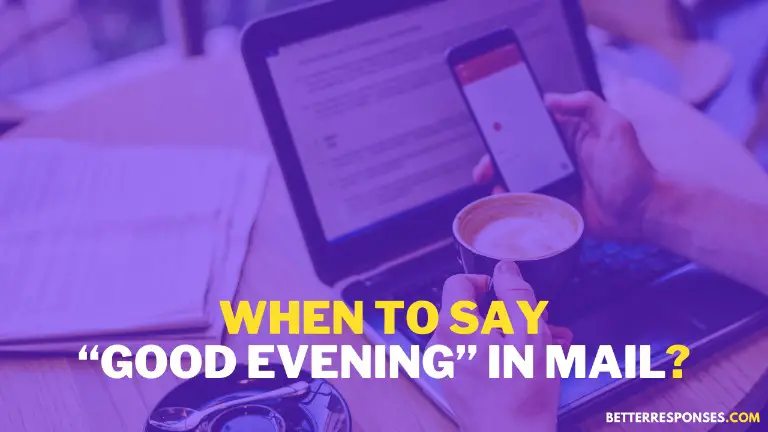 While some prefer to use 'Good evening' like greetings in the mail to develop a good connection. 
Such greetings are normal and nothing much, but a genuine approach to wishing it right. 
You could share 'Good evening' greeting mail with your formal connection when you're in the same time zone. 
It works well while sending mail to your coworkers, clients, customers, or employees. 
To sound polite and leave a positive impression, you could use the appropriate 'Good evening' greeting via mail. 
Be sure to consider your formal connection to select how to say it.