Last Updated on October 1, 2023 by Ketan
You might wonder what's the purpose of asking 'What makes you happy?' at an interview. 
With this thought-provoking question, an interviewer wants to find out your dedication, motivation, and seriousness for your career. 
Your answers also reveal if your expectations are in line with the company's goals. 
Considering your answers, they decide if you could be the right fit for this job.
The to check if you suit this company environment. 
If you're preparing for job interviews, it's helpful to have a few sample answers.
How To Answer To "What Makes You Happy" In Interview?
Before you answer, you must know what's the purpose of this question. 
Well, the question 'What makes you happy at work?' is to examine your thoughts on a sound work environment and also your work motivation. 
It's not just about what you like the most about this job or the industry you're in. 
But also, your career goals or plans that keep you motivated and working harder. 
You could share a thoughtful response based on what's on your mind at the time. 
But, instead of just saying anything, it's better if you have an example answer ready. 
Here are a few best answers to give for 'What makes you happy?' at an interview that you can use as an example.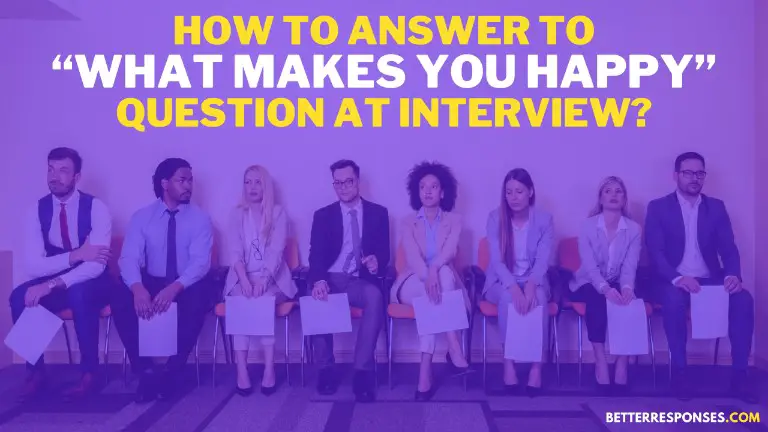 1. "Being part of a well-organized and supportive team makes me happy the most at work."
If you answer this way, you present yourself as a team player who likes to be in a team with a sound environment. 
You enjoy working in a team and achieving common goals. 
Having experienced people around also challenges you to work your best. 
2. "My goal is to be part of a job that lets me explore more in my field. I like to challenge myself to improve every day." 
Maybe this also could be the reason why you left your previous job. 
Your goal to find a job gives you a chance to explore your industry and field more. 
You do not want to keep working the same type of work for years. 
There's so much more to learn and explore.
So, you want to find a job where you can improve your knowledge, gain more experience and advance your expertise. 
3. "I like to explore new things in this field, I enjoy the work I do." 
This field or industry you're working in, it's your passion actually. 
The good thing the interviewer sees here is, you're self-motivated. 
You don't want to settle for only one work only, you always want to learn more.
This answer gives the interviewer confidence that you can work on your own. 
READ NEXT: How To Say 'I Will Do That' Professionally In Email?
4. "I love the work that challenges me every day. It helps me to come up with new ideas and create something helpful." 
If this interview is for a creative field where you have to create something, you can answer this. 
It's to show that you don't want to limit yourself to regular work. 
But, you love that your work is dynamic. 
You love it more, because it's challenging where you've to do something new every day. 
And, you're confident in your ability to come up with fresh ideas and concepts.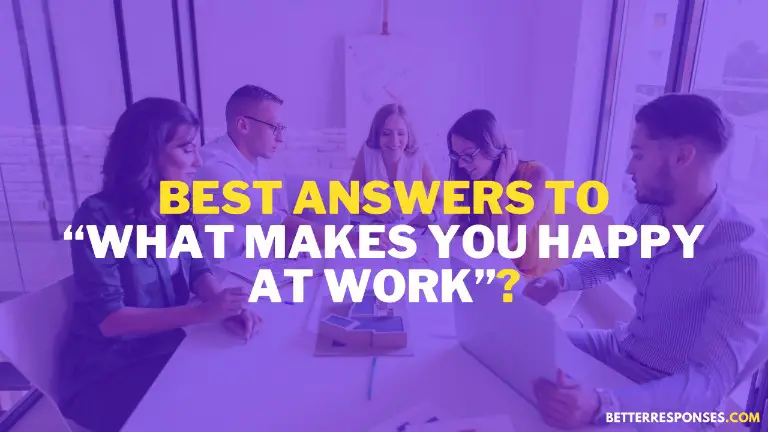 5. "I enjoy setting goals and then working hard towards them. The process to achieve something is what motivates me the most." 
You don't run away from challenges; you like to give yourself new goals every day. 
Also, instead of wasting your time in planning or only setting goals, you aim to start working in the right direction. 
All that matters to you is to have fun working on set and well-defined goals.
READ NEXT: Another Ways To Say 'Good Afternoon' In Email
6. "I want to see myself getting better and being a more responsible person both personally and professionally." 
You want to learn and grow. 
Even if you have a decent experience, your hunger to learn is something that makes you happy at work every day. 
This shows you're someone who never settles, but always learns to grow more. 
7. "Having a supportive work environment is something that makes me feel confident." 
You look for a company where the work culture is encouraging and sound. 
Maybe due to your past experience, you realize that it's not the salary but workplace appreciation that is more important to you. 
The answer says you want to work at a place where you feel respected and valued. 
8. "I like to work at a company that allows me to manage my work-life balance effectively." 
There's no doubt that work is important. 
But as a family person, you've responsibility toward them, too. 
You are looking for a job that understands your time and priorities well. 
Of course, you work harder and are passionate. But you're also aware of your responsibility outside work. 
You want to keep your work at work. 
And, you would be happier if work doesn't interfere with your personal life.
READ NEXT: Formal Ways To Say 'I Don't Know'
Conclusion
When at an interview you're asked, 'What makes you happy?' you can first clarify whether they ask so in perspective of overall career or type of work. 
Mostly, you need to be professional and talk about what makes you happy at the job. 
As it's not a good idea to talk about your personal life goals or future plans in an interview. 
So, better if you keep the answers around your professional goals, career advancement, or work-life balance. 
They're not actually interested to see how to make you happy at work. 
But, based on your answers, they also check your chances to be at the company for long.
We have shared these example answers for the interview question 'What makes you happy?' for some ideas. 
Based on your experience, expectation, and what is something that makes you stay (Happy) at work, have your answer ready.