Last Updated on November 1, 2023 by Ketan
Does this question "What do you like the most about your job?" keep you thinking, what to answer?
Well, that shouldn't happen at the job interview. 
If there's something good about your job, role, or previous company, you might not have to think much of it. 
To give a genuine answer, be ready with something to say. 
In this article, we are going to discuss the sample answers to share what you like the most about your job or previous position. 
How To Answer To "What Do You Like The Most About Your Job"?
There's no perfect (but honest) answer to this question.
It's entirely up to you. And, your experience. 
You just have to mention what you like about this job, field, or work you do.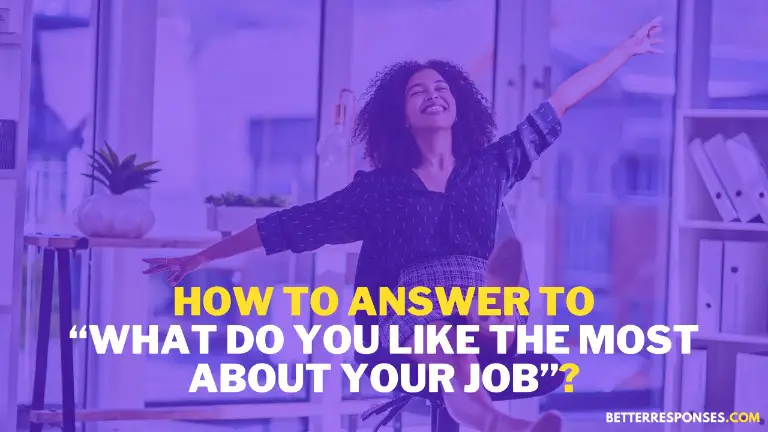 When the interviewer or employer asks you about the best thing about your job or previous position, they pay attention to the way you answer. 
Mean to say, they want to see your positive response here. 
If you are preparing for the job interview, be ready for this question, as well. 
To help you right, here are the example answers to "What do you like most about your job?" question at an interview or formal meeting. 
1. "I'm so grateful that I got a chance to work with this company. This job taught me a lot."
You're not looking for your second job after being working for the first for years. 
You learned the most from working at your first job. 
And, you get many insights related to your industry. 
So you are thankful for your previous job or company, you were. 
2. "The growth and learning opportunities this job offers excite me the most."
Sometimes, employers want to check what you like about this position or role in their company. 
In that situation, this answer suits here. 
This way you tell the employer what you like about their company the most.
You give this positive answer to show what makes you apply for this job. 
READ NEXT: How To Say 'Take Your Time' Professionally?
3. "Well, the experience of working in this challenging job helps me to grow both professionally and personally."  
This area of work has supported you in many ways. 
It gives you a chance to challenge yourself to work on yourself. 
Result, you feel confident when you look at yourself. 
And you look forward to the same job role and industry. 
4. "It's the work environment that I like the most about this job. And, I can feel the same in this company as well."  
You might be leaving your previous job or organization. 
But you didn't forget what you like the most about there.
After this answer, you have to explain why you are looking for a change.
Whereas, you also hope to get the same working environment in this new job, too. 
5. "So, this is a dynamic industry and I like doing the work that challenges me every day." 
Some candidates like a job that is relaxed. 
Where they have to do nothing new. 
But some candidates like you, want to work in a job or industry where they have to face challenges every day. 
This answer shows you are ready to improve and update yourself. 
6. "Working with experts and professionals always challenges me to do more." 
You didn't feel pressure to work around them. 
But you believe that being around professionals at your job is something that motivates you every day. 
This is a good answer to show that you know how to choose your connection.
It means you have a growth mentality and like to be challenged.
READ NEXT: Best Answers To 'How Are You Today?' At Interview
7. "It's a creative field, where you always have to come up with new ideas. And, this is something I have been looking for."
You know you're part of the creative industry and there's always a challenge to do something new. 
Well, whatever it is, you're ready for it. 
This positive answer expresses that you like this job and you found your passion in it.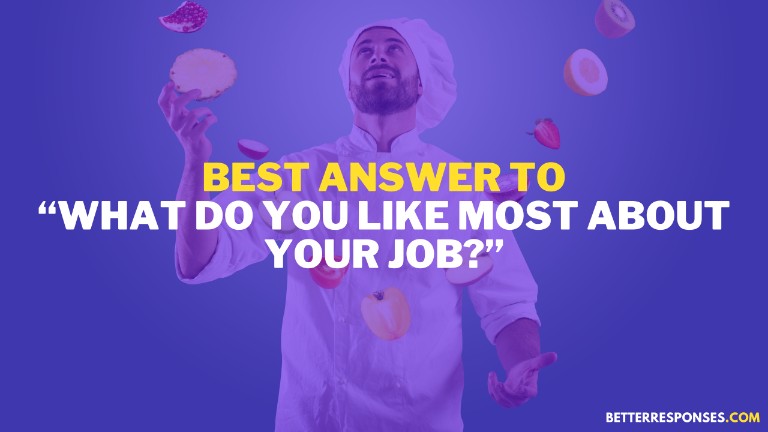 8. "This job allows me to manage work-life balance. This helps me to fulfill my personal and professional responsibility better." 
You're seeking a job that won't stress you out personally. 
Indeed, you're looking for another job. 
But your present job doesn't create any issues in managing your life outside. 
And, you hope the same you will find in a new job as well.
9. "What I like the most about this job is it provides me the flexibility to work from anywhere."
Depending on your field, it's fine to share that you like to work in different places.
Sitting at one place and doing work for years is not for you. 
This field or job allows you flexibility, and you feel more productive working in it.
READ NEXT: How To Reply To 'Pleasure Doing Business With You'?
10. "Honestly, what I like the most about this job is that it pays me well. Not only that, but I got paid on time."  
Well, this is not a typical job interview answer. 
But it's the most honest answer, right? 
Anytime, when your friendly coworker asks what you like the most about this job, you want to share this.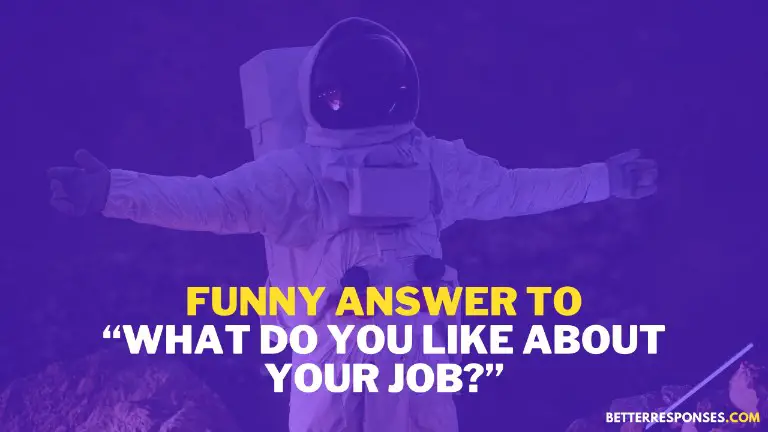 11. "The daily challenges are something that keeps me up on Monday morning. I like this work and I believe that I'm in the right field."
With this answer, you tell the employer that they won't see your tired face on Monday morning. 
You like this work, it's your field, actually. 
There might be challenges and competition in this field, but you are ready for all.
READ NEXT: How To Respond To A Meeting Cancellation Mail?
Why Do Interviewers Ask "What Do You Like About Your Job"?
Well, they might have a different reason to ask this question. 
Normally, during a job interview when interviewers ask what you like the most about your job or present company, they want to know your personality. 
They expect you to answer honestly and it feels genuine. 
So yes, you can talk about what this current job offers, what you like about the workplace or the field or work you're doing. 
They expect positivity from you. 
If you can show passion, that's better.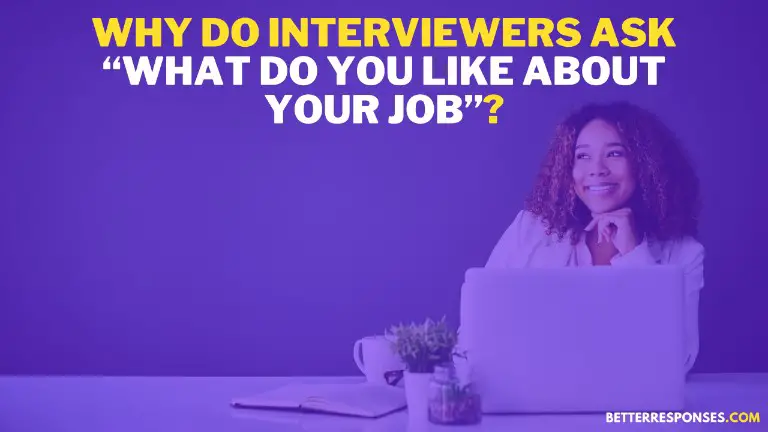 When you have to take time to think about your favorite thing about your present job or position, this indicates that you're only giving answers to their questions. 
And, it could impact your interview performance. 
You might have some challenges or negativity from the previous job.
But it's a good idea to mention only the positives. 
Having ready answers to "What do you like the most about your job?" can benefit you in many ways. 
So you can refer to these example answers and see what is something that you learned or like the most about your job, position, or this line of work.