Last Updated on November 25, 2023 by Ketan
When someone asks 'What are you doing?' at work, it's an obvious question. 
That you can answer it in many ways based on the context.  
It could be an inquiry for work you handle or to check if you're available. 
Of course, you're doing work and nothing else. 
But this question comes in a different situation.
And, your boss, coworker, or client asks you so over the mail, for different reasons. 
Anyway, if you want to know how to respond to it politely and formally, we have good suggestions for you here.  
How To Answer To "What Are You Doing" Formally?
In the first place, you could answer with 'I'm busy with some work'. 
This could be the usual answer. 
But the context of the question could be different and this person who asks might have some purpose to ask it. 
So, it's good if you consider the situation first before you choose to answer it. 
Here we are sharing some formal ways to respond to "What are you doing?" questions that you get in person or over mail.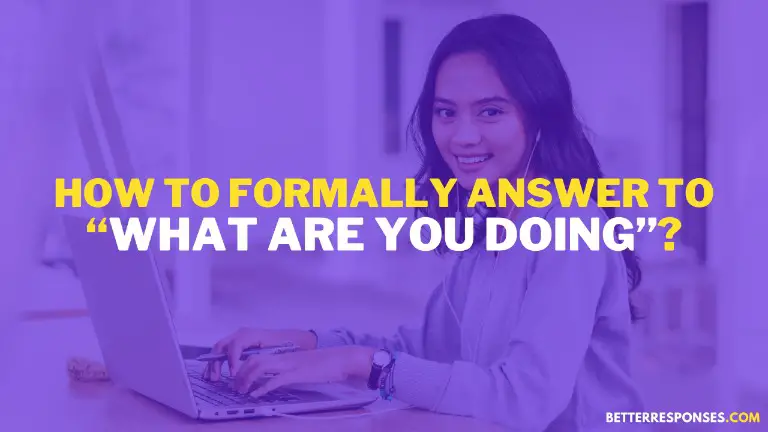 1. "Doing the regular work, do you need something?"  
A coworker who asks what you do at the time might need your help. 
This question is a polite way to ask if it's the right time to talk to you or ask for your help.
So you tell them, that you're available to help them out. 
2. "I'm working on a very important project." 
Your boss or teammate asks about your current activities or tasks. 
Update them about what you're doing right now. 
You can tell that you're busy and doing something very important.  
3. "Currently, I'm working at A company in the B department."
If you get a 'What are you doing' question in a formal setting, the person might want to know the type of work you do. 
So, share where you work and what is something that you're good at. 
This could give you a chance to discuss more about your work and grow this formal connection. 
4. "I'm quite busy today. Is there anything urgent? Please share."
This answer you can share this when they seem to have some urgent work requests for you.  
You might be busy but you also can manage your priorities likewise. 
A polite answer to share when a boss asks what are you doing at the moment.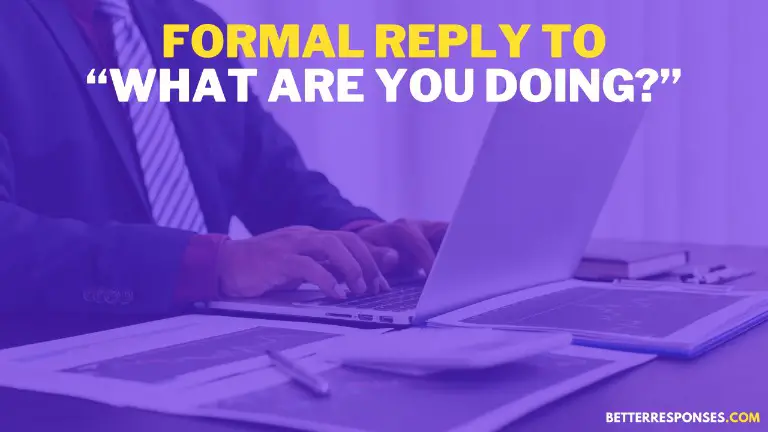 5. "I'm up to complete this task EOD." 
A boss or client often asks you 'What are you doing?' over the mail to get an update on some project or task. 
So here's how you update them on progress. 
With this response, you inform them that you're up to accomplishing something as planned. 
6. "Nothing new, I'm still working on the same task." 
It's a new project that you're working on and quite involved in it. 
Well, you're very occupied with regular work and have no time. 
So when your teammate asks about what you do, you can answer this. 
7. "I'm doing the best I can to reach our set goals."
A client is asking about your current activities and the process of the task you're doing. 
If you're handling a technical task and it's hard to explain, this is what you can respond to. 
8. "I'm doing my job and maybe you should, too." 
Well, this response you can share only with your friend at work. 
Sometimes, it's fine to give some lighthearted response at work. 
This one you can give to your colleague so that you can joke around. 
READ NEXT: How To Respond To 'Keep Up The Good Work'?
What Does "What Are You Doing" In A Formal Setting Mean?
In a formal setting, when someone asks "What are you doing?" they might ask so casually or purposefully. 
The person who asks this might want to get an update on it. 
They want to know the progress of the discussed plan. 
In other cases, your coworker or boss asks what you do first, to check if you are available. 
Because they want your help or there's something urgent to focus on.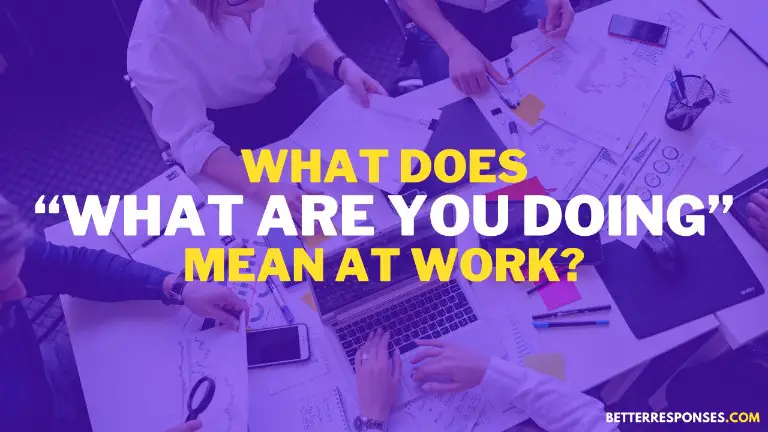 Whereas, if you meet someone formally and they ask the same, they want to know the type of work you're doing right now.  
While replying to the 'What are you doing?' question, consider the context of this question as well as who is asking this. 
As your boss, manager, coworker, or client asks this for a separate reason. 
And because it comes from your professional connection, you want to respond to this question formally and appropriately.