Last Updated on September 11, 2023 by Ketan
When your superior or boss says "Keep up the good work" it's appreciation as well as their expectation from you. 
First, they want you to keep doing the best like you're doing now. 
And second, they hope to see your excitement for the order they just gave you to maintain quality work. 
Normally, you can just say 'I will do it' in response. 
But to make your boss feel more confident and acknowledge their appreciation well enough, know what else you can say that sounds more positive and effective. 
How To Reply To "Keep Up The Good Work" To A Boss? 
You performed your job excellently, your manager or boss was impressed and they said, "You did a great job, now keep up the good work.". 
Of course, it's an appreciation for your work. 
But at the same time, you also feel that your boss has put an expectation on you.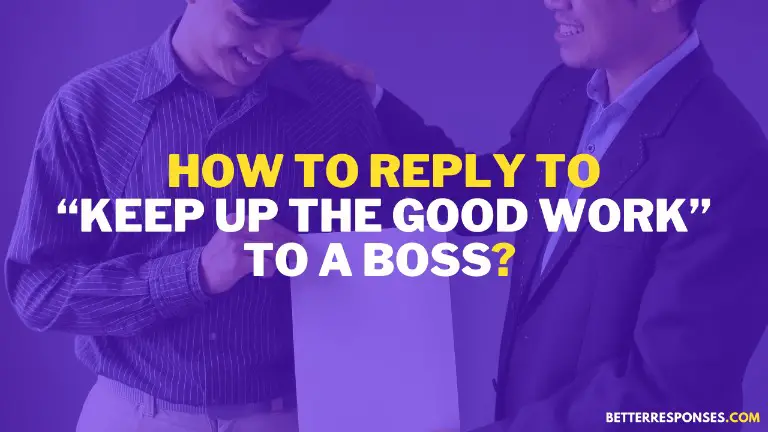 You could take it as motivation or pressure, as now, you have to keep the work quality up. 
Because your boss won't accept any less than that. 
So, it takes confidence to respond that say 'Okay boss, I will keep it up'. 
If you don't want to feel any less than confident, here are the best replies to "Keep up the good work" from your boss or manager. 
1. "Thank you, boss, for believing in me." 
It's your boss's confidence in your abilities. 
And you want to keep it up, as well. 
2. "Of course, I will."  
Show your enthusiasm that you also want to keep doing your good work. 
READ NEXT: What To Answer To 'How Do You Keep Updated' At Interview?
3. "I'm sure that I can do more than this." 
This wasn't any luck, you worked for this level of excellence. 
And you believe that you are capable to achieve more. 
4. "I'm happy that you like my work."  
If you're working with a client for the first time and they tell you 'Keep it up'. 
To assure them, you can respond this way. 
5. "I promise you on it." 
If you want to sound confident and know that you can do the best work, you can guarantee it. 
6. "Surely, it's part of my job." 
You know your responsibility and role to this company and in the team.
And, you're going to give work that justifies your role.  
7. "Indeed, I have to keep it up." 
Because your role in the project gets crucial.
 And you know how important this project is for your company. 
8. "No chance that I will do any less." 
This response shows you're not going to let your boss's expectations down.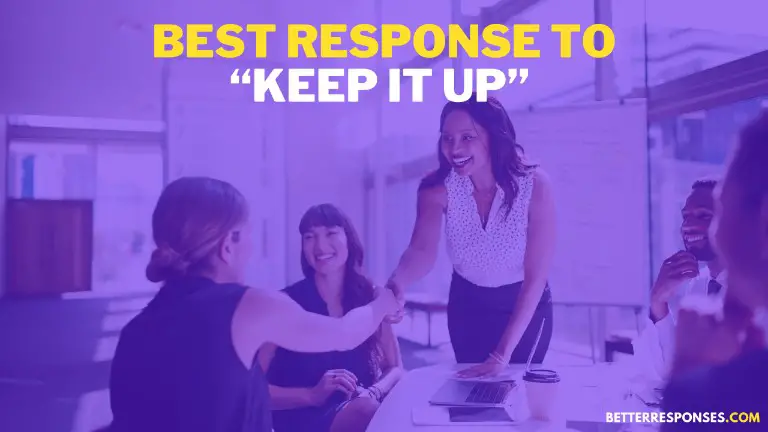 9. "I will, but I just need your support to do more." 
As the expectation increases, you also need support to do the next level of work. 
10. "Yes, I will always try my best to deliver quality work." 
When you want to keep your response normal and not too high, respond with this. 
This shows you will try your best because there could be conditions. 
11. "But. I also like to give credit to someone who helped me."
Never forget the employee or teammate who helped you to do such good work.  
12. "That's why I'm here." 
And you're going to deliver the good work for sure. 
13. "It would be better if I get some assistance next time." 
This time you did the job alone and delivered your best. 
But you expect your boss to be around for any support because you need them. 
14. "Thank you so much for your support and appreciation." 
Your boss might say 'Keep it up' but right now you aren't under any pressure. 
So, you acknowledge their appreciation for good work. 
15. "I know I'm capable of doing more than this." 
Show your self-confidence that you are capable of doing more. 
What you do is just a standard, you know there's more to achieve. 
16. (Funny one!) "Only if you also care to keep my salary up." 
If your boss says 'keep it up' casually, you could respond in the same tone. 
Just make sure that this is a friendly response.
Share it when your boss takes it lightly and not sarcastically.
READ NEXT: How To Answer To 'What Keeps You Up At Night'?
What's The Meaning Of "Keep Up The Good Work"?
On delivering the best work, your superior says "Keep up the good work" or "Keep it up", here they mean the 'quality of the work' you just provided. 
At first, this is a work appreciation to show that you have done a good job.
But, you also feel that your boss shares their expectations this way. 
It's like an order that means, 'Promise me that you will keep up the good work like this'.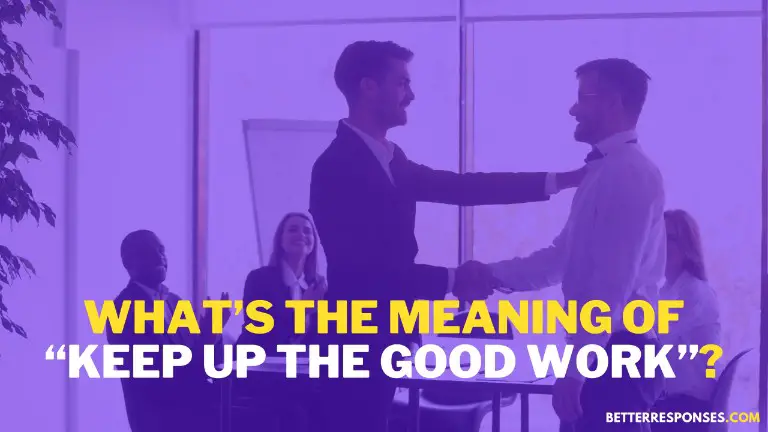 Well, this phrase indeed puts pressure on whether you're confident or not. 
From now on, your boss has higher expectations from you and they might not accept any less than that. 
If you feel this way, you're not wrong. 
Next, how you reply to "Keep it up" shows whether you feel encouraged or pressured with it. 
To look positive, we have shared the best replies to "keep up the good work" that you can use to show that you're confident that you can do quality work.