Last Updated on November 27, 2023 by Ketan
It's a common situation when your friend often asks you to 'tell me a joke' when they're bored.
But you've nothing funny or interesting to share at the time.
When you admit it and tell them so, they might say 'You're so boring' then. 
Maybe this person first sees you as a funny guy and demands a joke.
Or, they request as if it's your duty to keep everyone entertained. 
How To Reply To "Tell Me A Joke"?
You know, it's not the right time to share jokes or you don't get any at the moment.
Else, you have the option to tell your friends few good roasts, instead.
While that one friend wants it, from you. 
So, you can reply with such funny and savage comebacks instead of sharing jokes.  
This will give your other friends a good laugh, for sure.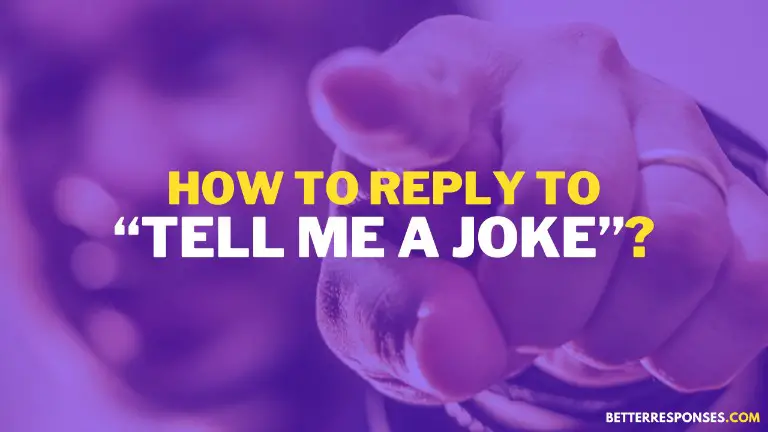 1. "Your face!"
In a traffic jam, on a long drive, a friend sitting next to you requests a joke. 
You know this isn't the right time.
But still, at least you can give them the shortest jokes like this.
2. "Okay. So, here it is. Last night your mom and I were…"
They want a joke, and this situation is perfect for 'yo mama jokes'.
Maybe you start a joke from this and that friend stops you from going any further.
Be careful to share this as a comeback joke.
Share it only with a friend who takes it as a joke.  
3. "My life is itself the biggest joke!"
You say this in a serious tone and have a blank expression. 
And, they instantly realize there's something going on. 
READ NEXT: Best Comebacks For 'Fatherless' Comment
4. "No joke, but I have a question for you, how can you have a girlfriend?"
The question has been in your mind, bugging you for so long. 
And, finally when you get time.
You ask this to that 'potato-head' friend.
You might say this in a serious tone, as you want to know.
But this is your sarcastic comeback to 'Tell me a joke' comment, as they get it.
5. "Okay, bye. Later, alligator."
When there's no conversation going on, a friend asks you to share something interesting.
You can't force yourself to sound interesting.
So you're leaving.
And, saying 'see you later, alligator' is just a friendly way to leave.
Maybe, you're saying you will share a joke later.
6. "I've them, but I don't think you can handle it!"
Before you begin, make sure that your friend is ready to take it as a joke. 
Most of your jokes are quite personal or savage. 
You don't want to take any drama after that, so better give a direct reply.
7. "I got no jokes, man! I'm such a boring fellow (Just like you)."
That friend who asks for a joke and when you don't tell… they'll consider you as boring later on. 
Don't let them say it again. 
Be frank about it and just reply as boring as this one. 
8. "You paid me every penny I have given to you."
This isn't a joke but sarcasm for a friend who borrowed money from you.
But it's a joke to you, because you know they are still not going to pay back.
So, you just have to laugh it out.
READ NEXT: Funny Answers To 'How Crazy Are You?'
Conclusion
"It's so silent here, you better tell me a joke, Bro!'
Every group has that one friend who gets bored on a long trip or at the drive-through.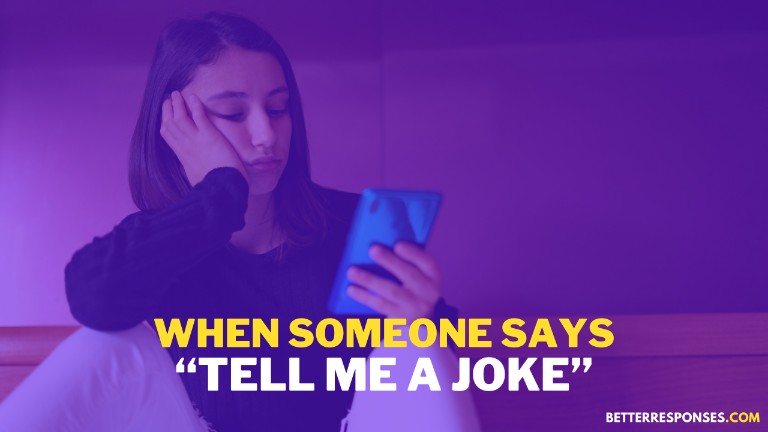 It's not their issue, obviously.
But, this is also not your responsibility to keep them laughing, when they're bored for no reason. 
And, if you're like me, you might have no jokes. 
Instead, you have savage one-liners and comebacks at the perfect time. 
Fine, that's enough to make the situation even more laughable.
Sure, for everyone who witnesses it, except for the person who asks you to tell a joke. 
But, you turned that person into a joke with 'a one reply'.