Last Updated on December 2, 2023 by Ketan
Does your coworker say 'You look good today!' every now and then? 
Maybe, you don't know how to respond since you find this comment so inappropriate at work.
Obviously, commenting on someone's looks at the workplace is not professional. Also, it sounds no good.
It may be different at some workplaces where coworkers are familiar with one another after a long period of working together. 
Possibly, now they are 'friends from work' rather than just coworkers. 
In this case, such compliments are nothing personal but a matter of appreciation. That's all.  
But, whichever way your colleagues say 'You look nice', you better know the appropriate response to give them back.
What To Reply To 'You Look Good Today' At Work?
There are some good connections you have with your coworkers.
Complimenting and saying nice things about each other is normal. 
Also possible that some coworker tries to flirt with you and make personal comments on your looks and appearance.
Which you need to handle differently.
In any case, when you're not sure what to say back, these are some best replies for coworkers who say 'Wow, You look great'.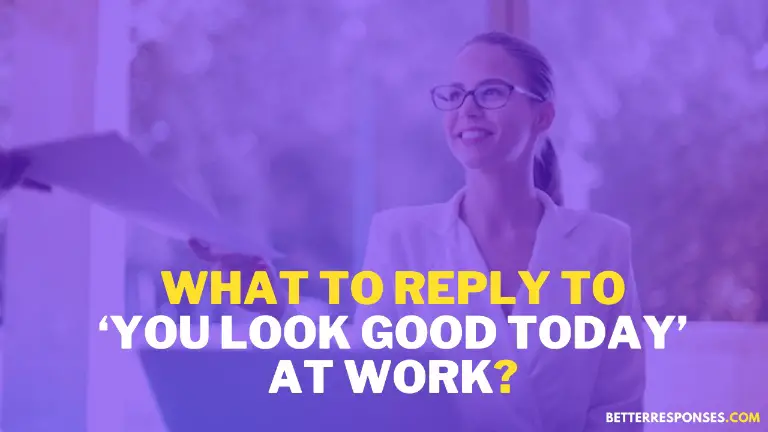 1. "Oh, that's nice. Thank you." 
Just like a normal complement, this is a regular reply you can give. You don't think any extra.
2. "Wow, thanks. Can we get back to work then?"
Upon entering your cubicle, one of your coworkers says 'You look nice' immediately after the 'Good morning', you can say this. 
Because you're not interested in him or just want to keep things professional, not personal.
READ NEXT: How To Deal With Personal Questions At Work?
3. "Yeah, I have to go to the wedding from here."
When your female coworker compliments your looks, you can give some reason like what's special about you today and why you look great.
4. "Thanks, I have an interview today. I'm just joking!"
Make it a fun response to give to your fellow coworkers. 
When your colleagues with whom you already have a good connection, you can have some fun.
But don't forget to say, 'I'm just kidding', or else your boss might have this news.
5. "I should, it's an important presentation, After all."
You want to feel confident and look prepared for the challenging task. 
When your teammate says 'You look nice today', you better 'Thank' them and show how it helps you lower pressure.
6. "Wait… no one told you about today's after-work office party? "
Everyone in the office is in the party mood because this is the day of the office party. 
When your coworker says you look great, this is a good response to show how excited you are about this party.
READ NEXT: What To Say When A Coworker Says "I Miss You"?
7. "Ufff…too much work to do. Thank you, by the way!"
You don't want any personal comments on your appearance, especially from your colleagues.
You just want to keep it professional, though! 
When you can't totally ignore it, you can give a dry response.
8. "There's nothing new, I'm the same as usual."
You may sound a little proud, here. 
But, this is an excellent reply to 'you look nice' from your female coworkers during break time.
Maybe they ask for some tips from you, then after.
READ NEXT: How To Answer To "What Is Your Biggest Fear?"
9. "Oh, this dress my boyfriend gave me for my birthday, as a surprise present! "
You are certain that your male coworker is hitting you and trying to get closure. 
But when you respond to 'you look great today' this way, he will instantly realize that 'you have a boyfriend' and there's nothing he can do further. 
10. "Thanks, but I'm not going to help you today with anything."
There's a good chance this compliment comes from those colleagues who flatter others.
So that they get their work done from you. 
This time, you're busy plus extra aware.
You don't want any distractions or waste your time, and this reply will help first.
11. "Thanks… you look good today, as well! Got a date?"
It could be the case that your coworker has a crush on you and you are also interested in him. 
When this coworker is finally confident enough to compliment you on your looks, you can compliment him back and give him confidence.
12. "Don't you have any work today? But, I have."
You and this coworker are now friends already. 
When he or she just wants to tease you with such comments on appearance, you can just be direct, yet funny with your reply.
READ NEXT: Other Ways To Reply To "Great Job" From Boss
How To Respond 'You Look Nice' From Your Coworker?
Depending on how you see it and your coworkers say so, the meaning of "You look good today" varies.
Sometimes, the coworker says so, it's because they just want to appreciate you.
Possibly, you're really looking better than usual and they can't stop praising you.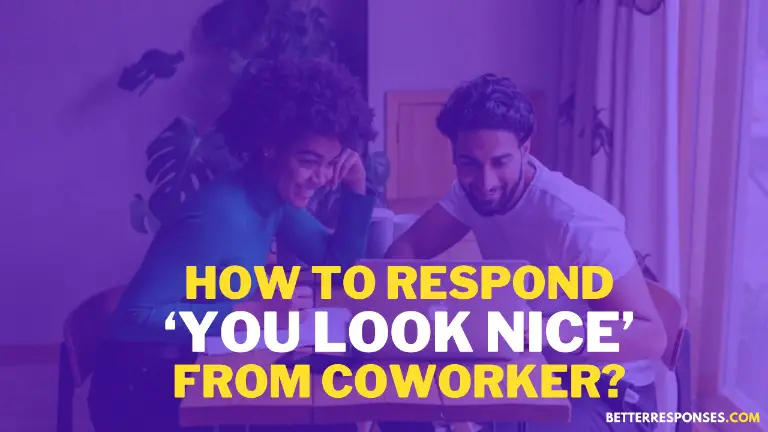 While some say so to check how you react and that brings up the flirt level. 
The fact that your boss or coworkers say 'You look good' so often and their eyes are on you the rest of the day means that they secretly like you.
Actually, you're not interested back, so make sure you respond clearly.
If they stay in line, that's good.
If they dare to cross the limits, be ready to say back off in a professional way, right away. 
You also check when your coworkers say so in a friendly way, and they clearly say nice things to others, take it as a compliment.
Just thank them. 
And, there's nothing much to think about.