Last Updated on December 11, 2023 by Ketan
Replying with a lame "Nothing" to an exciting "What's poppin?", that's not cool. 
This way you not only ruin the texter's mood, but also show how boring you are. 
Why not try some engaging responses for the same, Right?  
We know that's why you're here. 
So, in this post, we are sharing with you better ways to respond to the "What's poppin?" you get while chatting with a friend or someone. 
How To Respond To "What's Poppin"?
Well, when it comes to replying to "What's poppin?" consider who you are talking to and the context of the conversation. 
Also, your mood at the moment decides how you respond to it. 
But when you want to have some interesting and fun conversation, don't rely on the regular response for sure. 
You can try these creative to funny replies to enjoy the chat time. 
Check out these better responses for the "What's popping?" you get over text: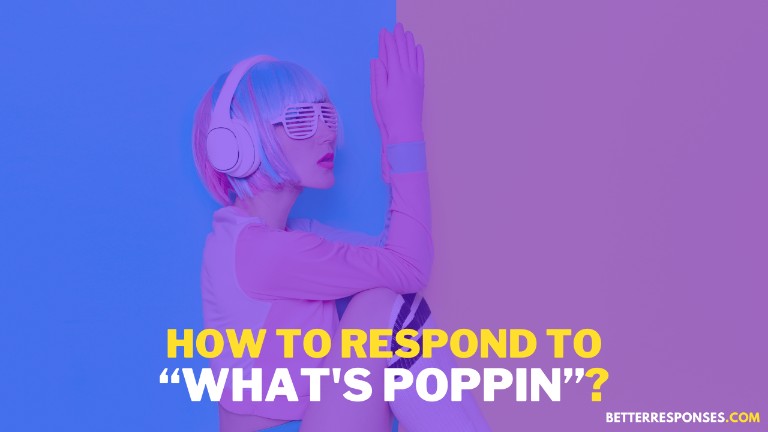 1. "What a timing, Bro! I was hoping for your text and here it's popping."
Tell this friend that you were thinking of them. 
And you get the text from them at the perfect time. 
This is what you can call a real connection. 
2. "How do you know something is popping in my house?"
Maybe something is popping already or you're just kidding with this friend.
But in this response, you ask them as if you doubt if they keep tabs on you. 
You just want to know how they are so accurate about it.
3. "Oh, I was about to ask you the same."
If that's so, it means it's the same pinch. 
A cool response to show your friends or cousins that you two are quite relatable. 
That you both match the same style of starting the conversation. 
4. "Now as you say I'm going to pop this damn pimple up."
So long you have been thinking about whether you should pop the pimple or not? 
But as you get a text from a friend, you just have to decide what to do. 
You can try this funny response like this when you get a text from a friend asking 'What's popin''.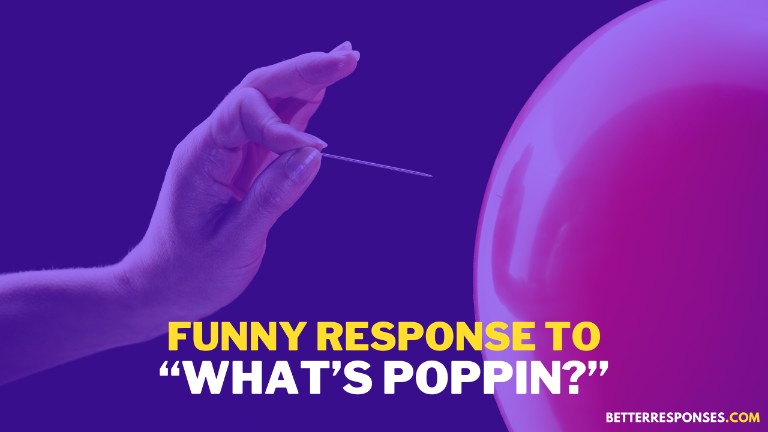 5. "I don't know. Is there something popping over there?"
You really have nothing to discuss or are out of the topic now. 
So you ask your friend back what's going on with them or in their life. 
It might sound like a normal response, but you allow them to speak more. 
6. "If you'll ask me the same question tomorrow, I can answer it well."
Already something is going on in your life or you're up to something. 
An exciting response to share with someone with whom you like to give some news. 
Maybe nothing is interesting to share right now. 
But tomorrow, you have many things to talk about, as something is about to pop up. 
7. "So many things are popin'? Not sure where to start." 
This person just asked you 'What's popin'' and they are interested to know what's going on around. 
You have so many things to share or talk about. 
In that situation, you can respond this way, to tell them to be ready for what's new going on around. 
8. "Not sure about poppin', but I'm feeling 'not good'." 
When you feel sick or feel bored, you can try this response. 
You also want something interesting to pop up or happen around. 
This way you approach your friend to get outside and do something together. 
9. "If you were here, we could pop so much together."
With this friend or person, you're feeling so bored. 
You wish them to be with you right now. Because the people you are right now, are so boring. 
While texting with a friend, you give this response to show that you are missing them. 
READ NEXT: Better Replies To 'What's Cookin, Good Lookin'
What Does "What's Poppin" Mean In Text?
In chatting, when someone texts you "What's popping" it means "What's up?" or "What's going on with you?". 
It could be a regular greeting or just a conversation starter. 
This slang phrase you normally get from your friends, cousins, or informal connections. 
To sound cool, you can respond with "Nothing, dude". 
But it still counts as a typical response.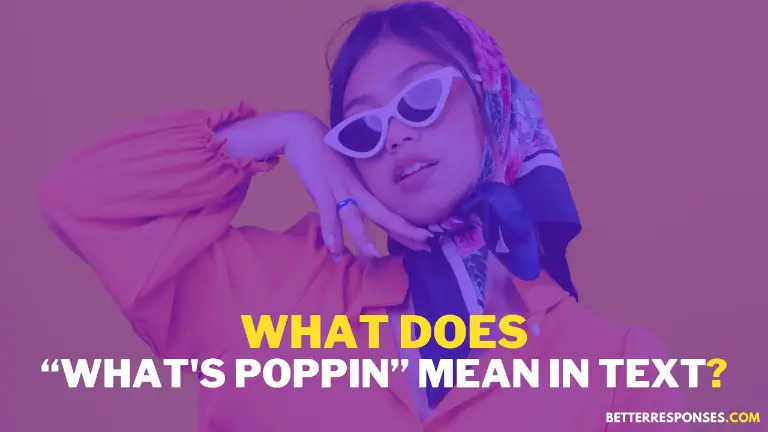 Whereas, the creative and engaging response can definitely surprise the sender. 
Further, it can lead to some fresh conversation. 
And if you've done something cool or have exciting news to share, you can share this in the response, as well. 
Depending on the situation, your connection, and the mood, try to respond to "What's poppin?" uniquely. 
Because it is all worth it to have an enjoyable conversation.