Last Updated on September 16, 2023 by Ketan
No matter if someone says 'same to you', 'same here', or 'same pinch', your response is always the 'same'. 
You either just smile at the person while responding or just don't react much.
Perhaps you're not interested or don't know what you can reply to the 'same'.
So, in this post, we're going to share with you the best replies for all three routine sentences.
Also, we will consider each case separately and why someone said that.
Funny Replies To 'Same To You'
When someone says 'same for you,' that simply means that they have nothing to say.
So, they repeat, what you just said.
And this mostly gets to hear from a friend, who either got no comeback to backhanded compliments or praises that you gave them.
You could end the conversation with just a smirk or also can give some funny replies to 'same to you' to continue the conversation or argument.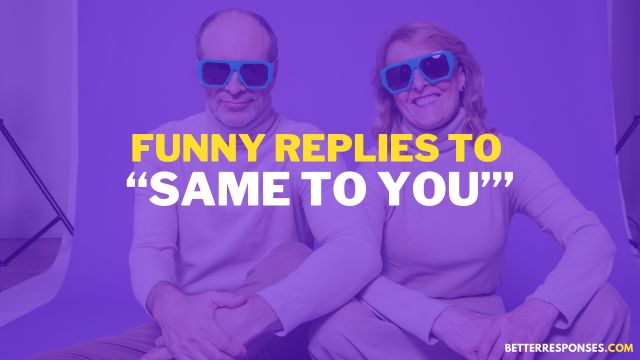 1. "Thanks. But, the same can never happen to me."
You congratulated your friend on something and when he says 'same to you', you express your denial with this response. 
Because you don't think you two are on the same page.
2. "No, no… My case is completely different."
When you greet someone, and they say the same to you, they also wish that the same good thing happens to you. 
Your response shows your situation is not like theirs.
3. "Yeah, the same goes back to you again."
This is just to annoy someone who says 'same for you' as frustration.
Mostly your annoyed siblings get even mad when you return the same to them.
4. "I expect some good replies. But, that's fine." 
You're excited about this friend while sending your greeting. 
But with a normal reply like 'same for you' your friend breaks your heart. 
5. "Not found anything else to say in return, are you?"
You're being direct with your response to the 'same to you'. 
That could help you win a debate, when your friend has nothing else to say while arguing.
6. "Lol, you act like a school kid."
Even today's school kids have better comebacks to insults than saying 'same to you'. 
It's just their hopeless attempt to win an argument with you. 
7. "My friend, you know nothing about me."
Of course, because their situation and yours are two separate. 
It only means that you two can't be the same.
READ NEXT: Hilarious Responses To Lame Jokes
Best Replies To 'Same Here'
Usually, when someone agrees with what you've said, they'll reply, 'Same here'.
That means they totally agree with what you just said. 
In such cases these are some possible replies to 'same here' you can give.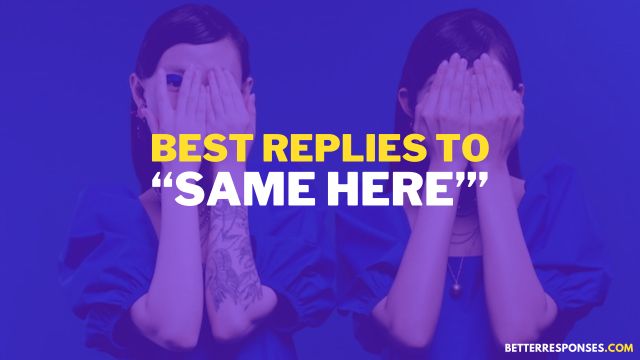 1. "No way, really?"
You're surprised to know that someone is also on the same page as you.
2″. What? I thought this only happened to me."
As far as you know, you are the only one with such an experience.
But you're glad that you're not the only one.
Some also agreed with you on that.
3. "But still my case is very different." 
With this reply to 'same here' you actually deny the person's statement. 
Because you know your case is not the same or the worst one. 
READ NEXT: Best Replies To "Your Mom" Joke Or Comment
4. "You, too? See, everyone? I already told you." 
Your friends didn't believe what you were trying to convince them. 
But now someone also has the same experience, you've got proof. 
5. "That means you're the one among us."
After all, you and this person share everyday things.
This could be the start of a great friendship.
6. "Welcome brother, you're not alone anymore."
This response could make an acquaintance a part of your group. 
After all, why not, they also have a similar experience. 
READ NEXT: Perfect Responses For 'Just Kidding' Excuse
Good Replies To "Same Pinch"
During a conversation, when you and your friend discover similarities and common things, he may say 'Hey you, look it's the same pinch!'. 
It's just an expression to show that there's a common thing between you.
And that could be in a good or negative way based on the connection you've with them. 
In any situation, this is how to reply when someone says 'same pinch' to you.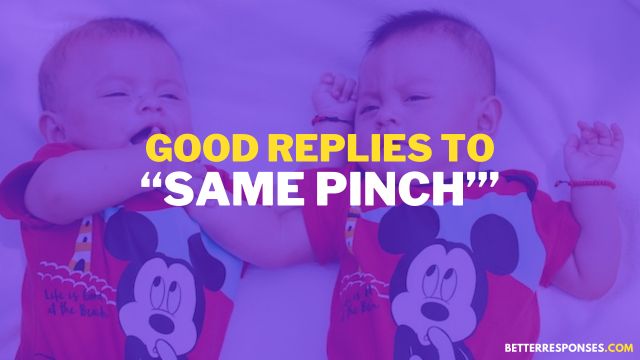 1. "Oh, that's really great."
When your friend or colleague wears the same shirt, and they say 'same pinch', in response you show that you're happy that you two are matching.
2. "After all, we're besties, you know!"
You two are best friends and often accidentally match each other's dress or thoughts. 
This response to 'same pinch' will strengthen your friendship.
3. "No, I don't think so."
You completely disagree when they say 'same pinch'. 
Because you don't see any similarities as they see, your dress might be a hot pink while theirs is just baby pink. 
4. "Still, there are so many differences."
You secretly hate this person, and seeing that you two wear the same color dress, you hate them even more.
You don't want to be like them. So, you express your hatred for them with such a reply. 
READ NEXT: Good Responses To 'Long Time No See'
Conclusion
Well, the phrases such as 'same for you' to 'Same here' don't lead to any engaging conversation further. 
In most cases, people just smirk at it and ignore it as a response. 
But, if you want to keep the conversation flowing after the 'same' phrases, you can reply with the examples we shared. 
It will clearly express your approval or disapproval of something. 
Which creates room for the next conversation. 
So, next time when your friends say 'Same to you', 'Same here', and 'Same pinch', you know how to reply and how to get back in the conversation when there's no chance.