Last Updated on September 11, 2023 by Ketan
If you're taking a dog on a walk, sharing your 'husky' pictures on Instagram or on a dating site, when someone says "Your dog is cute", you instantly feel lucky.
Of course, you're lucky.
So, be grateful and respond with the best replies to compliments on your dog.
Either online or in person, this is the way to do it.
Handle this comment like 'a proud dog-owner'.
What To Say When Someone Says "Your Dog Is Cute"?
That's all up to you over how you acknowledge compliments for your dog. 
Show you're lucky to have it or it might be time to make your move when a girl finds your dog cute on a dating site. 
Possibly, your most common response could be 'Thank you'.  
But as you and your dog have a great companionship, make your replies even special ones.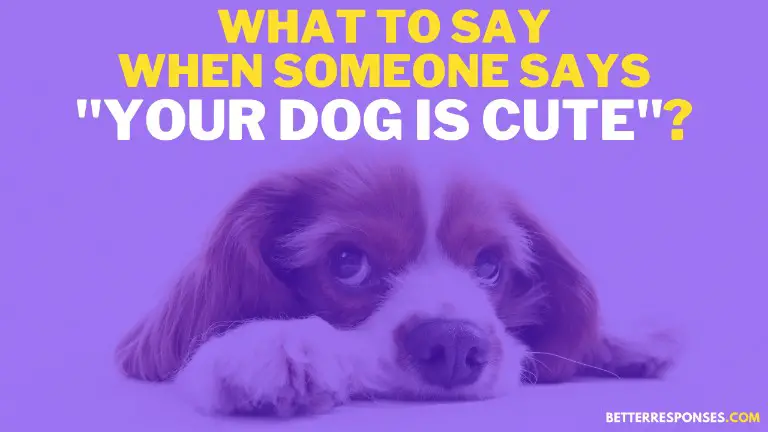 1. "Indeed, she is beautiful. And, smarter, too." 
This shows what a proud dog owner you are. 
You must feel great to have a pet that is not just cute, but a smart companion also. 
2. "Just like his dad, right?"
Well, she already found your dog cute from her reaction. 
And, you also want to see her remarks about you as well. 
READ NEXT: How To Respond To "You Are The Best"?
3. "Thanks. And, my dog said he wants to meet you." 
When a girl says you have a cute dog on a dating site, you can make a witty reply like this. 
Who knows if you will meet your next date because of your dog?
Such a clever way to ask for a date from your match. 
4. "I will tell him you've sent your regards."
If someone comments 'Aww, that's so cute' on your dog's Instagram posts, make your response more like this one. 
It's indeed, a cute way to respond to a dog's compliments. 
5. "Thank you, woof woof."
When you receive compliments on your dog pictures, the way you respond sounds sweet.
It's more like your dog replied to the compliments on him. 
6. "Don't come near, he doesn't find you cute, though."
You don't want to share your dog with that friend, so you want to scare him off. 
Else, just to mess with this friend, you want to reply in such a funny way.
Maybe, your dog is very selective to become friends with certain people.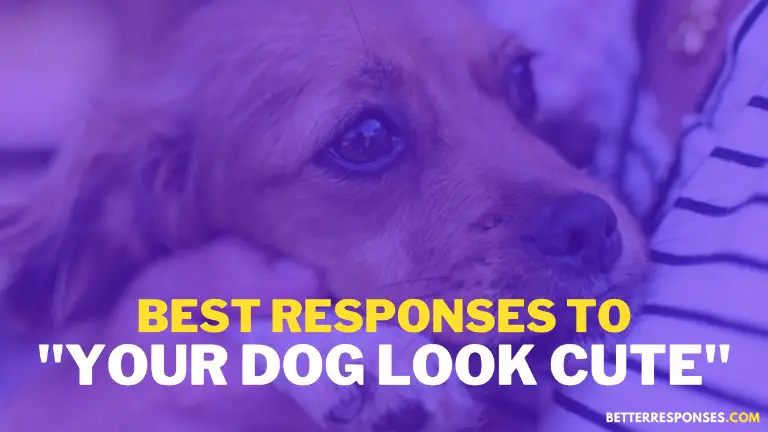 7. "You must have said this while the doggo pooping."
You want to know if they still find your dog cute during that time. 
This is a funny reply you can share with your friends who take it as a joke.
READ NEXT: Good Roasts To Tell Your Brother
8. "It may seem cute now. But, he's a cunning dog." 
Informing, your dog is just cute for its purpose. 
It is smart to hide its mischief behind its cutest smile.
You want to beware someone not to trust your dog this easily or come any near. 
9. "My dog says he wants to meet your cat."
You're being flirty with the girl who says your dog is cute on Tinder.
Somehow, you feel she's impressed with you and your pictures with the dog, you see it as a hint. 
Here you're being clever to ask for a date on behalf of your dog. 
Let's hope you two make the perfect 'dog' parents.
READ NEXT: Best Responses To 'Late Birthday Wishes'
Conclusion
Of course, you did not make your dog look this cute.
It's that beautiful naturally.
But you can take credit for taking great care of it and sharing its cuteness. 
On social media, when someone compliments your dog, be a proud dad and 'thank' them.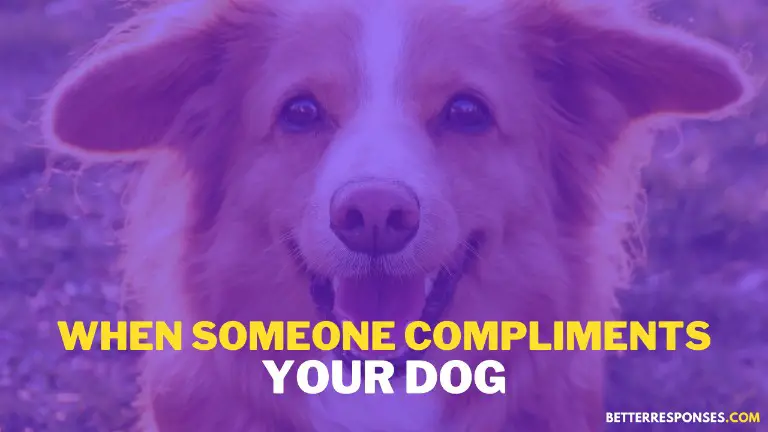 In-person or on a dating site, when a girl says your dog is cute, be a little playful. 
She may want to pet your dog or ask her to go for a walk with her dog, too. 
You should be lucky to have such a cute dog, make sure you're a good dad to it, also.