Last Updated on November 4, 2023 by Ketan
It's totally up to you to accept someone's friendship proposal or not. 
In case, when someone politely approaches you online, asking 'Can we be friends?' they really see you as an awesome person. 
Who knows this might be the start of a lifelong 'Best friendship' or more. 
And, how you welcome that friend into your connection is something that matters the most. 
How To Reply To "Can We Be Friends"?
Not only on social media but also on dating sites, you might get friend requests. 
If you want to be their friend or not, share what's in your mind, clearly. 
Especially, since it's online, you could at least give this person a chance to be your friend. 
You don't mind being their friend, so next time when accepting friendship over texts, these are the ways to do it.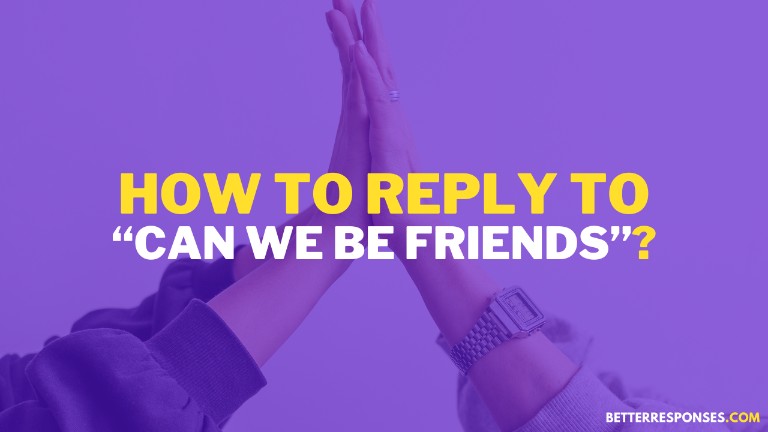 1. "Why not, let's be friends?"
This does not have to be hard for you or anyone.
It's just a friendly approach to welcoming his new friend. 
Maybe this person thinks you're amazing and is impressed by your personality.
2. "Can? We are already friends, pal."
Being your follower or your match on a dating site, there's friendship already. 
Your nice response relaxes this person. 
3. "Nope, first you need to take a course. Oh come on, we're friends."
This is a funny reply to someone who asks if you could be friends. 
Indeed, you're ready to befriend. And,  but you're just joking with them.
Here, you're being friendly to think not much about it.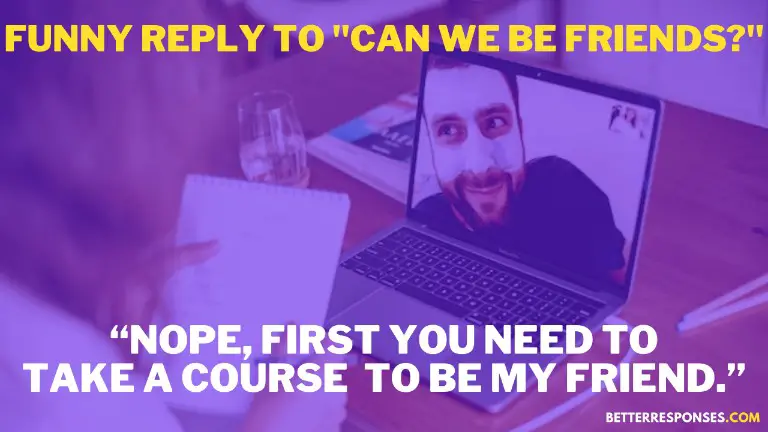 4. "Yes, but only if you offer me a discount."
The way this person approaches you, it's like they're selling their 'friendship'. 
You just play around with a funny response to a friend request. 
5. "We could be even more than friends." 
On dating sites, when your match wants to be your friend, try some flirty replies. 
This is just a hint that you're interested in friendship or more. 
READ NEXT: Savage Responses To "I Don't Like You"
6. "Why not? Everybody can be my friend and you, too." 
And, no one has to ask for permission to be friends. 
Of course, you like to meet new people and grow new friendships online. 
7. "We could? We should be friends, Bro!"
During texting lately, you found there are many things common within. 
There's no need to make it a formal approach.
You also would be fine if they ask you for a catch up somedays.
The mutual understanding has already approved your friendship.
8. "Let's chat for some time. Then we see if we're good friends or not." 
You don't want to directly reject friendship with someone. 
The way they approach you, you respect as they ask. 
But you also want to know more about this person before you become friends. 
9. "As long as you don't ask for money, we can remain friends."  
With this sarcastic reply, you're being clear that you don't want to be played. 
The way this person has been flattering you, you sense they want to be your friend just for fame or money. 
It's a good move that you make it very clear first before this friend asking for money or borrow from you.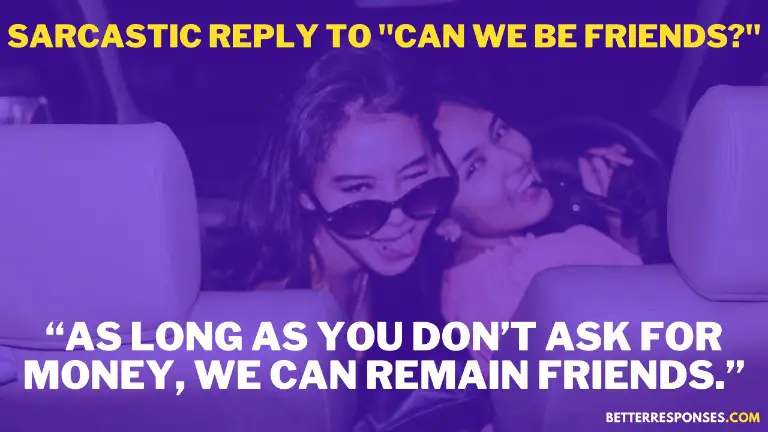 10. "Well, all the vacancies for friends are full, I'm not looking for a new one." 
The way someone texts you asking, 'Can we become friends?' it's more like they're searching for (a job) vacancy. 
So, this funny reply fits the situation perfectly.  
11. "Then, what are we right now?"
Indeed, you've been chatting with them already as a friend. 
If they still request for friendship, you're suspicious of how they were seeing your connection so far. 
That time you can choose to be witty instead of normal.
READ NEXT: Funny Responses To No Text Back
Conclusion
If there's someone being nice and approaches you for friendship, don't make fun of them for being so formal. 
You like to have friendships, accept them.
If not, you better just tell them directly. 
Importantly, you should know if the person asking 'Can we be friends?' is genuine or not. 
On social media or dating sites, check their first impression and your gut feelings before you accept them to be your friends.