Last Updated on September 11, 2023 by Ketan
If you feel uncomfortable asking your parents for money, again… we hope these new excuses or valid reasons will work for you.
Well, the struggle is common for most teenagers out there. There's no denying it.
No matter how good your reason is, there's always the problem of asking parents for extra money every time.
Your parents already know you well.
Hence, using the same excuse won't work. 
So, next time use one of these best and most funny excuses to ask for money from parents or your family. 
The ways we're going to share here will either impress them or make them laugh… But, you'll get the money.
As a teenager, you can follow these hilarious approaches to get your parents to loan you extra money.
It's all just for fun purposes, nothing to shame yourself or trick your parents.
Best Excuses To Ask For Money From Parents
When you know your old excuses aren't going to work to get money from your mom or dad, try these new ones.
These are some better and more effective excuses for teenagers seeking more money.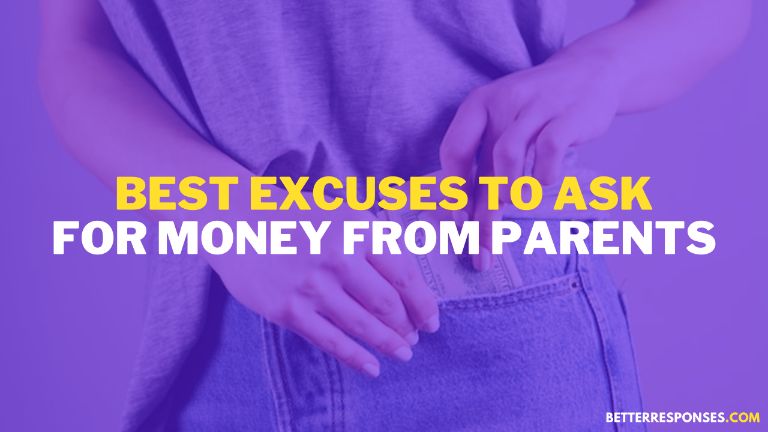 1. "I got a date, actually. It's the first one so I want to make it special."
If your relationship with your parents is super cool and it's more like a friendship, no excuse is that perfect than this one.
Certainly, out of joy, they're giving you extra money with some free tips.
Want to tell your parents about your new girlfriend? Here are the ways to introduce your girlfriend to parents.
2. "My friends have planned a small trip and they forced me to join them." 
It's fine to use the old-school excuse that you don't want to go, but your friends insist you join.
When you share this, your parents have to give you money as you agreed to a friend's plan. 
3. "It's for school projects and assignments." 
If this is really for the study purpose and to manage your project work, that's fine.
If not, this is still a good excuse to ask for extra money from your parents.
Especially when you've spent your pocket money in the first week itself.
4. "This time I want money to invest rather than to save." 
Let them know that the extra money you're asking for is for a good purpose.
Show that you've some plan of investing it.
This one is a good excuse but also the right way to use your money from your parents.
5. "It's to fund the first start-up that I started last week."
You have a supportive parent, who never says no to anything, but more money.
When you're running out of your money and need money somehow, you can use this as an excuse.
Or you can assure your parents to pay back when you make a profit.
READ NEXT: Savage And Respectful Comebacks For Parents
6. "I want to take some online courses to upgrade my skills."
There's nothing wrong if you want to attain some online courses.
But, when you need money and don't have to ask anyone but your parents, this one is a good excuse. 
7. "I'm planning to throw a surprise birthday party for my best friend." 
Remember, here you're just planning to give a party. Not necessarily you have to organize it.
You can instead arrange a small party for your bestie when it's his birthday week.
Else, you can keep the money, since you're really in need. 
8. "It's for upcoming functions at school or college." 
You can use it as an excuse especially when you're quite active at your school or college and participate in a competition.
Or you can say that there is a donation camp, if not any events are there, at the time. 
READ NEXT: Funny Comebacks To "You're Adopted" Jokes
Funny Excuses To Ask Parents For Money
If you want to ask for extra money or pocket money earlier than you usually get, these are some funny yet effective excuses to ask for more money from parents or family.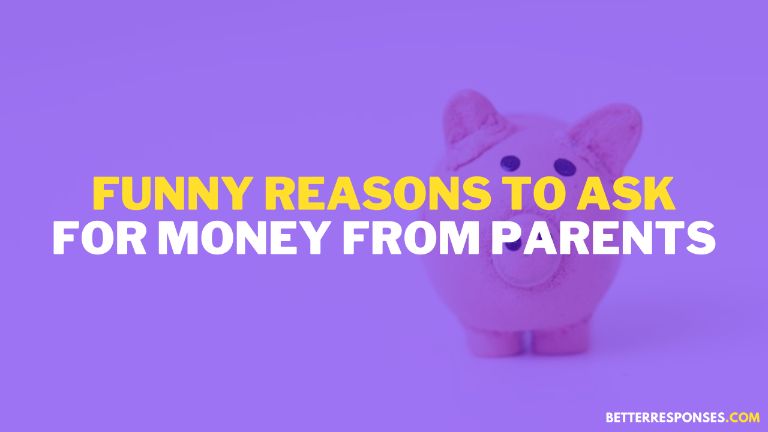 9. "It's not for me but for the dog that you gifted me on Christmas." 
You're not single anymore.
Now, you have a dog to take good care of.
When your parents are still giving you the same pocket money, you have an excuse to ask for a raise.
10. "This is actually for donation purposes."
When your family's condition is good and you're also getting enough pocket money but spending it anyhow, this is a good excuse for asking for money from parents.
And, right now it's you who needs the money more than anyone else.
In this way, they are also doing charity through you, to you.
11. "My friends are laughing at me for not having any money."
Because you don't get enough pocket money, you avoid hanging out with friends and going out on weekends.
You don't have to be too emotional, but let your parents know why you're always staying at home even on Saturdays.
Hopefully, you might get extra money next time.
READ NEXT: Respectful Replies To Unwanted Opinions
12. "Everyone at school is telling me that your parents don't love you." 
Well, when you use this excuse, you make your parents emotional before asking for money.
Doing so, you want them to show their love by giving you extra pocket money.
Let your family and parents know that you want to show others that you also get good money too.
13. "I gave my pocket money to someone on the bus." 
On asking for more money for a normal reason, chances are you might get caught. So this one is a better excuse.
At least this one is good because your parents are going to be proud that you helped someone who was in trouble.
This might get you some money for doing the right thing. 
14. "I want a new piggyback to save more money." 
This one is a fun excuse to ask for extra money from your parents.
Here, you tell them you want money because you want to save it or you're buying something that keeps your money secure.
So, you don't have to ask for more very often.  
15. "I don't want to feel like I'm broke." 
If you want to amuse your family and parents this is a hilarious excuse.
You want money, but not to make them emotional or trick them.
Here, you are being so direct and telling them you want money as you feel broke without it.
No family will let their kid feel that way ever. 
16. "I chose 'dare' and they made me ask for extra pocket money from you." 
When you want money, but your parents aren't going to give it easily, this is an effective excuse to ask for it.
Hopefully, your parents don't want you to lose the 'truth and dare'.
Your parents or family are going to give you money, at least to keep you from losing.  
READ NEXT: Better Responses To "We're Proud Of You" from your parents.
What Are Good Excuses To Ask For Money From Parents?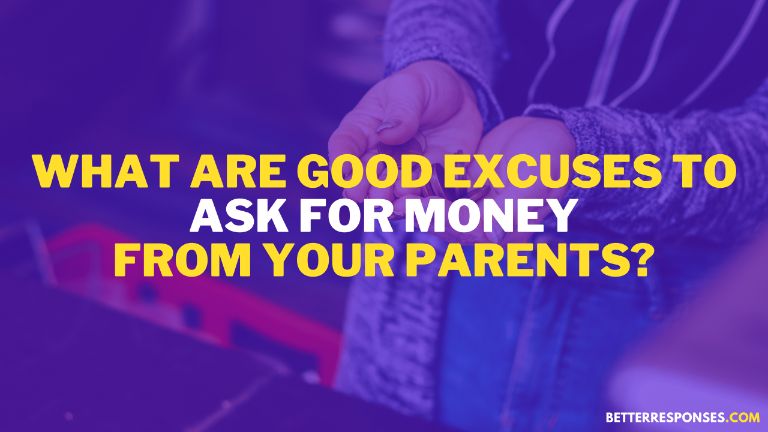 Well, these were some good, clever, and funny excuses to ask for money from your parents. 
But, remember that this is for sheer enjoyment and not to trick your parents or not to play with their feelings. 
You want the money urgently and you use such excuses. That's it.
Moreover, when you'll have enough money… you're going to pay them back or at least you let them know it was an urgent need and you had nowhere to go. 
However, if you still use one of these excuses, your smart parents might catch you. Because they know you well. 
It all depends on how confidently you use such excuses, your relationship with your parents, and your family budget. 
Above all, most importantly your parents' mood when asking for money.
Remember, no excuses are perfect. It's all about time. Use it wisely, it's all up to you.