Last Updated on November 1, 2023 by Ketan
If your hard-working boyfriend is going through some issues at work, he needs you the most.
Motivate him when he's losing confidence.
Provide him encouragement for the great work he has been doing so far.
You should appreciate him.
Especially for all of his hard work and how he balances his life, career, and relationship.
When you're not sure what to say, here are motivational messages for a hard-working boyfriend to support him emotionally. 
This post provides the best positive and encouraging words to share with your boyfriend to let him know that you know he's not alone, you're there with him.
Encouraging Messages To Appreciate Boyfriend's Hard Work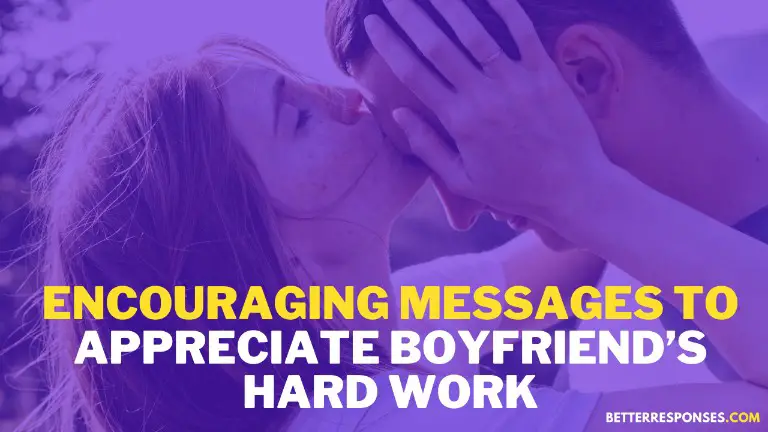 1. My love, I know this is a very challenging time in your work. And, I'm with you here for every support you need to get back on track. 
2. I do believe in you. you've been doing your best. Don't worry if you're not getting the results right now. I'm sure you will in the future. Never stop.
3. I think that God is preparing you to be tougher, that's why you're facing the challenges. Please, don't let your faith go away, your time will come soon.
4. Well, these challenges are here for some reasons. That must be some good reason for you. you shouldn't give up on yourself, instead, make these challenges your reasons to get going. 
5. You're a great boyfriend, who takes good care of me, supports me, and trusts me. I love everything you do and how hard you work to make our lives better. 
6. Hey Babe… I'm here for you, okay!! If you need anything from my end, tell me. If you want to share something with me, I'm here for you. 
7. I don't think that my boyfriend is this weak, he's the man. I know, this time he's a little down. But, I do believe in him and that he's going to make it. 
8. Remember that you're not alone in this. I'm with you and always will be there with you. Let me know when you're free so we can meet and have a good talk.
9. Agreed, a lot is going on in your life. But, don't give up. We are just taking a rest here. I'm sure we'll be better than we expected. 
10. You're so great at managing your time and work. I'm so proud to be your girlfriend and tell the world that yes, my boyfriend is a hard worker and I love him even though we don't spend much time together. 
11. Your positive approach to the work, and this passion you carry every day towards your work… actually make me see you as my inspiration first, before my boyfriend. 
12. Dear, you're such a caring and hardworking boyfriend that any girl can imagine having. You're my strength and weakness. But seeing you working hard, makes me feel I'm so lucky to have you. 
13. You work so hard, I notice that. You never give up and are always up for new challenges and that's the reason I think you're so awesome. 
14. Babe, I'm glad that you're serious about your career and thinking about our future, but please don't stress too much. 
15. It's just a hard time, believe me, this time will pass. Things will get better soon, I'm very sure about it. 
Don't forget to have these Good responses to 'I'm So Proud Of You' from your partner and family members.
Motivational Messages For Hard Working Boyfriend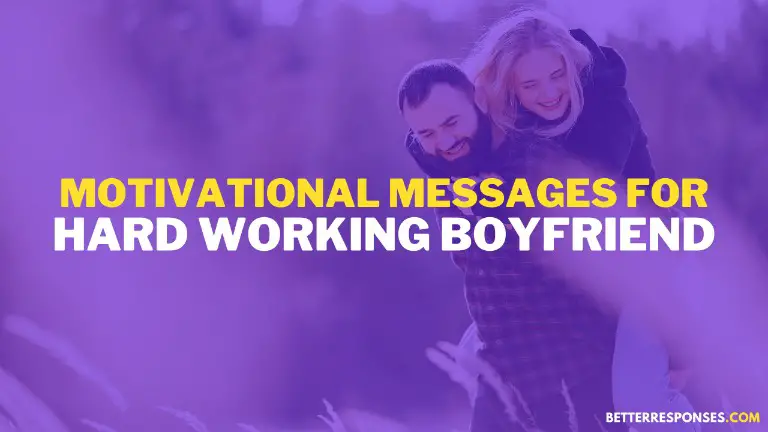 1. I want to let you know that I'm so proud of you and that you're the most hardworking man I have ever met in my life. your patience inspires me a lot in my life, too. 
2. Being with you on your side, seeing you every day working harder and harder for me…. everything makes me realize how lucky I am to have you. 
3. All because of you, I become mature and more focused on my career. You're not just my boyfriend, but also an inspiration who never gives up on me. 
4. You know you're my superhero. Who makes everything seem possible? Even when you're not here, I feel you are always around, supporting me always.
5. You're the perfect boyfriend for me. I don't think I have ever met such a hardworking and encouraging man as you. you help me to be my best self. 
6. I love you, dear! You're such a caring and hardworking person. It's all because of you, I learn to be myself and do the best thing I can do. 
7. You bring the best out of me. With all your hard work, you encourage me to work harder and follow my dreams.
8. Babe, I want to seriously thank you for everything you did for our relationship. You're such a great person. You help me to be the better version of myself. 
9. Thank you so much, you have changed my life in a whole positive aspect. I have never felt so encouraged and loved this before. 
10. You make me smile, and because of you, I feel positive about myself. All thanks to you, I feel more confident in my life and the dream I'm following. 
11. Thank you for always supporting me in my dreams. I have the strength to follow my dreams because of you. Also, your hard work encourages me to keep doing my best. 
12. I'm truly surprised at how you can manage all these together in life. Despite all this hard work, you still have spare time for me and never miss a moment to make me feel special. 
13. You never waste a single minute of your time, not of someone else. You're doing the best you can do for your work and our relationship. I'm happy that we're together. 
14. Dear, everything you do I fall for you even more and more. One thing I love the most about you is whatever you do you do it with all your heart. 
15. I never realized how lucky I am. But seeing you working so hard for our future, makes me feel happy that I'm with the right person.
Want to make her feel at ease? Try these flirty replies for 'Thank You' to a crush for next time.
Positive Words To Share When Your Hard Working Boyfriend Losing Hope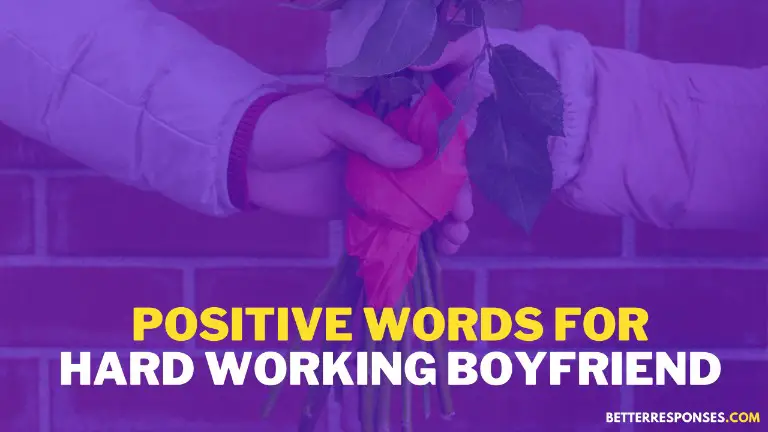 1. You inspire me with your focus, persistence, and dedication. Because you're full of it. I don't think anyone could be as passionate about the work, as you are. 
2. Don't be discouraged by this downtime. You've been doing great and if you're not getting what you deserve, it is certainly painful. Good things do take time. 
3. I know things are not going well as you wish. But, that's fine, we can not control everything. I do believe in your and your hard work that everything will be great soon. 
4. You know what, you're my inspiration. You're working so hard that it supports me to follow my passion. And not anyone has ever felt so powerful as me. 
5. You never stop to amaze me with your hard work and humor. Damn, I'm a lucky girl to have such a boyfriend who is so perfect in everything he does. My blessings are that all your hard work pays off way greater than you wish. Keep up the great work, I'm always here for you. 
6. Not everything in life has to be perfect. We do fail sometimes and make huge mistakes. But the point is what we learn and how fast we get back up on our feet to fight again. 
7. You deserve all the respect and love for the hard work you do for us. Don't think about others who can't see the value you provide. But I can. 
8. Hey handsome, you don't have to be so tough on yourself. Let it go. Release yourself of the unnecessary burden you carry. You're already doing the best. 
9. Love, you don't have to be so tough on yourself every time. Sometimes it's okay to take a break and do nothing. I'm proud of you and everything you did for us. 
10. Don't think too much about that. It's just part of the work. I don't want you to suffer this alone, nor do you have to. You can count on me. 
11. Never let anyone destroy you. Look up to the people who are with you and support you and also wish you to grow in life. I'm one of them. 
12. I want to let you know that you're doing your best and I'm proud of you. Nobody can be so perfect to me, but you are. 
13. I know that you're working so hard for both of us. But sometimes, it's a good idea to enjoy the present rather than waste it to make the perfect future. We're already in a good position now. Better take a rest and enjoy the moment!
14. Dear, I think that you should take a break, you've been working hard for so long. I don't want my baby to lose their mind, just like he loses his heart to me. I care for you, let's take a long ride. It would be perfect!
15. I know you're doing this all for both of us. But I don't want you to be so hard yourself. Please babe, take care of yourself. I need you and I appreciate everything you do.
When it's not their best day, better to send these encouraging texts to a partner having a bad day to cheer them up.
Conclusion
Whether you want to appreciate your boyfriend for his hard work or support him during tough times, encouragement can help a lot.
This shows you're a caring girlfriend.
No matter how strong or passionate he is, he may need encouragement for some time to keep it going. 
If you find that your boyfriend feels a little off or is losing faith in his efforts, you can share these motivational messages for a hard-working boyfriend.
With such messages, you do appreciate and feel so proud of him.
You relate with how he feels because you love him… and know to take good care of him, the way he does for you.