Last Updated on September 12, 2023 by Ketan
No, you can't use 'I'd a fever' as the best excuse for not doing homework. 
Because someone already has the same reason. And it's too regular. 
Also, blaming a dog for biting out your assignment book is totally unbelievable.
Then you may ask, what to say when the teacher asks 'Where's your homework?' 
Well, don't worry to help you out in such a situation, we provide you with all the fresh, believable excuses to give. 
That your teacher will accept it as a valid reason for missing your assignment.
(Note: This is just for entertainment purposes. Please don't make a habit of relying on these excuses every day. Better if you do your homework on time.) 
Good Excuses For Not Doing Homework
You know you must do your exam on time.
But you didn't get the right time or mood to actually sit and complete it. 
Whether you've played all day, overslept, or just not doing homework anyway, you need something to say to your teacher as a valid reason. 
Have these good reasons to convince your teacher why you came to school without the homework.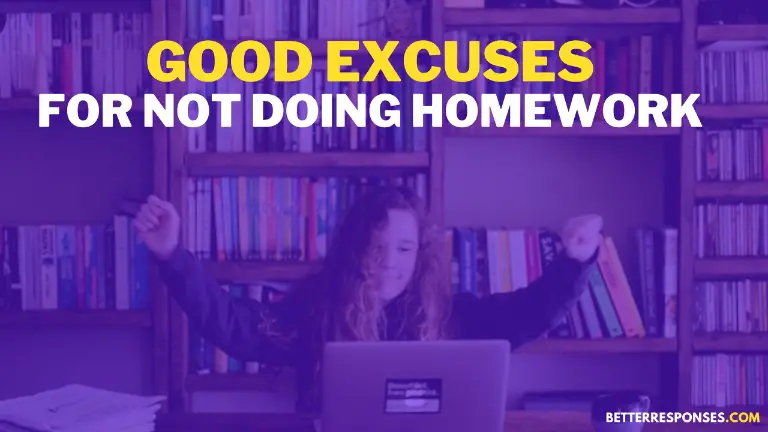 1. Someone told me that the date of submission is extended. 
2. I have done my homework, but I forget where I put my notebook. 
3. We have surprised guest visitors and they stay the whole day. 
4. Because I didn't know where to start, I'm unable to complete the homework.
5. There's some fixing work going on at my home, especially in my room. 
6. I was about to do homework, but I don't understand a thing.
7. There were some other priorities. More important than homework.
8. I have a reason, but I can't share it with you, please believe me. 
9. I've misplaced the notebooks, still unable to find them. So I couldn't complete it. 
10. There was a rumor that you were on leave today.   
11. I had no time for homework because there are so many things going on at home. 
12. My family and I were out of the city the entire day yesterday and we returned late.
13. After school, I have to work at our family business. My dad already trained me for it.  
14. I forgot my bag here so I'm not able to complete it at home. 
15. Thought I would do it late at night, but I slept quite earlier than usual. 
16. My entire day went into doing some extracurricular, and I didn't get time for homework.
READ NEXT: Great Comebacks For Your Kids
Funny Reasons For Not Doing Homework
Well, some excuses are so ridiculous that they make your teacher and your fellow students laugh. 
Indeed, there is a risk of you appearing dumb in front of your class. 
But because it's a hilarious and creative reason, it might still work in your favor. 
Or at least to come up with new excuses than anyone else can think of.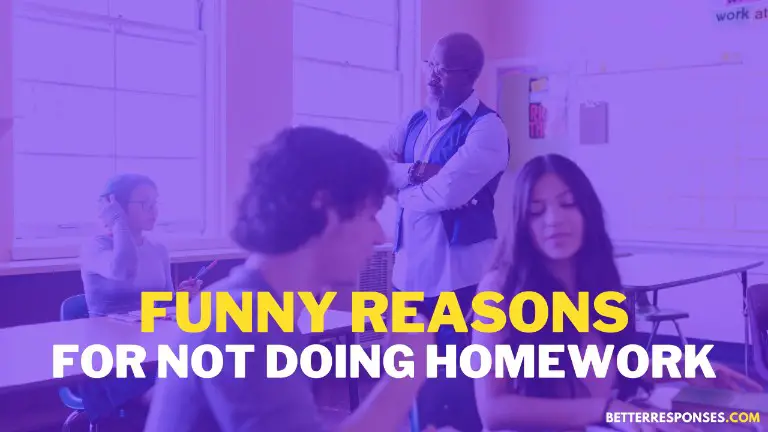 1. It was my birthday yesterday. And, I don't want to celebrate it by doing just homework.
2. My parents brought a pet for me. So I played with him the whole day. 
3. After I completed my homework, my sibling ripped my assignment apart. 
4. I've to babysit my lil brother with nobody at home to take care of us. 
5. I was lost in the mall while going shopping with my mum and found it in the evening.
6. My elder sibling has thrown my assignment book in the trash.
7. Our cousin used my homework to make a paper plane and they just flew it.
8. My family wants me to go to a boarding school, so I'm just getting ready for it.  
9.  I was looking for the right time to get it done, but I didn't get it. 
10. My mom and dad fought and the entire day went on just to settle things down. 
11. My grandparents visited our home yesterday, and I've been busy with them. 
12. Because there is so much homework for different subjects, I can't do any of them. 
13. My internet went off while you've given the assignments to us. 
14. I accept that I didn't do my homework now, but I promise to complete it tomorrow. 
15. There's some family issue going on at home. So, I'm unable to complete the assignment.
16. My dad took my bag for some reason and today I have to come with a spare bag.
Believable Excuses For Not Doing Homework
Whatever reason you are about to give for not completing your assignment, your teacher will judge it logically. 
So you just can't share any reason that's on your mind. 
Be careful with your reasons or excuses before saying why you didn't do your homework. 
If you want some believable reasons that your teacher can't deny, here's the whole list of them.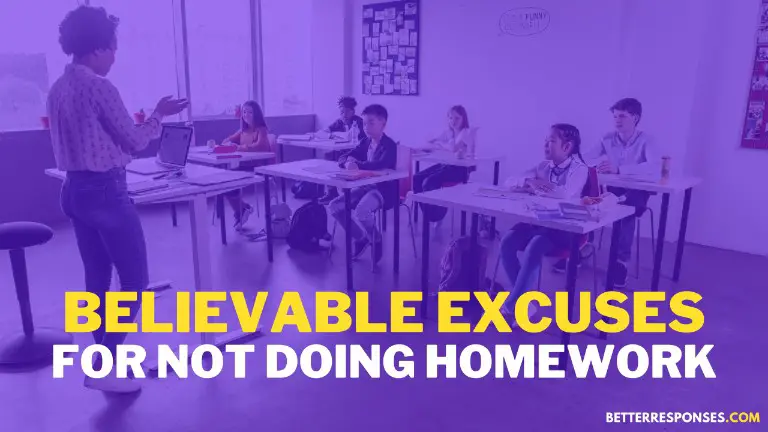 1. I asked my dad to help me with my homework, but he doesn't know a thing either. 
2. I've saved my assignment, but I don't know where it is now. The file is lost on the PC. 
3. I was forgetting to save my homework and all the work was just gone. 
4. There were system errors on my PC. So it was not possible to do homework. 
5. My computer just got hacked and I must delete everything including homework. 
6. I felt the pain in my writing hand, and now I'm feeling better. 
7. After school, we had to go to some event and I lost my bag somewhere there. 
8. I thought today was a holiday. So I didn't do it.
9. Remember I told you that my computer is in repair, the technician hasn't returned it. 
10. I've been at an important event with my family and came back this morning. 
11. It was my sister's marriage, so I was not able to complete my homework. 
12. I was stuck in the giant toy car the whole day and not able to do homework later. 
13. We bought a new TV. So, me and my brother watched our cartoon the whole day. 
14. I was helping other kids in school to complete assignments, but I forgot mine. 
15. My notebook fell into our swimming pool and I couldn't save it in time. 
16. It's not my dog, but my cat peed on my notebook. I couldn't bring my notebook today, but I will tomorrow.
READ NEXT: Smart Responses To Every 'Why?' Question
Conclusion
We all agree that we have the entire day to do it, but the best time to do homework is 'the last hour' before submission. 
But sometimes you can't even do your homework in that precious time, too. 
Because you don't want to do it, or just give up. 
When you fail to do or submit your assignment last time, you need some good excuses for not doing homework that your teacher could believe and accept. 
We hope we've suggested the best reasons to share to be safe this time. 
But Hey, next time you do your homework properly, Right? 
This list covers last-minute excuses to get you another chance. 
Hope this frees you from any punishments or embarrassment at school. 
But, promise us, that you will do your homework on time from now on. We don't want you to use these excuses anymore, too.