Last Updated on December 7, 2023 by Ketan
What you were scared of the most just happened.
You get a rejection text from a crush. Aah, that pain! 
This was your worst nightmare. And, now you face it. 
It doesn't matter if it's about hanging out, a first date, or a romantic proposal, when a crush rejects you, it not just hurts, but it hurts harder. 
But what else can you do? 
Well, you can collect yourself, smile and give some respectful replies to accept your crush's rejection message. 
What To Say If A Crush Rejects You Over Text?
The first thing to know is there's no point in taking it personally. 
Your crush rejects you, that's their choice and it doesn't make you any bad. 
It's just your connection isn't there and you're not better fit together.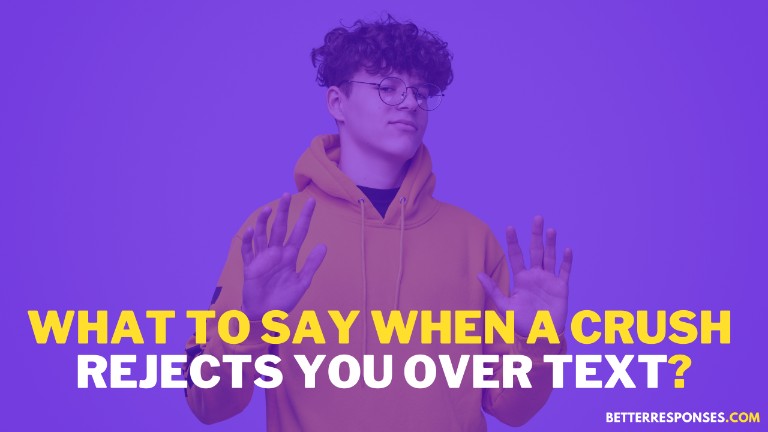 You like your crush, that's your take, and if they don't like you back it's their choice. 
So instead of being too sad or acting crazy and creating drama, it would be better if you respond to rejection from your crush maturely. 
To make it easier, here are funny and respectful responses you can give to a crush on rejecting your date or love proposal over text. 
Respectful Responses To Crush's Rejection Message
You love your crush, right? Then show it even when you don't have a future together.
When a crush rejects your date offer or doesn't want a relationship with you, that's fine.
No pressure to take or to give back. 
Show respect for your crush's decision, after all, they keep it honest.
With these replies, you accept your crush's rejection, and it helps you both to move on with it.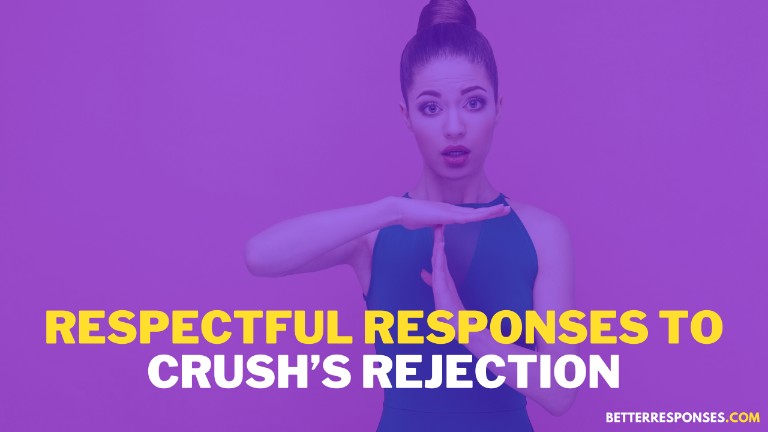 1. "Well, that's truly unexpected. But I respect you because you didn't play with me. 
2. "Thanks for letting me know about it. I'm happy that you made it clear. 
3. "Come on! You shouldn't be upset about it. I'm okay with your decision. 
4. "Thank you for your time and this text. I wish you the best in your life. 
5. "I might be falling for your beauty but I am even more impressed with your honesty now. 
6. "Spending time with you is the best experience and I accept your choice. 
7. "I wish we could be compatible. But I don't mind, this is normal, after all. 
8. "The first date was not that good. I felt it, though. Thanks for making it clear. 
9. "Oh, that's alright, It was so nice meeting with you on tinder, though!
10. "I'm happy that you are real with me and tell me thing as it is. 
11. "Honestly, I have some sort of idea. But things are now clear, and that makes me feel better. 
12. "Not a problem! I'm so happy for you and your future. 
13. "That's fine. Please don't think much about it."
14. "I'm cool with that. It's your choice, I don't feel any bad about it, so relax."
15. "I'm fine if we do not get along well. I truly respect your decision." 
16. "I respect your decision and you know what I'm not even mad at it."
17. "You know it would hurt me if you didn't say it clearly. So it doesn't hurt me much." 
18. "Alrighty, we are just friends and we keep it that way."
19. "Didn't expect that, but I'm happy that you talk frankly about this." 
20. "It was a great time being with you overall. I'm fine if you're not ready for it." 
21. "I can understand. And I hope you find the right person sooner."
22. "Oh, that's all okay. Don't think it hurts me, I know you have some priorities." 
READ NEXT: Flirty Responses When A Guy Calls You 'Mami'
Funny Responses To A Date Rejection Text From A Crush
Rejection is a serious situation, so why would you be funny? 
Well, being normal with your crush's decision, shows you know how to get over it. 
This doesn't make the situation any awkward for anyone. 
If your crush rejects your date invitation, here are funny ways you can respond to make the situation lighter and not serious.
Also, these responses are good if your crush sees you just as a friend only.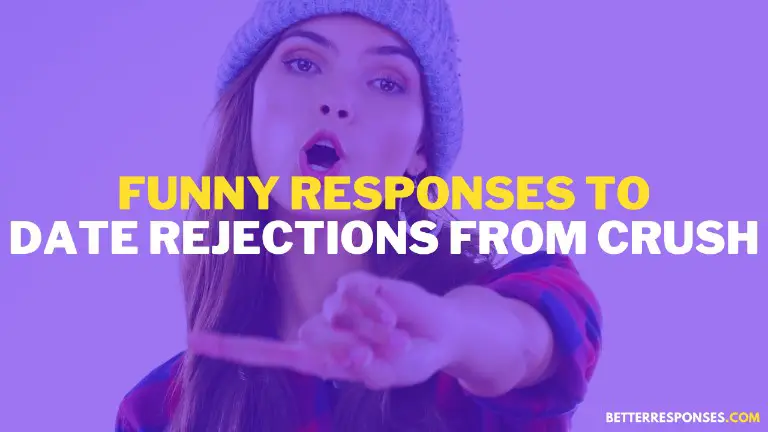 1. "Let me ask you one more time. Do you really want to lose a cute guy like me?"
2. "You know what I felt it coming, cause I approached you at the wrong time." 
3. "Overall, we have a good time together, right? If not then we will meet another day." 
4. "What I see here is we both deserve someone better. Agree?" 
5. "You should have told me earlier, I have arranged our honeymoon. Just kidding!"
6. "It won't hurt me much, as I take you to the average restaurant, only." 
7. "If we do not match here, we are maybe in another universe, I guess." 
8. "That's okay, we just had dinner at a great discount, I enjoyed it a lot, do you?"
9. "I know this isn't you. It can't be you. How are you so upfront? Oh, it's you." 
10. "You're kidding me, right? No?? Oh, then I'm kidding with you, Lmao." 
11. "Sorry, this is my mistake. This text is for someone else. I sent it to you though." 
12. "Well, if you're not available, send your friend for this date. I've made a table reservation."  
13. "I'm looking at the bright side that at least you didn't stand me up." 
14. "So we remain friends, which means there's still hope. Hey, you know me, I'm fine." 
15. "What a bummer! But hey, I think I know how to deal with it. You're not the first."
16. "Hey you, listen, you're not the only crush, okay? I still have three more. Lol."
17. "That's so sad to hear, and I'm still thinking that you're playing with me."  
18. "Thanks for the time we spent together. I will wait for you, maybe your mind will change."
19. "Okay, but let me tell you that I will wait for you forever. In case you realize my feelings."
When Your Crush Rejects You Over Text
How can you be so okay, you're rejected by someone you dream a lot about? 
We know it, friend. 
But what else we can do, now you have to accept it as it is. 
If your crush just says 'No' to your date invitation or rejects your proposal or your match doesn't want to stay connected, it's hard to move on easily. 
Whatever it is, how it affects you, you have to accept it with respect.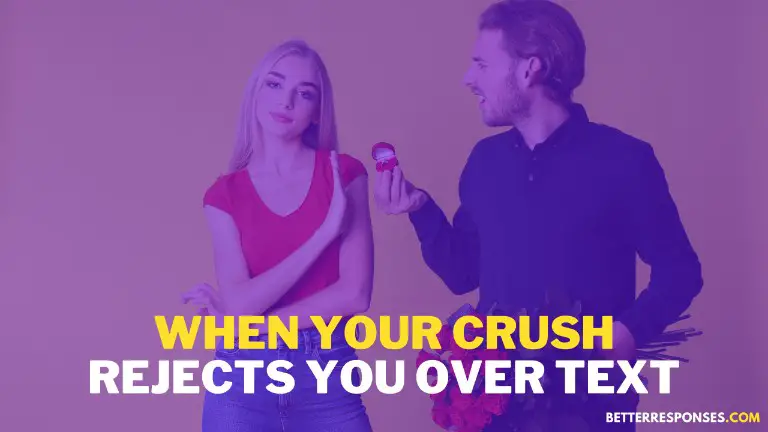 Of course, it would be hard, but you must move on in life and from a relationship that isn't getting any further or not even starting. 
But in the end what's good for you is, you know that they don't have feelings for you.
So, this is easier for you to move on than being cheated or played, Right?
Whether you remain friends or not, these funny and respectful ways are the best ways to respond when a crush rejects you over text. 
This way you move on with your life without hurting one another's feelings.