Last Updated on September 14, 2023 by Ketan
Like most daytime greetings, we rarely reply enough to 'Good evening' wishes. 
But sometimes, when someone you care about shares 'evening' wishes, you want to respond in the better way you can. 
It takes nothing but being polite and nice to acknowledge their wishes.  
The challenge here is to say something that sounds interesting.  
Don't worry if you have nothing to say. 
Here are some better responses to a 'Good evening' that you get either in person or over text. 
How To Reply To "Good Evening" Wish?
If someone casually says, 'good evening' to you, you can reply with 'same to you'. 
That's short and enough. 
Because as you're leaving after meeting and there's nothing much to say.
While if that's your friend, crush or partner wishes 'Good evening', you have a chance to respond from funny to flirty.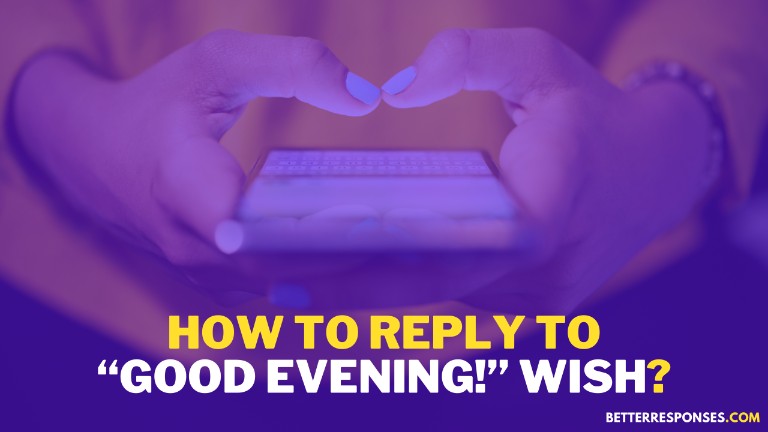 Make sure you have some right things to say at the right time. 
When you still have nothing to say still, we've some options for you. 
Check out these better ways to respond to 'Good evening' wishes based on who says it to you. 
1. "I hope your good evening does work, in reality."  
You just don't take it normally, you really want this evening to go well for you. 
So you also hope that this person wishes 'good evening' work this time.
2. "Thanks for your wishes, my day is really tough." 
It could be a rough, long, or maybe boring day for you. 
So when someone says 'good evening' you express that you need one. 
READ NEXT: Witty Responses To 'Fancy Seeing You Here'
3. "It surely will. I've some special plans for this evening." 
You are ready to make this evening a perfect one for you. 
Maybe you try some hobby stuff or do something. 
But you respond so excitedly and in a good mood.
4. "I guess, you've something to do this evening." 
While this person tells you good evening over text, you just ask them what's their plan.
It also means that you're feeling bored this evening. 
And, you're looking for something to do with someone. 
5. "I hope so. My in-laws are coming home this eve." 
Your friend or coworker wishes you 'good morning', when you need it the most. 
This one is, of course, a funny response to share some laughs with them.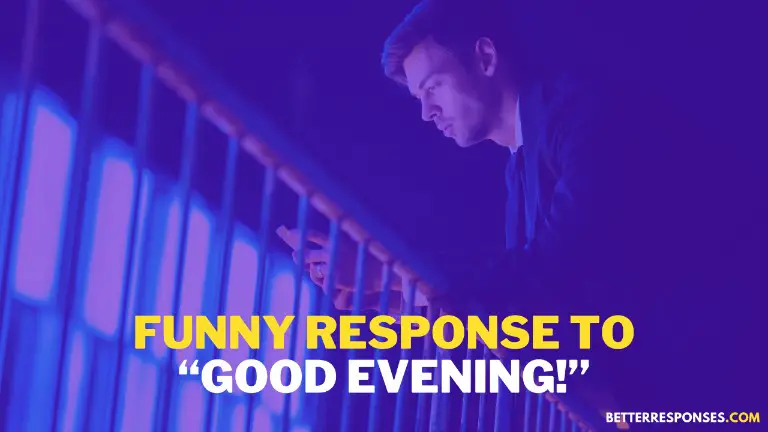 6. "Evening to you. Call me when you reach home." 
After your date ends, when a girl says 'good evening' before leaving, share this reply. 
Tell her to text after reaching home safely. 
This shows you do care about her and take her as your responsibility. 
7. "Not just good, it's going to be a lovely evening." 
Because you're going on a date with your match or crush after a long time. 
You share this with your trusted friend, who truly wishes you two to have a lovely evening today. 
8. "If you want to make it good, we can be together." 
When your partner texts you 'Good evening', this is a direct response to share. 
You check if she's ready for this plan. 
Because you've got a lot of things to do and talk about. 
9. "Evening? I am thinking about having a good night also." 
Share this flirty response with your lover who texts you 'good evening'. 
This way you're actually telling her what's on your mind, the special plan. 
You don't look up to the evening but wish to make your night better together.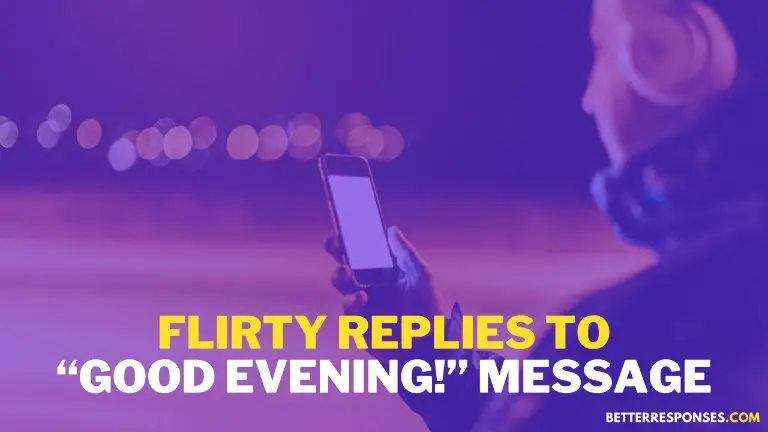 10. "This evening is just as beautiful as you."  
When your partner says 'Good evening' over text, use this chance to compliment her beauty. 
This evening really feels so calming and refreshing.
So, it reminds you of her whose presence feels the same.  
11. "Do you mind joining me? I'm going on a ride alone."
 This evening you're going on a solo ride. 
To your friend or crush you can invite them if they are also in the mood to go outside in this beautiful weather in the evening. 
12. "Why don't you come over? We can have a good time together."
It's a clear invitation to your lover that you have a plan. 
You're all set to have a great evening, night, or morning alone.
You're all thinking of making a good time for both. 
READ NEXT: What To Respond To 'Nothing' Text?
Conclusion
While most people take 'good evening' wishes normally and don't care to respond to it much, you can't do the same. 
Especially when this good evening wish comes from someone you love or laugh along with, you can use funny and flirty responses. 
This will lead to having some interesting conversations with your friend. 
While with your lover, you appreciate their wishes well enough. As well as you can invite them to actually make your evening and night good together. 
Who knows where it leads? 
All just away from your special ways to respond to 'good evening' greetings.