Last Updated on October 9, 2023 by Ketan
If you don't know what 'HMU' means in text then you definitely have no idea how to reply to it. 
Well, in simple terms, 'HMU' is an abbreviation of 'Hit Me Up', which is a slang word in online chatting. 
From a friendly request to an invitation for some plan, people use this phrase for many reasons. 
And most common one is to have an active connection.  
Depending on the context and who sends this text, in this post, we are discussing the possible replies to "HMU (Hit Me Up)" while chatting. 
How To Reply To "Hit Me Up (HMU)" In Texting?
Well, 'Hit Me Up' is a request from your friend or someone regarding some plan. 
On social media, while sharing mobile numbers or texting, someone may use 'HMU'.
That says 'Call me' or 'Contact me' when you've time or doing something. 
This person wants to stay in touch with you. And, tell you to contact them anytime. 
Whereas some take HMU as 'Hook Me Up' which expresses they expect an update from you regarding something. 
Normally, you can just respond with 'Sure, I will' when you're also interested in this connection. 
And if you want to say something funny, here are some options for you. 
Further, here are some ways you can reply to 'Hit Me Up' (HMU) in texting, based on it's from whom.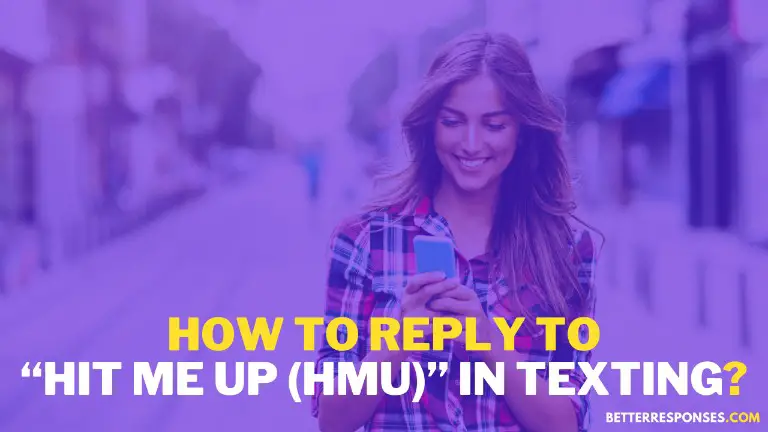 1. "I will hit you up most probably on Saturday evening, is that right?" 
Here you politely tell someone that you will contact or call them at a specific time. 
Because this is a new connection and you want to start smoothly, you make sure that you don't hit them up at the wrong time. 
This leaves a good impression that you value their time. 
2. "Well, I don't get it. Can you please explain what are you trying to say?"
Because there are so many HMU abbreviations, it's so confusing to you. 
Maybe you're just playing with your crush or friend. 
But this way you want them to talk straight about what they really want to say. 
You make it clear that such slang language doesn't suit you well. 
READ NEXT: How To Answer To 'Do You Remember Me'?
3. "Okay, wait there. I'm on my way to your home to hit you up." 
Here, you got a message from your friend like 'HMU when you're free'. 
You know well that your friend has something to talk about or maybe have some chat, that's it. 
But you're in a fun mood so you take it easy and tell them that you're coming to their house to hit them up. 
Because that's what they just told you. 
4. "Sure, whenever you're free, I'm ready." 
This one is a flirty response to share with your crush or partner. 
When they feel bored, they wish you were with them.
Maybe right now they invite you to come over and do something together. 
So, when you get a message like 'HMU' from a partner, show that you're available for them anytime.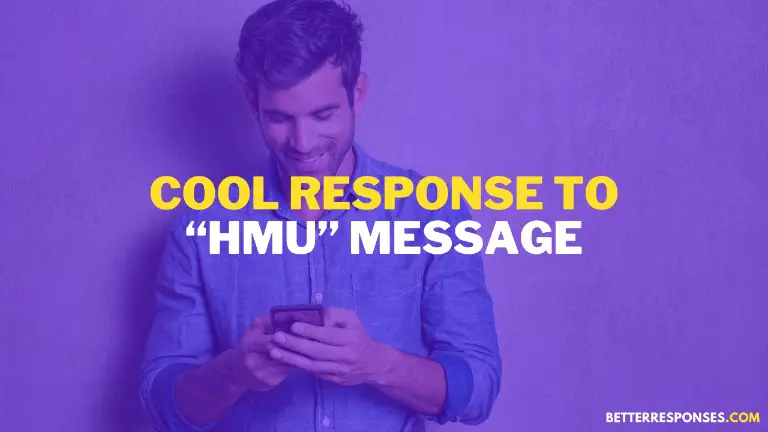 5. "Which HMU is this? I think it is 'Hold My Umbrella', right!"
Share this fun response to your crush or friend's HMU message in texting. 
You're kidding and they know it already. 
Hopefully, it will lead your chat to some interesting conversation. 
READ NEXT: How To Respond To 'I Can't Wait To See You'?
6. "Fine, but I don't hit anyone without any reason." 
You just want to clarify with your developing connection.
That you never contact or even hit anyone just for no reason.
There must be some reason to do so. 
Give this clever response to 'Hit me up (HMU)' to tell someone that you value time and know with whom to have the connection. 
7. "Thanks, I was about to ask for your number, too." 
You were about to ask your crush or dating match's number online. 
And surprisingly, she shares her number and says 'Here's my number, HMU'.
Express your interest in this connection with this sweet response. 
READ NEXT: What To Reply To 'IKR' Text?
What Does "Hit Me Up (HMU)" Mean In Text?
If you're not familiar with the word 'HMU' in texting, you might misinterpret their message. 
Well, when someone texts 'HMU' this means 'Hit Me Up'. 
This person is interested in doing something with you and tells you to update them when you're doing something or available for them. 
They are ready to have a chat or call, as they express it clearly.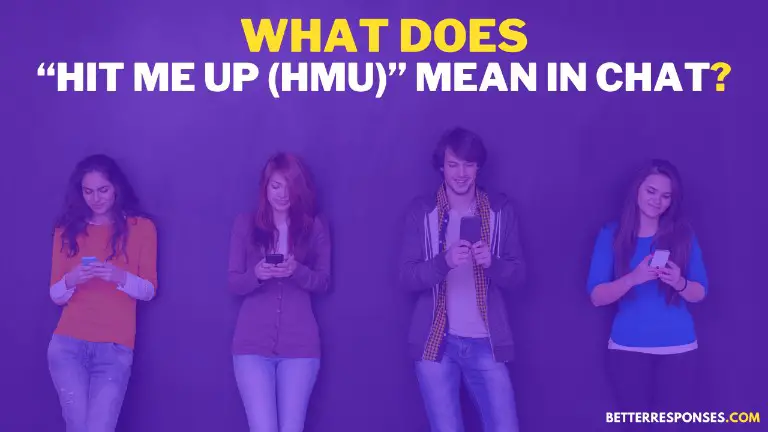 By using 'HMU' in chat, someone might invite you for some plan or request you for it. 
This is mostly used in casual chatting with your informal connection. 
Your connection, or friend on social media, or your match on a dating site, may text you 'HMU (Hit Me Up)' and that has a different meaning. 
Overall, considering your connection, you can reply funny or flirty while responding to 'HMU'. 
Normally, you don't need to reply to anything but either 'Yes' or 'No' to it, but to have a cool texting, you can try these suggested responses.