Last Updated on October 25, 2023 by Ketan
Someone who texts  "I can't wait to see you", already knows that you will say "Me, too".
Do you want to respond as usual? I guess, you don't.
Well, you can add humor (or creativity) while responding to this heartwarming message.
This way you can excite them more about your next meeting or date.
And, this post will help you by providing some flirty to funny responses to share in chatting.
How To Respond To "I Can't Wait To See You" Text?
When you receive an "I can't wait to see you" text from someone, normally show your excitement for the meeting, as well.
That could be even better with your genuine or unique reaction.
Also, your connection with them matters in deciding what to reply.
Well, your response could be a heartfelt message like how you miss them or what you are planning for this meeting or just a playful gesture.
Check out these best responses to "I can't wait to see you" to have better ideas: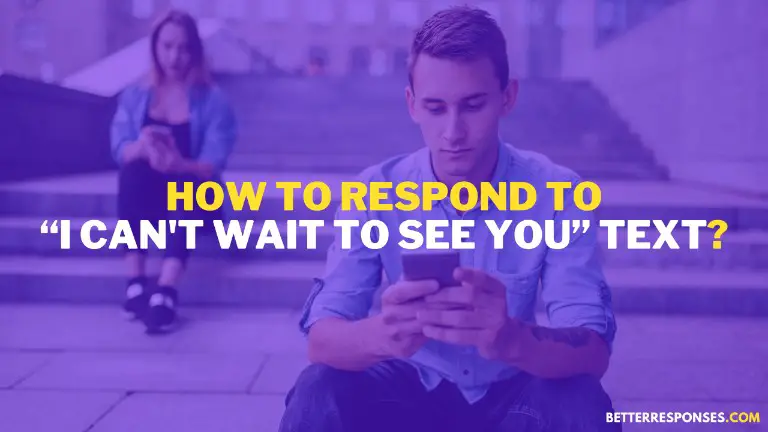 1. "Then, Why don't you just hop in the jet and get here, Right now?" 
You here playfully challenge your date to come over to your place. 
Because they can't wait to see you and this is the way to end the wait. 
2. "More like a patient waits to see a doctor?"
To check their level of anticipation to see you, you share this fun example here. 
Based on that you know the urgency of this meeting.  
3. "Yeah, keep it limited to 'see me' only."
This is the first date and you don't anything more than just an introduction. 
So when a guy says 'I can't wait to see you' you make it clear that you might be excited but also what you expect from this meeting. 
A clever response to make him lower his expectations if any. 
READ NEXT: How To Respond To 'What's Cookin, Good Lookin'?
4. "The wait is totally worth it. You better trust me." 
Share this romantic response with your long-distance partner. 
It's the physical distance that keeps the excitement alive in your relationship. 
And it makes your every meeting a special one. 
5. "Damn this time. Now it is getting slower as our date approaches."
You're so eager for this date with your crush or new match. 
And time stopped moving as fast as it used to. 
This reply shows you're getting impatient due to waiting so much, too. 
6. "I'm so sorry to make you wait. That's our fate." 
You wish that you could be there with your partner.
But you can't. 
So you apologize here and blame your fate hopelessly. 
7. "I am also waiting for you like we used to wait for Christmas."
This is a sweet reply to show that you're looking forward to this meeting. 
And yes, to make it a flirty response you can tell that all you want for Christmas is them.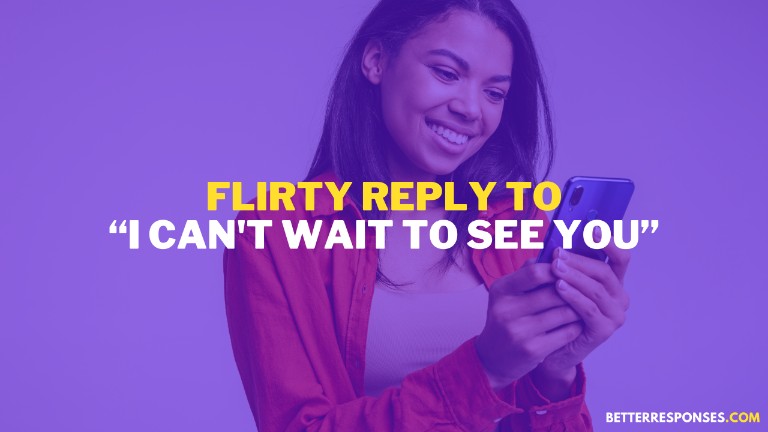 8. "This date is going to be the best one, let me tell you." 
It expresses your confidence that your (first or) next date will be a successful one. 
Or, you can at least hope for that. 
9. "And, I can't wait to introduce you to my boyfriend." 
So, here comes the twist. 
This witty response is for your friend who sees this meeting as a date. 
But you cleverly tell him that you have a boyfriend already. 
10. "It's like I have been waiting for my whole life." 
Such a dramatic way to show that you also have waited for them for a long. 
11. "And, I can't wait to show you my magic tricks, that I learned last week."
This person wants to see you and have a good chat with you. 
Whereas you need them to show off your improved magic skills. 
It's a funny response to tease a girl who says she can't wait to see you.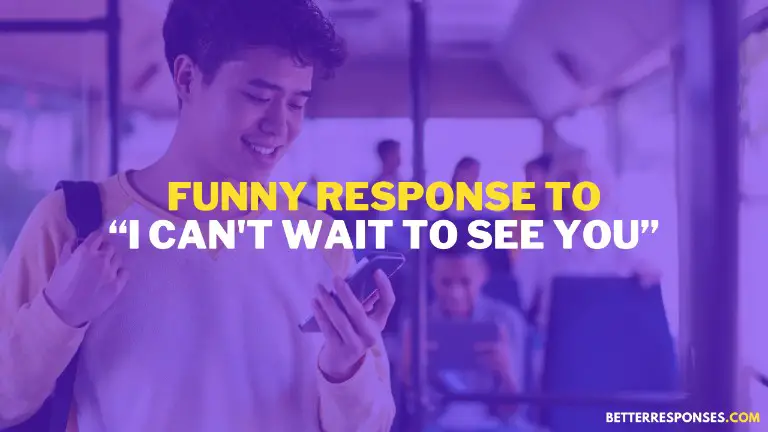 12. "I know, but you have no chance but to wait." 
It may take you some time to be there, together. 
Because first, you're on the way and second, you're not driving. 
So you both have to wait and there's nothing you can do. 
A practical response but funny as you share it. 
13. "But, this is going to be a blind date, Right?"  
So what's the point of waiting to see each other? 
Otherwise, you can say "I can't wait to feel you", which makes more sense. 
A fun response to share with your new match. 
14. "Let me tell you I won't make it easier for you."
Because you aren't going to show up that easily.  
Give this response to keep them intrigued. 
And, it's a flirty challenge. 
READ NEXT: What To Say When Someone Says 'You Smell Nice'?
When Someone Says "I Can't Wait To See You"
Well, when someone says they can't wait to see you, it's a special gesture. 
This person could be your long-lost friend, long-distance partner, or recent date.  
But, this message expresses their anticipation to be with you.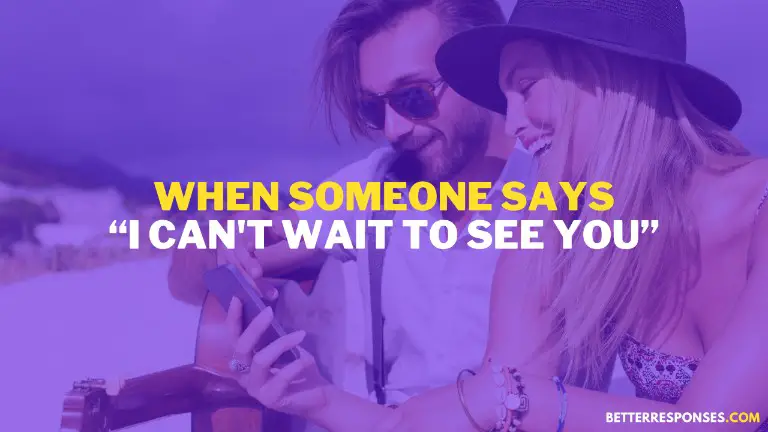 Whether you both are going to meet soon or not, you have to pass this waiting period. 
And, your unique reaction adds excitement to your next meeting.  
If your partner misses you there, your flirty responses show that the feeling is mutual. 
And it's this is your friend, share a funny response to confirm that this meeting is going to be a blast.  
Remember, the way you respond to "I can't wait to see you" text not only expresses your excitement but also makes them more eager when you can do nothing about it but to wait.