Last Updated on November 27, 2023 by Ketan
On updating about the project success or work achievement over mail, you might get 'That's good to hear' from your boss, client, or coworker. 
It's their reaction that they're happy and express their positive reaction. 
This could be good news for you or collectively for you both.
Further, you want to respond to it professionally and politely, for sure.
So here in this article, we are sharing the best replies to share when your professional connection says 'That's good to hear' over mail. 
How To Respond To "That's Good To Hear" Formally In Mail? 
Because you get a 'Good to hear from you' message from your professional connection, you want to respond to it formally. 
There are many ways to reply to it other than 'Thank you'. 
But you will keep it limited to 'Thanks' when you don't have anything to say or if no further conversation is required. 
While in some cases, you can respond more to discuss such good news or else. 
You could show your acknowledgment for the appreciation or tell them that you're available to help them if they want. 
For more, here are the formal replies you can give to 'That's good to hear' in the mail.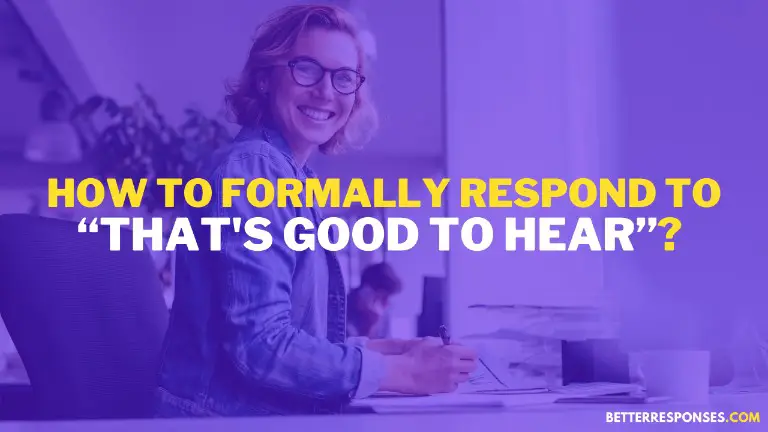 1. "I truly appreciate your kind gesture."  
Your formal connection has shared their positive reaction to what you shared. 
So in response show you acknowledge their nice gesture. 
2. "Thank you for your support."
Your boss or superior is the one who helped you to make something work. 
So when they congratulate you on something and say it's good to hear, don't forget to give them credit. 
3. "That's great news for us." 
What you just did is not only good for you but for the entire team and company. 
So being a valuable contributor, you are also happy that you do your job right. 
4. "I'm thankful for the assistance you provided." 
Without their support, this won't be possible. 
This might be good for you, but you're happy that you've someone to count on. 
5. "Let me know if you need my help with anything." 
Your client is happy with the solution you provided. 
They appreciate your efforts and you ask them if they need anything else. 
6. "Sorry it took very long, though." 
Well, this project might be completed better than you expected. 
But you say sorry to the client because it takes extra time to complete it. 
6. "I've been trying to contact you for a while." 
You wanted to give them the news quite long ago, but couldn't reach them. 
But as they finally get back to you, share this response.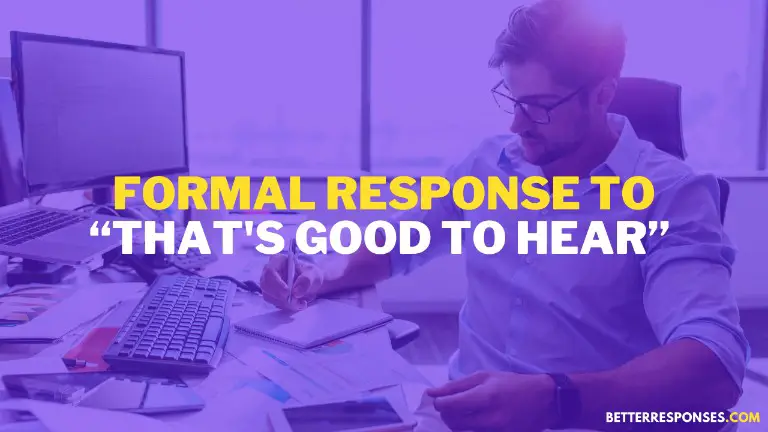 8. "You can reach out to me if you need me." 
You're updating the client that their services have been started and they said 'That's good to hear'. 
To keep their trust, tell them that you're available for them. 
9. "I'm happy that our best efforts have paid off." 
On working on the crucial project and it finally gets approved from the client side, your boss said 'That's good to hear' in the same mail. 
With this response, you can share with your boss that your plan and strategies worked. 
10. "Likewise!" 
As they said 'It's good to hear' You also show that it's nice to get such a reaction as well. 
This is a formal response to share that you're equally happy with some news. 
11. "Thanks. So, what are you up to lately?"
While discussing your work progress and achievement, your coworker tells you 'That's good to hear'. 
If you want to have some conversation going, after thanking them you can ask 'What are you doing (at work)?' to check what project they're working on. 
12. "I appreciate your time to send this mail, Thanks." 
Your boss appreciates your performance improvement lately. 
And he wrote you an entire email talking about your work and contribution to the team. 
13. "Glad that everything worked as we planned." 
You followed a plan and everything was done perfectly. 
On sharing the successful project completion, your boss mailed you 'That's good to hear'. 
And, further, you inform them that the entire execution was as planned. 
14. "I think we have a lot more to achieve from here."
It's a breakthrough and you update your superior about what you achieved.
This is the starting of the journey.
Shows your positive expressions that you're aiming for big.
15. "It's the time of celebration." 
Here you're asking for a little party from your boss for closing a big deal. 
Well, 'That's good to hear' is not enough response when you expect to celebrate company.
READ NEXT: How To Answer To 'What Keeps You Up At Night'?
Conclusion
Your professional connection shows that they are glad with the good news you shared.
And, 'That's good to hear' is their expression that they are so happy with your performance and your efforts behind. 
Whether you're replying to 'That's good to hear' to a client or your boss, try to be positive and polite when you're responding to it over mail. 
They are happy with the results and achievements you shared. 
And, you also want to acknowledge their message right. 
We have shared with you the best replies to share if you get "that's good to hear' mail in this post. 
That, you can choose to respond based on the context or connection of the communication.