Last Updated on December 7, 2023 by Ketan
Not all insults are humiliating. Some are just humorous.
Particularly, with your friends, funny Insults are the better way to pass 'boring' time. 
Also, that's how you can test the bond within your friendship.
If you want to tease your bestie or just want some mean things to say in a friendly argument, this post is for you.
Here you will find the only creative, brutal, and funny insults for friends to share anytime, anywhere, or even for no reason.
Funny Insults To Call Your Friends
You know your friends, they never take anything seriously from you. 
So, if you have that connection, you can try these funny insults in a regular discussion with a friend or during a heated argument that has no end. 
Some friends will cry over such insults but your best friend will know how to handle it.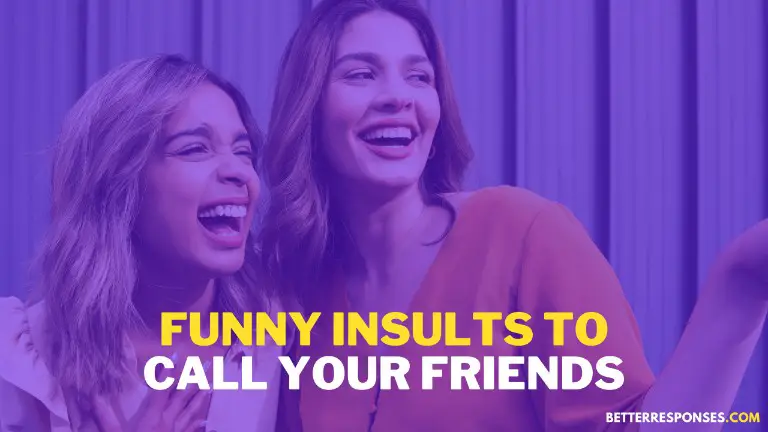 1. "I wish to break a friendship, but then I realize I'm your only friend." 
2. "Bro, don't play with me. I know what you're going to do even before you think."
3. "Wow, this is the first time that you talk about something meaningful." 
4. "Do you think I ever take you seriously? I never did, I never will." 
5. "What's going on in your tiny mind? I smell something fishy already."  
6. "I just want to be with you because you're fat and you make me look thin."
7. "Today I need a break from your nonsense, can you please stop?" 
8. "I'm not comfortable with myself but then I see you. And I feel more relaxed." 
9. "Whatever you say your parents trust me more than they trust you."
10. "Don't say anything, because I'm not listening to you again." 
11. "If I spend even one more minute, I will be just like you. And this world has enough of you." 
12. "I like how you never take anything seriously, But not sure if it's good or bad for me."
13. "Sometimes you make me feel like I'm your parents to take care of your mess."  
14. "Be honest and tell me, your family and your parents are sick of you, right?"
READ NEXT: Witty Answers To 'Why Would You Do This?'
Creative Insults To Give Your Best Friends
You and your bestie have some great info about each other like no one else. 
When you do have not someone around to make fun of, you start teasing each other to have some fun. 
And, your bestie got you every time. But, not it's your time. 
Now, you can call your bestie with these timely insults which they aren't ready for.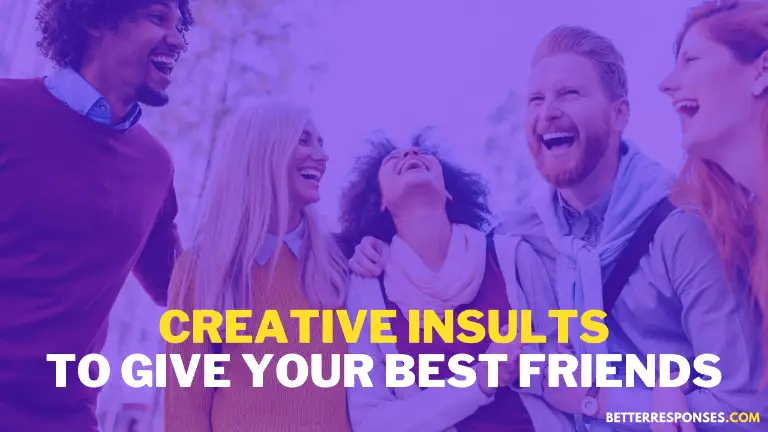 1. "You're the perfect example of the beauty without) brain."
2. "Stop arguing with me, I'm the one who accept you but your parents abandoned you."
3. "Because you're doing such a thing, nobody wants to date you." 
4. "Listen, I can tolerate your ugly face, but not your dumbness."
5. "You should be grateful that I'm still your friend." 
6. "I've nothing to say, I'm just more worried about your future wife/husband."
7. "I've been with you for so many years and I never see you act mature."
8.  "You're so smart. I have to say just to make you feel good about yourself." 
9. "If your brain runs faster than your mouth, your life will be so much better."
10. "Let me tell you, sometimes it's a good idea to listen to others." 
11. "I think you have taken 'Be yourself' advice too seriously. And, it's scary." 
12. "You know what now I realize why your ex was so right about you." 
13. "Stop being mad at me. Your parents give me a task to keep an eye on you."
14. "You have no idea how lucky I'm to have such a weird friend like you."
15. "May whoever going to marry you, God give them strength to tolerate you." 
Brutal Insults For Friends To Win The Friendly Fight
There's a thin line between being funny and insulting. 
While most inside jokes are insulting in one way or another, you want to give your friends some brutal insults to turn them off.   
Because they have been talking nonstop.  
And, you want them to test them for such an unfunny joke. 
Hopefully, these brutal insults won't affect your friendship but save you from annoyance.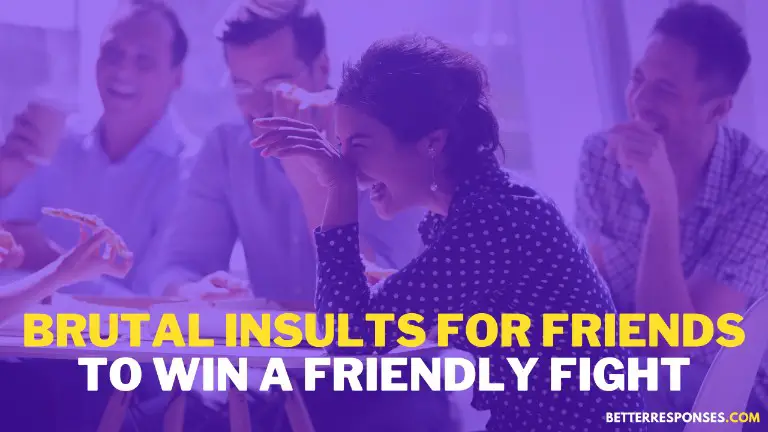 1. "Dude, you're just wasting the oxygen of the earth. Go to some other place."  
2. "I have trusted you one time, and that taught me the biggest lesson of my life." 
3. "Why are you like that? I suggest you work on yourself and do something about it." 
4. "Seeing you I realized that simply looks isn't enough, you have to be mature, too." 
5. "I'm not annoyed with you. For a few days, I just don't want to see your face." 
6. "When you listen to what others are talking back to you, you will leave Earth." 
7. "Because you're like that, nobody cares about you." 
8. "Hey, I know you're crazy and like being yourself. But it's not good always."
9. "You know what, your parents told me that they expect to have a child like me." 
10. "Stop being jealous of me, because I'm way better than you ever can." 
11. "I have already told your crush everything about you, how about that?" 
12. "Don't play with me, I know how you look in real life."
13. "I still waiting for that day when you say something worthwhile."
14. "You know what I give up on the hope that you ever behave maturely." 
Mean Things To Say To Insult Your Friends Jokingly
So you have decided to be honest with your friends. 
It might be a hard decision, but you must do it. 
Occasionally, you want to point out their flaws in a good way. So they think about it. 
You don't want to hurt their feelings but want to keep it genuine and humorous.  
So here are the mean things to say when your friend is in a playful mood.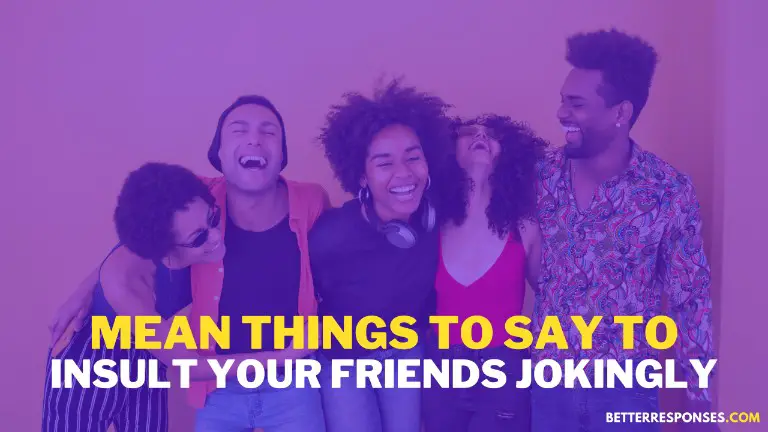 1. "I admit that you're better than me, but mostly in the wrong things." 
2. "You made me realize why having a good friend is so important." 
3. "Do you have any other friends than me? Then you better behave right." 
4. "Even if I want to insult I can't. Because you're my bestie after all." 
5. "I wish I also had a supportive and genuine friend, just like you have."
6. "Insulting you is an insult to my choice of friendship."
7. "If you're hungry you can eat my food, but not my brain. Please."
8. "You're lucky that I'm still your friend. If there's anyone else, they've gone already."
9. "No no, it's not your fault at all, it's only me who chooses to be your friend." 
10. "Your kids going to be genius, let me tell you that." 
11. "Don't interrupt me, I'm trying to remind the time before I met you." 
12. "Just because you're good-looking, you are safe in this world." 
13. "These people are not calling you crazy, they call me for being with you." 
14. "Most of our friends take lessons from me regarding how to be patient around you." 
15. "I would be the happiest person on your wedding day because I'll be free from that day." 
READ NEXT: How To Respond To Serious Questions Jokingly?
Conclusion
Don't forget that these might be funny insults for friends, but they are still 'insults' in disguise. 
When you know that your friend will take it quickly and not personally, it's fine to share such insults or mean things (as a joke) whenever you want. 
This allows you to have a fun conversation or make arguments more entertaining.  
Make sure that your friends will take it as a joke and laugh it along. 
And, if your bestie is a bigger player, you better be ready for a savage insult back!