Last Updated on September 14, 2023 by Ketan
If you don't want to work on weekends, you just want to say no. But, you feel hesitant.
Yeah, we all know how difficult it is to say that to your boss. 
All you want is to have a relaxing weekend to refresh and have fun with your family.
But 'the weekend works', nobody likes that. 
Well, if you already get work orders on weekends, but you don't know how to say no to your boss or client, there are some effective and polite ways to do it. 
How To Say No To Work On Weekends?
Over the past week, you were thinking about relaxing or enjoying your weekends. 
But, as it is around the corner, your boss wants you to work on weekends. 
You wish you could remind him about your no-weekend work policy.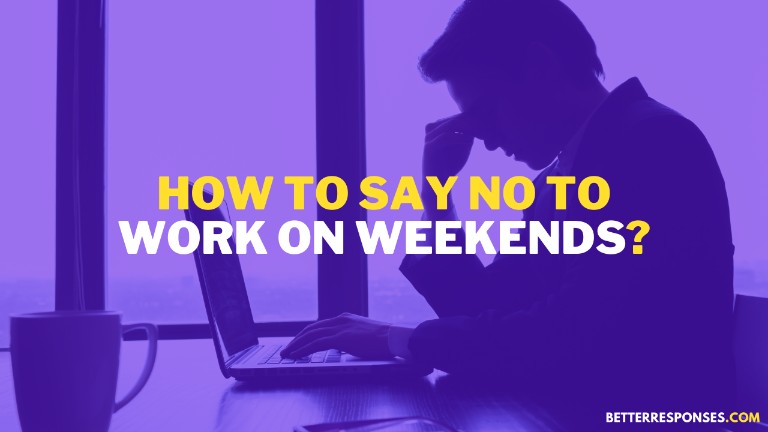 But you feel uncomfortable to say so clearly.
Well, if you want to do it effectively, respond to your boss's weekend work request on time and say it rightfully. 
Let's discuss some ideas on how to deny work on weekends order from your boss or client:
1. "I already have some plans for the weekend. I can't work." 
There's nothing much to think about, you've got plans for weekends ready. 
Also, there's no turning back for you.
Either you've made a promise to someone or yourself. 
2. "I'm busy with some family functions this weekend." 
You've some family functions at home or are about to attend this weekend. 
Like your boss gave no leave on workdays, you don't have to work on your leave days. 
3. "I promised my kids that we're going to a picnic. I can't break their hearts, sorry." 
Being a family guy, tell them that you have a responsibility towards your loved ones.
You can't make your kids feel ignored even on weekends. 
4. "It won't be possible for me to work at this time." 
Either you have no time, no mood, or just don't want to work on weekends.
You better just say it. 
5. "If you've said it earlier, I can work. But, now It's not possible for me." 
Indeed, you feel hesitant to share any excuse or reason for not working on weekends.
In that case, you can say this instead. 
That they had a chance to ask so earlier.
6. "I don't think I could work on weekends, the work quality might suffer."
You're not comfortable with the idea of working on weekends while everyone is relaxing. 
It might impact the work quality when you have to work outside work hours.
But here they ask you to work on weekends, that's two days.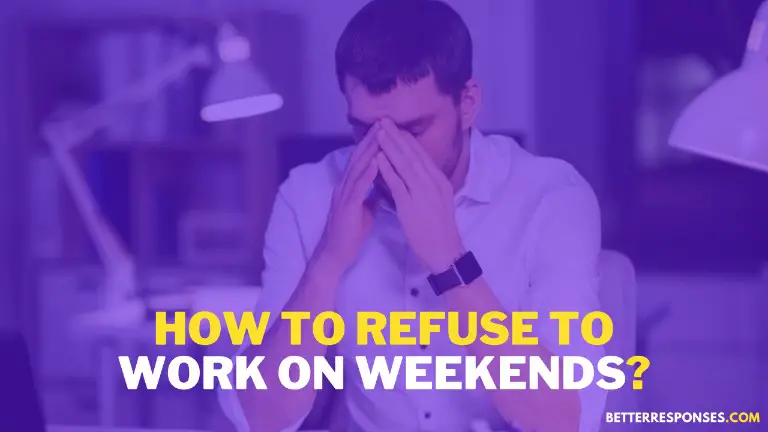 7. "Isn't it fine that we work on Monday? I don't think it's urgent." 
Sometimes, when your client asks you to work on weekends, they might be just checking.
Make it clear that you are not comfortable with it.
Say it with confidence that it won't be any problem, since such things aren't urgent.  
READ NEXT: How To Reply To 'Enjoy Your Time Off' Professionally?
8. "I want some time to relax and gather energy for the next week." 
By agreeing to weekend work, chances are you feel exhausted the following week.
So here you want your boss to inform you that this weekend break is important for you. 
9. "It's not possible this weekend. Maybe next time."  
This weekend it's not possible for you to work anyway.
But you know saying this your connection won't be the same. 
So you assure your boss that you could work next weekend or later on. 
10. "I might work on weekends, but I need two days off during the next week to balance that." 
When your work is important and your boss wants you to work ASAP or urgently, you've some conditions. 
Fine, if you're getting paid for working on weekends. 
That's not enough.
You also want equal leave during the work days to manage your downtime.  
11. "I'm not available in the town, I'll return on Sunday night. See you on Monday."
You are on a two-day trip, out of the city, and on a family vacation. 
Obviously, you don't have your laptop.
So it's not possible to work for you. 
You can share this response with your client who wants you to work on weekends. 
12. "That would completely imbalance my work-life route. Sorry, I can't do it." 
You just have to make it clear to your employer or manager. 
Working on weekends completely ruins your balance between work and life. 
READ NEXT: Best Answers To Interview Questions You've No Idea?
When Your Boss Wants You To Work On Weekends
A lot is going on in your mind when your boss asks you to work on weekends. 
First, you think about your weekend plan and the promises that you made to your family. 
And then how would you face your boss on Monday, when you refuse to work on weekends? 
You don't want to risk your image or job just because of two days.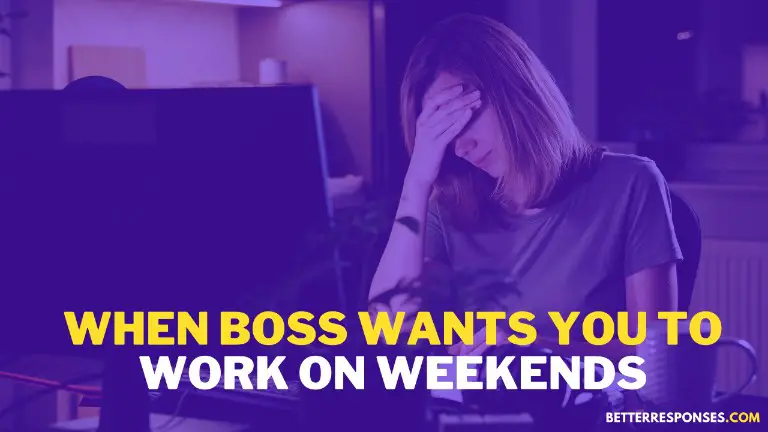 Also, it's the first time your boss or client asks so. 
There's no guarantee that they will make you work on the following weekends, too. 
So many things to think about. 
But the best thing to do is just say no to work on weekends when you don't want to.
You don't have to force yourself to make them happy. 
If you are not comfortable doing it, you can just say it directly. 
You don't have to be ashamed of it, you have the right to deny the weekend work.