Last Updated on November 11, 2023 by Ketan
While your partner is in a steamy mood and sends you flirty text messages, you're in a funny mood. 
So, you might say something totally unrelated.  
I know it is a bit risky that your partner wants something, but you think to tease them. 
But it's all a good time when done at the perfect time. 
So, if you just want to tease your partner for sending flirty texts to you, here are some savage replies to give. 
By the way, you can also use such odd responses while properly dealing with the annoying flirty texts from your new match.
Savage Replies To Flirty Texts
Maybe you're in a mood to tease your partner a bit or act silly as if you can't understand them. 
Next time when you get some spicy message from your boyfriend or girlfriend, these savage responses will surely blow them away.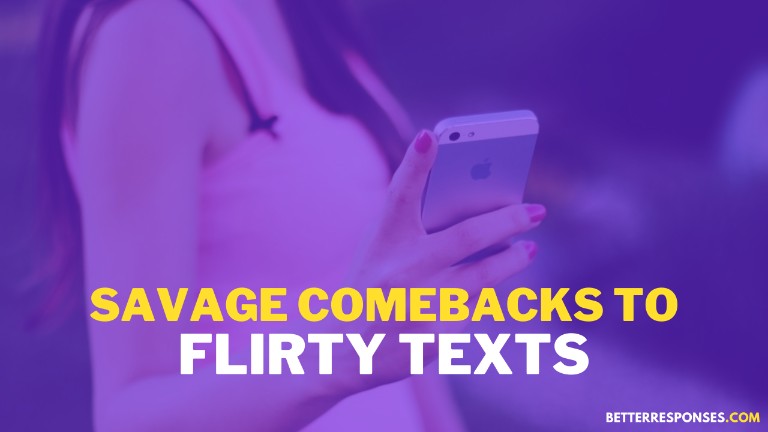 1. "Don't you have anything else to do than just love."
You're just tired of so much love from them. 
Sometimes, all you need is to discuss your future and marriage plans.  
2. "Sorry but right now I'm only thinking about food."
Of course, you love them. 
But now you need something else and not love isn't everything. 
Tell them what's your priority at the moment. 
3. "Money can't buy happiness, but it can earn you a lot of love."
Your partner might think that you call her 'a gold digger'. 
Else, they start to believe that you might have other options to get love.  
4. "You came before my order. Fine, come in."
 This is the time you're waiting for something and not someone. 
You might welcome them, but not be excited to see them this time. 
5. "Babe, sometimes I just want to watch my favorite show alone."
Maybe she's not into the type of shows you enjoy. 
Or she might have watched all the shows and spoiled the main plot without even asking. 
6. "Of course, I love you but soccer matches don't come every day."
You have no time for another 'I love you more' argument.
No doubt, you love her but soccer is important.
True that, the match experience comes once in a lifetime. 
While she can come over anytime whenever you want or she wants. 
7. "Can't take you to dinner, my friends dragged me to a party."
This time you promised your friend that you will spend the weekend together. 
Such party plans feel more chill compared to cuddling sessions with a girlfriend. 
8. "You're so cute, but I know every cute guy is cruel inside."
This response shows you won't fall into the 'cute guy' trap.
And, that you're being suspicious of them already. 
So if they try to take advantage of you, they better stop doing it.  
9. "Girl, you're my biggest distraction. That, I can't focus on my studies."
The concern is from your parents and family who now know that you have a girlfriend. 
From the moment you tell them about your girlfriend, they watch over you more.  
Witty Comebacks To Flirty Texts
You've been sacrificing your needs and priorities just to make them happy. 
And when you feel it's the right time, you can tactfully share it with your partner. 
Here are some clever replies to flirty messages to make them realize you also may have other plans and priorities at the time.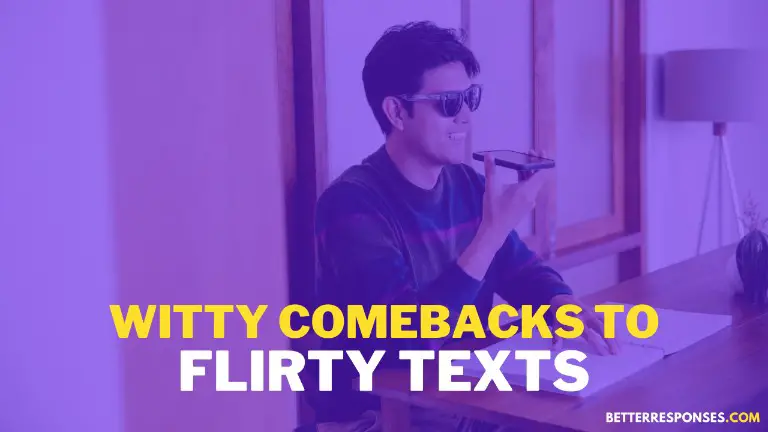 1. "Oh I forgot to ask you, who is your crush, by the way."
Your crush is trying to be flirty with you, or may already know about your feelings for them. 
But, you're smart that you're not going to reveal 'who is your crush' and easily. 
2. "To be honest, I missed your food more than you."
 Everyone has a reason to love someone. 
They might think that you're needy, but you're honest, and no one shows. 
3. "When we were friends, you look cuter than right now."
The more you know them the more you get to know the reality. 
That reality is far different than whatever you ever imagined.
4. "After meeting you for the first time I know either it will be great or worst of all time."
 This will make them ask to share how have you been for you. 
If you're new in a relationship, saying the worst could be the problem. 
And if you're married, they already know what your answer would be. 
4. "I don't listen to romantic songs anymore, but sad songs lately."
And to back it up, you could say this is because you don't want to lose them. 
Else for you, romantic songs are so cartoonish, while sad songs feel so genuine. 
5. "Babe, you're special to me. But the last pizza slice."
Your love should be incomparable and unique.  
But, there's always something greater than love. 
For some it's self-respect. For you, it's a pizza.
6. "I'm sorry, that we aren't the perfect match. You deserve someone better than me. And, so do I."
When your match keeps sending you flirty texts and you aren't interested, tell them as it is. 
You know they're not going to leave easily. 
So, you rather comfort them that 'you deserve better than me' and they will get it if they search for it. 
But first, they must let you go.
7. "I can't decide if this Lol means 'Lots of Love' or 'Laughing out loud'?"
That's why you don't want to text much, it's such a confusing process. 
You would rather talk in person or just call? 
8. "Can we just do it for some other time, now it's not a perfect time."
Because some things are more effective and enjoyable when done at the perfect time. 
This time you're not in the mood or the time is not right. 
READ NEXT: Flirty Responses To 'You Look Good' Compliment
When Someone Sends You Flirty Texts
When you're interested in someone who sends you flirty texts, you can respond likewise. 
But when you feel annoyed at their text and there's no way you can stop them from sending it over again, giving savage responses might work. 
And, this isn't the only case.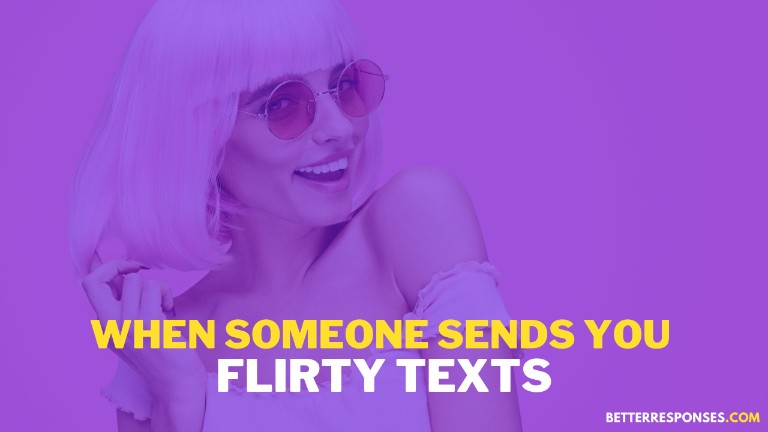 When you've been in a relationship for so long, you both know enough about each other and each other's limits. 
Knowing this, you could try some clever and savage replies to flirty text messages just to keep them waiting for you. 
All these are fun, and it's a good idea that you don't take it too far.
Because it's possible that by ignoring their feelings for you, they might feel offended and would stop talking to you for a while. 
When your partner handles it right, these witty and savage replies will give you a chance to do something new in your connection and have fun at the end.