Last Updated on December 7, 2023 by Ketan
You asked your match for a date and she asks a difficult question 'Why do you want to date me?'. 
Oops, what to say now! 
The question ruins your mood.
But, still, you have to answer something about it.  
Don't think that she isn't interested in dating you, but she just wants to know 'the damn' reason. 
Maybe she wants to hear something nice and to make her feel special.  
If you want to take her on a date, you have to be very careful with what you answer.
Because this question stands in your way to get a YES from your potential date. 
How To Answer "Why Do You Want To Date Me"?
Well, of course, they know why you want to date them. 
Still, they ask for it anyway.
They hope to get either a special one or a serious answer from you. 
A girl might ask this question to know what's your plan and what you think of her as a date.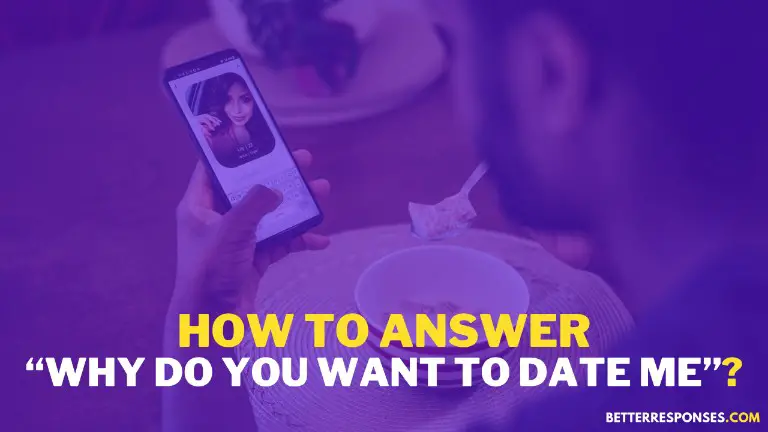 Maybe she has already decided to say 'YES' to your date invitation, but she wants to know why you asked her out in the first place. 
In this case, the way you respond matters. 
We know, you might have trouble answering the question right away. 
So, we have some example answers you can give when someone asks why you want to date them. 
1. "I want to make you mine before anyone else does."
So this is a FOMO, that makes you desperate to ask her out. 
You don't want to leave any chance to someone on a dating site. 
So here, you being flirty with this response. 
2. "Because I think we make the perfect pair and we can give this connection some start." 
Ultimately your reason to date them is to get to know more of them. 
You might have some long-term plans for your relationship. 
But for now, you want to make the right move and give this connection a name. 
READ NEXT: What To Say When A Guy Calls You 'Mami'?
3. "Because my mom thinks I should take you on a date." 
You can tell her that you showed her profile to your mom and she confirmed your match. 
This could be a fun response, just to lighten the situation. 
But at the same time, you might be not joking and what you said is nothing but true.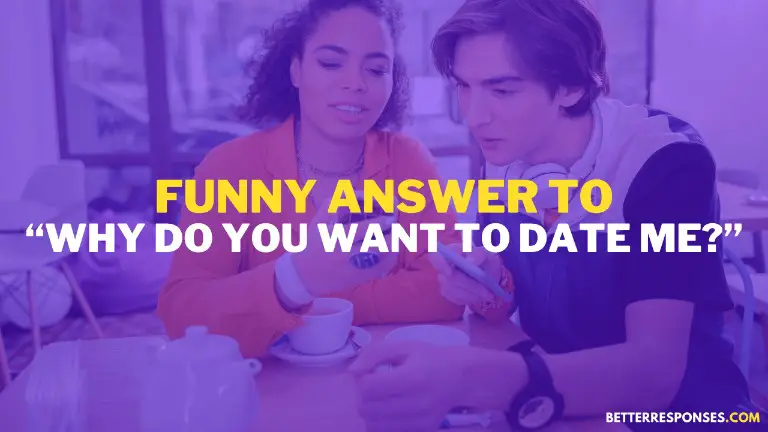 4. "Because I want to know more about you. I mean everything." 
And, this date is the one way to do it. 
You want to know them and they seem like the right person to ask for a date. 
Tell her you picked her as a date and she's your favorite person on the app. 
5. "Because I just want to date you. I'm fine if you don't want to go on a date with me."
Play a bit with this girl who curiously asks you why you want to date her. 
Well, you know she's ready and has the same excitement for this date. 
So, you can try this funny response, like you don't want to date her if she isn't ready. 
6. "Because I think it's worth spending money on a date with you." 
You might have come across many profiles, but this one feels special. 
Over time, you feel the connection, and realize that she's the one you like to take to date.
So if she asks so to clarify, you give this straightforward answer. 
READ NEXT: What To Say When Someone Calls You 'Innocent'?
7. "Because I want to meet you personally and talk more" 
Of course, you two have chatted and know enough about each other. 
And, it's time to meet in person and explore more about one other. 
It is a simple answer when you don't want any trouble.
8.  "I enjoyed chatting with you here, now I think we can have more fun dating, as well." 
The way you two talk and connect, this date is a must. 
Because you both have developed the chemistry, you hope that your date would be fun, though.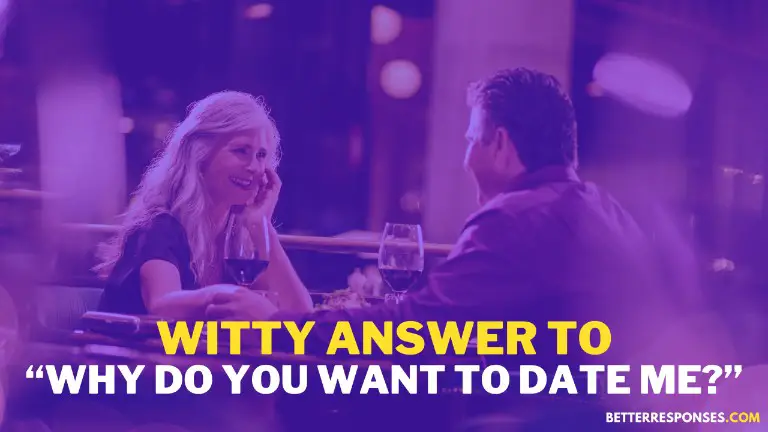 9. "Because we are here on dating apps, I guess." 
Indeed, it's an obvious question and there's no need to answer that. 
If you both share inside jokes and are comfortable with that, share this clever answer. 
As people are on dating sites to find the date and so the life partner following that. 
10. "Who told you that I want to date you?" 
You didn't ask him for a date or give any clue about it. 
When a guy asks what you want to go on a date with him, give this fun answer to play with him a bit. 
This time you just want to prank him for a while. 
11. "I thought you were looking for a date. Sorry, I didn't know you were here for nothing."
You two are a dating site for a reason. 
And you are so confused as someone asks you why you want to date them. 
Well, if you want to share your honest reaction to this question, this is one to share. 
READ NEXT: How To Reply To 'How Was Your Night'?
When Someone Asks "Why Do You Want To Date Me?"
When you get the question 'What do you want to date me?' at the time of your date proposal or just after getting matched on a dating site, you must have something to say. 
Here, we mostly share the witty answers you can give to this question. 
But based on your connection and their reason to ask so, choose what you answer them. 
Sometimes a girl asks this question to check the validation.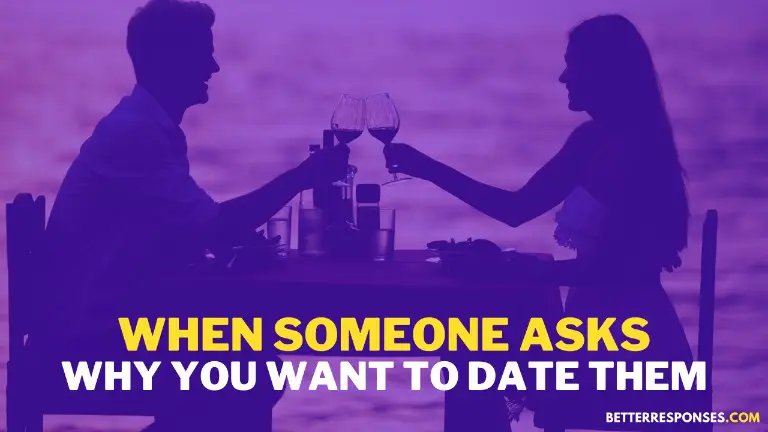 Like, to check what's your intention or how you see her as dateable. 
If you want to earn a date from her, show your excitement to get to know her more. 
Also, you can tell her how she makes you feel special and what you like the most about her. 
You might be confused or scared by 'Why do you want to date me?' question, but respond based on her reason to ask so and your connection so far. 
You could give honest, hilarious, or witty answers that we shared here.