Last Updated on September 25, 2023 by Ketan
Are you looking for better ways to deal with those pickup lines over text? 
Well, there are many you can do it. 
You could be even funny, sassy, or clever with your comebacks to pick up lines that have failed to impress you. 
Agreed that, some could be good.
But, most of them are just terrible and cringe. 
If pickup lines are your way to judge a guy or you just hate them, here we're sharing some ways you can respond to pickup lines on dating sites. 
Flirty Comebacks To Pick Up Lines
Some pickup lines catch your attention and you want to take your next move. 
Or, even if the line isn't that great, that person is just fine.  
So, with this flirty response, you can tell that you're interested still.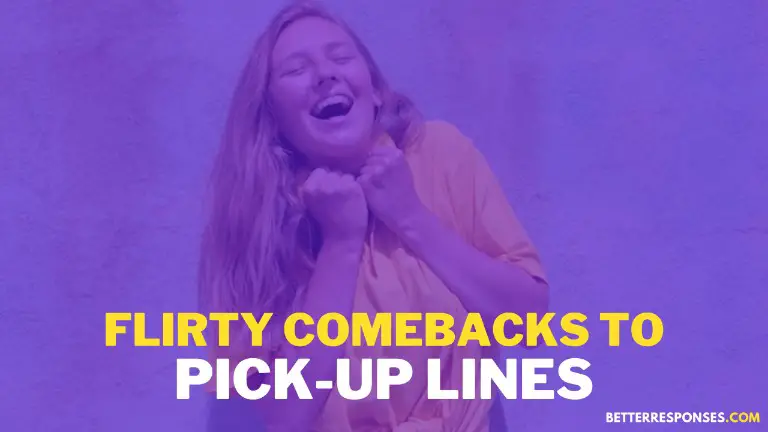 1. "If you think you can impress me with such lines. Let me tell you, you did without it." 
2. "I really appreciate your efforts to make me happy. Better luck next time." 
3. "Sorry, I don't like it. But as you're cute, I'm giving you another chance."
4. "I don't want to date a guy who uses cheesy lines. But you're the exception." 
5. "Now I'm convinced that you're exactly like someone I thought you would be." 
Funny Comebacks To Pick Up Lines
To make a girl laugh, some guy could do anything. They even take a risk to use some cheesy pickup lines.
Well, that makes it no fun at all. 
So, in return, you use your comic timing and give hilarious responses to his pickup lines. 
1. "Well, I would be fine if you didn't share any pickup lines. But this." 
2. "Hahaha, that's so funny. Actually, that's my dad's reaction, not mine." 
3. "So, tell me how many girls have been impressed with this pick up line."
4. "I just wonder if any girl is ever impressed with this or if you're still trying."
5. "Are you serious, Bro? Do you think that this line even gets you any girls?"
Witty Comebacks To Pick Up Lines
Don't worry, if his first lines are too bad, you don't have to still act nice. 
Tell him that you're not impressed also interested in him anymore. 
These comebacks are a clever way to respond to pickup lines that are cheesy or just a cringe message.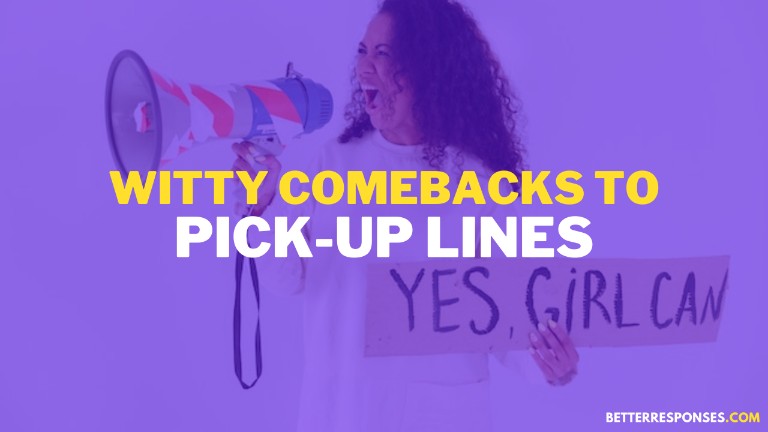 1. "Oh my god, it's too hard to handle. I should swipe left of you." 
2. "You can say I'm picky but I don't like guys who use pickup lines on me." 
3. "Thanks for again proving that all guys on dating sites are the same." 
4. "It was nice to match with you on Tinder. Best luck and goodbye!"
5. "Seriously, what you just said is funny to you. It's not to me at all." 
Sassy Comebacks To Pick Up Lines
Are you very sure about the type of guy you want to date? This means you've standards then. 
In that search, you may find some cheap matches with cheesy lines. 
Deal with them and their pickup lines with your attitude, and here are some sassy responses to give. 
1. "I'm not into guys with pickup lines, I was expecting just 'Hi'."
2 "Don't me regret why I have swiped right on you." 
3. "I think you deserve someone better, but I'm just too best for you. Bye!"
4. "Finally, I'm convinced that I don't belong on dating sites." 
5. "Bro, please stop embarrassing yourself with such pickup lines, it's so bad." 
Smooth Responses To Pick Up Lines
The guy who thinks his pickup line is smooth (but is cheesy), deserves a smooth response. 
Maybe you're done with overused pickup lines that irritate you, and here are the smooth ways to say that you're going to unmatch them.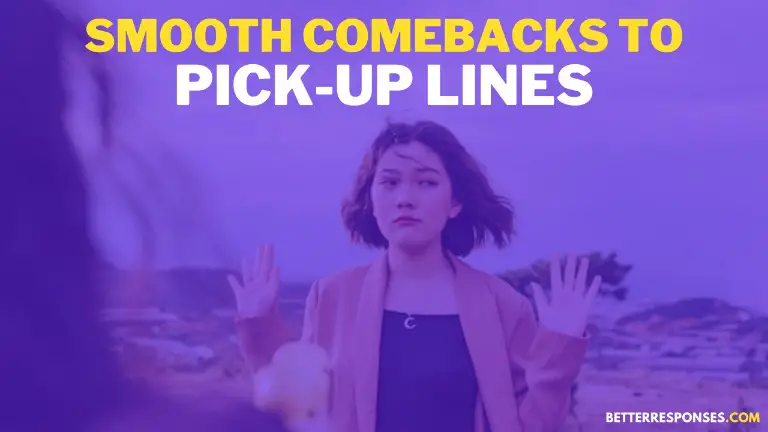 1. "I very well know that this shirt is boyfriend material, but you are not." 
2. "To be honest, I've heard this pickup line billion times." 
3. "I don't know the CPR, but I have more ways why you would need it."
4. "Just for your info, I didn't fall from heaven,  I came straight out of hell."
5. "Pickup lines are what kids use, legend directly sends 'Hey You' text."
6. "Your pickup line gives me a headache, I've to go, Bye." 
Mean Comebacks For Pick Up Lines
Of course, it's not right to be mean to someone. But sometimes you've. 
The guys who are using any pickup line without checking if you like them or not, deserve your savagely honest response. 
And when you say these, it might be mean to them, but you're just saying things as it is. 
1. "Sorry, I can't be so nice, but rather be honest and tell you I'm not interested." 
2. "I'm going now. But I have some advice for you, Never try to use the pickup line again, PLEASE." 
3. "You better share this with your mom or friend, before with any other girls." 
4. "I've never seen someone so desperate that they can say anything as a pickup line."
5. "This must be the fastest time when someone has unmatched again." 
6. "My mom told me never to trust a guy who uses pick up on me." 
READ NEXT: Savage Comebacks To 'You Have An Attitude'
Conclusion
Well, if you want to make your date search easier, you need to handle such guys using pickup lines, directly. 
It's fine if you expect your initial conversation with a regular 'Hi' or 'Hello' message.
But when most guys overthink it, they want to make it perfect. And, they messed things up. 
Sometimes, you want to be honest or direct with how someone's first impression on you. 
And, these comebacks to pick-up lines make it clear that you're not interested in them anymore. 
Because of what they said in the first text.  
Just don't make it hard, be clear and say it.