Last Updated on December 7, 2023 by Ketan
Your long-distance relatives visit to meet the newborn in the house. 
They notice your little ones and surprisingly say, "They are growing up so fast". 
From another room, your teenage kid appears and this same person asks him "Oh, look at you. You've grown up so much".
Both situations are different. Also, the expression. 
Here, you might need better responses as parents and as a teenager or grown-up kid of the family. 
Further, in this post, we will discuss the same in separate ways. 
How To Reply To "They Are Growing Up So Fast" – As A Proud Parents?
Well, it's quite natural that kids grow up faster when they're too young.  
Being new parents, you feel so proud and also worried to see your little ones growing at this pace. 
When a relative says 'Your kids grow faster', here's what you can say in response.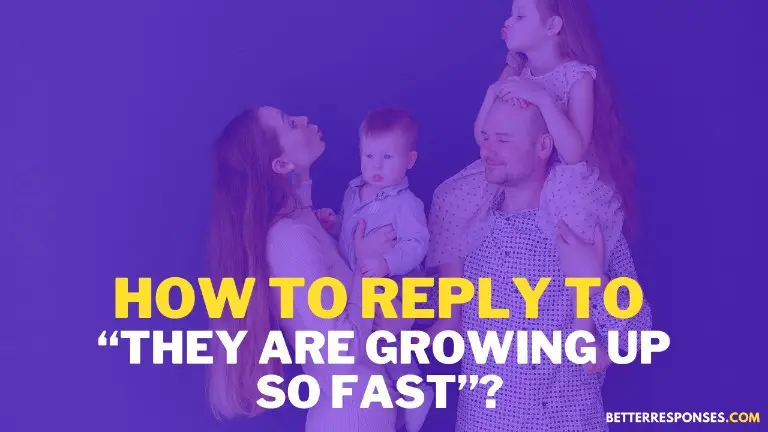 1. "Indeed, they are. I don't have to do much."
2. "Yes, and that thing scares me off." 
3. "I'm so excited about that."
4. "So true, time didn't wait for anyone." 
5. "Agreed! He's growing faster, and now he started calling us by name." 
6. "You haven't been home for the last seven years." 
7. "Don't say it, seeing them getting older is too scary."
8. "Yes, we have already selected a college for them." 
9. "Soon they will also have a driving license." 
10. "Oh, thank you. I didn't notice that."
11. "This new generation is growing faster than the speed of the net." 
12. "Now he starts walking. Who knows, maybe next week we catch him dancing." 
13. "Can't deny that. And, I am very proud of them."
14. "Yeah, I wish I could slow down the time, can you?"
15. "But, why do they have to grow up so fast?" 
READ NEXT: Good Answers To "How's Everyone At Home?"
How To Respond To "You Have Grown So Much?" – As A Mature Teenager?
Well, some relatives you get to see after a long time, maybe decades. 
They look at your height, scan your body, and inform you that 'you've grown up so much.'
Because they haven't seen you all these years, they might be surprised. 
The last time they saw you was just so little. 
Here, you have the option to give mature responses for informing that you not only grew physically but also mentally.
Be sure which response to choose from these suggestions.
We've funny, smart, and savage replies for you.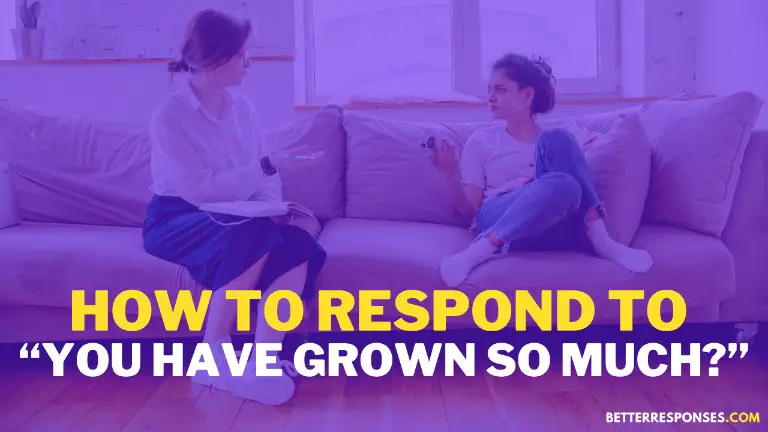 1. "Yeah, I didn't have any chance but to keep growing."
2. "One day I will surpass you. So make sure you grow along." 
3. "It would be better if you did, too." 
4. "What do you mean by it, my height, weight, or intelligence?"
5. "Are you calling me fat?"
6. "Yes, and one day I will die, too." 
7. "Why, I didn't have to do it?"
8. "Sad, I have no control over it. Did you?"
9. "Yes, and they should be."
10. "Yeah, I've been eating a lot, maybe that's why."
11. "I feel more like I was born every day." 
12. "Okay, I will try to stop it if you have a problem with it." 
13. "And I think you are short than us, now."
14. "It's all about time, but you won't understand." 
15. "All credit goes to my parents and family's care." 
16. "Eat well and one day you will, too." 
17. "I just stopped growing now." 
18. "And you are aging so much."
19. "Stop being jealous, I take my parents' advice seriously."
20. "Yeah, I didn't want to remain like you." 
21. "This is my lifelong dream to get this big."
On the other hand, some relatives want you to be more mature instead. For that, we have a separate article covering the best comebacks to Grow up comments as an insult.
Conclusion
Based on if you feel good or worried about your kids, give appropriate replies to  'your kids are growing up so fast' . 
While a direct comment on 'You've grown up so much' could be positive or sarcastic. 
Someone might refer to your growth merely based on how tall you are or the weight you gained lately. 
If this is so, you will know what they mean. 
In that case, you don't need normal replies but comebacks to handle such comments.
When someone says 'you've grown up so much' it means, they notice that you put on weight, get taller (maybe than them) or they refer to your maturity. 
Take it as compliments or criticism, let your responses prove that you're grown up mature, too.